Shoot: Group Portraits
Joe Buissink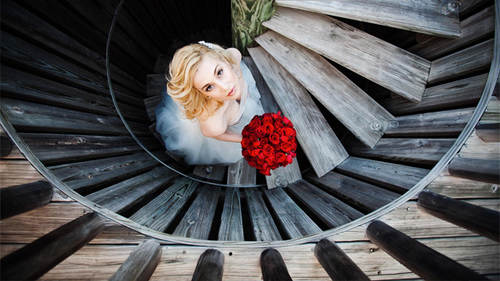 Shoot: Group Portraits
Joe Buissink
Lesson Info
17. Shoot: Group Portraits
Lesson Info
Shoot: Group Portraits
Let's have a bridal party up there and one of the things I don't do, Um, I and it's a pet peeve of mine is just my own thing, right? So you don't have to do it this way. Everything that I'm teaching over the next three while next day now. But for the three days, it's stuff that is to my taste, and it's stuff that works for me. It doesn't mean it would work for you, and it has. It also says nothing about. There's no commentary in other people's takes. This is simply my taste. I don't like all the women on the bride's side. I don't like all the men on the on the groom's side. I just don't like it. I've shot that way. I've done it. I usually say, Mix it up. If the couples walk down the aisle together, I want him together up here, you know? So I mix it up. So what I say is get the ladies on either side and the men behind them. That's kind of what I do. So who's my bridal party? Are even whatever. I don't want the biggest group I can. Yeah, so if It's not that wide right you have. Yeah, it'...
s a boy girl boy girl thing. Um, if it's not, if If this is all it is this is a simple shoot on a single ah line. Sometimes I have toe have because there's 10 brides mates. There's 10 groomsmen and there's four kids. I got a double it up, so I asked people to stand in between. So my only direction is once I say, You know, I need some of you to stand behind the others. Here's my direction. If you can't see me, I can't see you. So stand between people. So I want the next person to be here behind you. I want that person to be there. I direct them to just stand between the others in front of them taller people in the back. The not so tall people can stand in the front. Okay, so that's the other direction. I want the taller people in the back. Not all of this that I'm telling you makes sense to everybody. I'm sure I don't need to really tell you this. So the the other thing I don't like and I see this a lot by the way. Is this one? Can I have you for a second? This? I hate this. Why do I hate it? I don't know. You know. Isn't this it from Adams family? Oh, my gosh. And no one really pays attention is even this one bothers me. So if you're gonna do the lean thing, I usually have a do this. I want to see more of the arm. And this scenario is a no No, that's this. Okay, that's this. If the bride is uncomfortable because she is, maybe she says she's 10 £15 more than she'd like to be. So for the photo, she's conscious. I now cheat, and I put the man slightly in front of her and they hold hands. So now I'm cutting part of her body off with his body to take off the weight. Not only that, but she turned slightly. Yeah, So now we slimmer down even more. So this is now the scenario way. Take weight off and you can do that photographically Okay, So be conscious of who's there. And even if they're not saying anything, I set it up so that I do exactly what I just said. by using other people's bodies. Okay, the next thing would be that bounce light. Because if I'm creating a highlight in the shadow and I said it earlier, it takes off weight. It slims the person down when you add Ah, whole shadow toe one side. It's absolutely beautiful. Ah, the person that taught me does is ah there, friend Dennis, Reggie and, um quick little story. He, uh he was switching over from Nikon. The cannon and Cannon became a sponsor. And, uh, at one point, Dennis said, Eso you have all the gear And I said, Yeah, I said, Have you shot it yet? And I said, Not really. Hey says What's your next gig? I said this weekend, Um, he says, Well, I'm gonna help you I said, OK, but you know, I'm really comfortable with a Nikon still haven't let me not do this on a wedding. And by the way, it's Dr Phil's son's wedding. Okay, it Dr Phil's house. So let's not do it there. And he says, Not now. It will be easy. Just I'm just gonna help you and hold your bags and gave me the whole song and dance about that this is just bring the Kansas well and maybe I'll play with it. So I brought my canon gear and my Nikon gear and he shows up when I'm shooting the bride getting ready with mine icons. And he says So uh, where is the Canon gear? I said right there. And he says, You're Nikon back because he was acting as my assistant said, My Nikon bag is there. He says, Oh, alright, let me let me have this for one second and grabs the night cons out of my hand. He puts it in the bag. He zips up the bag and he walks out of the room. I said, What are you doing? It? I'll be right back. He locked it in the trunk of his car. Okay, so now he says, Look, the cannons, all you gotta do and you know how to do this. Point to camera, press the trigger. That's all you gotta do. I said, OK, so that was easy enough. I played with it a little bit, but now it was flash on camera. He says we're gonna bounce it. We're gonna what? We're gonna balance it. And this was Dr Phil's dining room was about this size, actually, a little bigger. I'm serious. It went all the way over there in here, and there was white swag ing everywhere in the back. He said when she's done and she walks down the aisle, we're gonna bounce off those white swags and we're gonna fill it coming from the side, and we're gonna shape her. I said, Are you nuts? It's direct flash, you know, today we're not doing that. But I don't know how to do that. I'll do it for you. I said, What do you mean? You just hold the camera, walk backwards. I'm gonna be behind you holding the flash. I'm gonna point as you shoot. So this is how we went down. I'm like this as she's coming down. He's behind me. The flashes going there. It's going over there is going there, and all I see over there on the altar is Dr Phil looking over like, what the heck is going on? Because there is a couple monkeys in the middle of the ill. One is sweeping. It was like the best photo I've ever taken. From that point on, I never pointed another flash at a human being. If I didn't have to, I would always light from the side. It was absolutely stunning. And if if I'm mindful of it, I will try and pull it up and show you guys tomorrow what it looked like. Okay, so that's what started this years ago. And ever since then, I've been using this technique and has been flawless. Okay, so here's an interesting thing. So right now? Because and you guys can come in a little tighter what I would do and come on, you're the brother in law. So here's what I say. This is always a precaution by the person standing right here. Only I always step on address here. We do this, but you feed underneath. Stand next to her. We dropped a dress. Okay. This is this is the rule. Now again, what I really like cause it's really comfy. Is your arm your right through his Okay. Same thing with you, but your arm through his Ah, low. That's what we like. This is nice. You look like a real good group. Now. I like it. So what has my system done before? I've even said this up. We pull these back ready? All these front shares go out of the way because I can't stand in the front of this picture. I'm sorry. Love you good. Is tohave not enough rooms? All these things air moved out. Yep. All right, let's take a look what we got. Hello. Um, I tethered or not I'm not. Yes, I am. No, I'm good. I want my 24. If I mean actually 50 I'll explain this to you as well. If you can do not shoot a group shot with a lens that less than 50 millimeters, it's not flattering. The most flattering Linds is 50 85 Because you don't distort the body when you go to 35 millimeter, 24 million distorting the bodies, especially on the ends. I don't know why people shoot with white angles when they're doing group shots. It's not pretty. 50 millimeter is the absolute minimum. So if you have a 24 70 be conscious that you at 50 millimeters or a little higher when you do the group shots just isn't pretty good. Thank you. And I am tethered. He says with confidence. Alright, Alright, Alright. So I'm looking here And remember, I'm in manual mode here right now. Right? So if I wanted to play this game, I could do this and now dial in and do side lighting. And so it looks like it's 2.2. Now it's it One single line, so I don't mind it. So I'm gonna actually push up the that and then drop my eyes so considerably. Hold on one second, and it is right there. Um, how about let me see what it says? That 1000. Now, that's too much. Right? Okay. Okay. All right. So now I'm there. We already have a little side lighting in here anyway. But let's make this thing look kind of nice and pretty. And I need this dressy. I looked in the corner of my eye at the bottom right hand side. I saw this sticking out ever so slightly. Is it a problem now? You can fix it later. Do I want to fix things later? I'm not interested in fixing anything later. Okay. Right there. So I don't know if we're getting that stuff, but let's take a look. Show me the second shot. Poopsie. Poopsie! The 2nd What was the next one? Or is this the 2nd 1 of the 1st 1? That's the 1st 1 Can you go to the next image? That's the one. Did you notice the difference? Go back to the 1st I bums the heck out of me, right? It just drives me nuts. And maybe there's a bit of the perfectionist in me. I'd rather have it not there. So I noticed that after I grab the frame up, there's some thing sticking out of the corner ever so slightly, but enough to bug me because I'd have to fix that later. That bothers the heck out of me. If you have a problem. When you look at an image, you say something's up, something's wrong and is not apparently obvious to you. For me, this is obvious, right? Or is it obvious to you? Yeah, What if it wasn't? What if there's something hidden here? You know, you know there's not. There's something not right. You know what you do? You want to find it. Take the photo, turn it upside down because your brain is oriented to look at it this way, when you flip it upside down your brain is disoriented and your eyes go immediately to the thing that stands out the most. It's an automatic reaction, so the minute you turn it upside down you go. Whoa! What is that? And it's a little exit sign or or something that's a little hotter than the rest. Ah, that's what's bugging me. Turn it back upside down. So that is a trick from way long ago when we used to do the prints in the darkroom and turn these things around. Oh my God, that's OK. I can't do that. It's a flip it, okay, that isn't half bad. He's a little a little more because here's what happened, right, It hit it, hit them first. They're a little brighter than the rest of them. So now what I would do. And this is typically what I would do in this scenario is actually I would turn my flash and like, from the back somewhere, I would be a little more dead on. Let's try that. And we still have one under. Now. We should be really nice, he says with confidence, but it iss okay, this is Flash Phil, But is it natural looking? Looks natural to me doesn't look like it's flash field, but it iss I have catch lights in the eyes right here. I have it in here. I have it in there and it looks like it's not really lit, but it iss ever so slightly. But if you look from here, it's kind of dark flash Phil straight back there. That's how I shoot my flashes. It's rarely at you. If I were to go at you, it changes everything. It changes everything that I'm doing. It ain't bad. Go back to the other one. Is it her back and forth? Okay, Now go back to the last one. See that there is your reflection from direct flash. Something back here picks it up. Always something. There's a reflection somewhere that picks it up. I try not to do it. This has a little bit more punch to it. You can see is flashed. This doesn't This looks like natural light when the light. That's what I want in my images. I want it to look as natural as possible, okay? And so we have a very relaxing So Okay, now let's just take this grouping and say relax. It's kind of a geek. You kind of photo up. Come on, chill out. And I like that too. And I like that. And I like that. Okay, it's This is my gig. When I see that interaction, I'm usually off the side with my long lens. I'm showing you what my primary shooters doing, but look at him. But I like the one before. That was nice. Look at that. All right, look at even everybody across the board. Look at Mr Proud. He's being so cool. She's laughing. She has no idea what the heck is going on. What's wrong with you people? But that's my shot. Where my primary shooters waiting for Perfect click. That's my shot. That's my shot. All of these are the things that I'm looking for while he's directing, you know? And so I might say, OK, I rather have you guys hold hands, you know, the whole arm around each other, hold hands and I want to see you guys holding hands. And I want you to kind of like stand forth, unbutton your jacket. I want you to put your hands in your pocket. I'm gonna do a cool thing with you. You're gonna be Mr Cool. Stand this way a little bit. I want you to back up into him a little bit like that, and I want a hand on the hip. Honey, that's what I'm talking about right there. Okay? I don't know what to do with you. Click. It's all about the humor. You want to make this really feel good? You know, maybe you can lean on his shoulder. He school hand in your pocket, sir. Yeah. You want to be relaxed, and so to me, this is a little easier, right? This is nice. I want to see you guys holding those hands. Where are those hands? I don't see them. That's what I want to know. That's it. That's it. That's it. That's it. That's it. That's it. Okay, now I don't do this anymore. I let my second shooter dude or my primary shooter, But look at this. This is sweet. Did I ask him to really look like that? Except posing them a little bit? That's all I really did. This is really nice. This is wonderful. Holding hands. He's so proud. And she's so proud of him. I love that. You gotta love that. It's so cool for me. This is a little more relaxed now. It doesn't have to be to fashioning like this, but I just like it a little looser. So my whole thing is OK for moms purposes. Let's do what Rich would normally do. And everybody's right on the money, the bouquets up. Everybody's just properly buttoned up, and that's what Rich does. And then for a second, I might drop in and say exactly what I said. All right, relax. I need to, like, undo this for a second and chill out. You know, put your arm on his shoulder and I have fun with them, not the claw. I don't want to call Nick. Law is out. Um, yeah, so that's what it is. It's a little fun. Bring fun to it. Don't be too dog on serious. Don't be too perfectionist about it. If they see you, Ainley trial it just like shaping them into perfection, and you're losing a little bit of your cool about it, and there's no humor in it. This is what I hear most people complain about when they're at weddings and their the attendees. You know the attendance, though the bridal party all complain about one thing. That last photographer was horrid. He made a stand, made a stand there for an hour, and the guy had no sense of humor at all. So I'll just like this distance. This this and we missed the cocktails total drag back to this. It's a wedding, right? It's fun. And for me, it's not this much fun. Where now the photographer goes, You guys got your sunglasses. Put him on all of you. All right. Now, at the pound of three, I want you all jump up in the air and there's the shot. Is the jumping up into the air in front of the altar with your sunglasses on? Uh, not for me, but is it for somebody else? Sure, if that's what she wants. And you know, there's been times where the bride's requested that where she wants to have a fun shot out on the beach with them all running, You know, in Florida it's 110. They're wearing their tuxedos, and they definitely have to run outside on the sand with ruffles the dog. But I am here for you. This this is your thing and I'm here to document it. I'm here to photograph everything that you want me to do and usually at the pitch. I know if that's what she wants. If she starts to ask me about the corny shots that I don't like to do, you know, the walking down the railroad tracks? Well, I don't even understand that one. The bride and groom on a set of railroad tracks. Is he gonna tire up? She's gonna get run over. I don't know. I've seen it. Where the bride and groom are walking down the railroad tracks gently out of focus while the shot of the ring is right on a trestle. It's right there, the pair of rings and in the background there, walking off into the distance and splatter, They're gone. Okay, that's what I think when I see that shot. But okay, if you have to have it, that's cool. But if I hear my bride say that's what she wants, I'm gonna tell I'm probably not the person for you. And you know what? Most people because of the way my pitch works and you've seen it and they've seen my work. They know I don't do that so they'll never asked me for that. They don't never asked me for that. And I get turned down by people that do want that. And that's okay. I am not for everybody. And it's okay. What that means is that there is work for everybody. So that's what's brilliant about what we do. I'm just for a select few. I'm happy to do the select few than all you all can do. The others, your select few. It's all good. It's all good. We're all working. We're all working. Okay, so that's what's great. Um, actually, that's not too bad, Right? As a little group shot, does every person need to look into the camera? I love that she's looking at him like that, and I love how proud he is. I didn't direct it that way. You guys seeing this? This is really cool. Uh huh. It's a just a sweet little shot of them, and you're happy is the married couple. It's Relax the jackets open. I like the half a sleeve on her, which is cool. Cool tats, by the way. Love that and look at him. Everybody did their personalities, each one of them is out here, every last one of them. How long did it take me to do that? And if I wasn't talking, how long would it have taken me to do that? Two seconds. This is not Ah, brain surgery. This is so easy to do. And so quick and again the emphasis on quick you see it, you shoot it, you done it. Took to belabor the point and try and create this perfect thing and shoot 50 shots of the same thing to you. Have it, or you do one of those who work. Yeah, probably all 10 of them, Actually. You know, it's the same shot. Um, but you pick and choose. 123 frames. Here. You don't. You finished? That's it, right? Change it up a little bit. Moved a direction. Um who? Yes. All formals on p mode? No. So I'm Emmanuel because I'm still inside. The church is right. If I'm outside, I'm in p mode. And sometimes I get, um, problems with just if those were wearing glasses. Sometimes I'll have a beautiful shot and just the reflection. Is there anything? Why is that? Because of the positioning of Yeah. If the flashes forward his glasses air Gonna pick up the light? Yeah. Now here's what I do. If I had no choice but the hit this from right up front and shoot with direct flash Let's just say I'm stuck having to do that. Here's how you get around that. Excuse me, sir. The Yeah, if you're gonna lower. No, no, not even that. If you can lower just a little bit and have your head down like that, Yes, that's what I want. Right there. Thank you. Thank you so much there, Bank. All you need to do is the glasses. Come forward a little and have his head down. And you no longer have, because it is with flash, no flash, no flash. So it may be just the position of where they are in real. I'm always looking for this just slightly down and a little lower on the angle of the head. Just a little, and it and it's beautiful. And you don't have to look over the glasses, but, you know, yeah, but it's usually when it's flush against their face and it's flat and that flash goes out, hits it in a big, giant white spot right there. That's if you'll notice none. You won't see it because where did that My light come from the side.
Class Materials
Joe Buissink - Wedding Contract.doc
Joe Buissink - Wedding Contract.pdf
Joe Buissink - 2012 Packages.doc
Joe Buissink - 2012 Packages.pdf
Ratings and Reviews
Joe, This is a amazing course so much information. I am a wedding photographer that loves your ways. Your self and Dennis Reggie are my favorite photographers. This course is the best. Thank you for sharing all of your great information. God bless you for being such a great person hope some day to meet you so that I can thank you for everything. I look up to you every day and have also read your book wedding photography from the heart. Your a great inspiration to me which makes me love being a wedding photographer from the heart. Thanks again for everything you share. Carlos Zaldivar, New Jersey Carlos Zaldivar Photographers- www.carlos-zaldivar.com
I feel like this course with Joe Buissink is a basket of gems. Several times already I have been tearing up, because Joe is validating each one of us, as artists and professionals. Being ourselves, selling the experience, and knowing what we offer artistically IS enough. Of course we have to do the work, know our craft, and have good business sense...But what has been the most valueable to me is the sense of joy that happens when Joe says something that I have felt myself, him sharing so much with us makes reaching our goals real, because he has been there.... when he said he pitched in Dunkin Donuts and still made it an experience..I cried, I have done that myself. (And booked the client:) I remember wishing I had a studio at the time, but now I think..one day I will! To hear him say he tears up at clients weddings...I do that, and felt so silly, but now I feel proud! This is a morale boost...a shot of joy in my arm. Thank you Joe Buissink for offering up your help and advise and for being so willing to share yourself with us. You are inspiring so many...and Thank you CreativeLIVE!! To anyone who is not sure if they want to purchase this workshop...DO IT!!! It is a gem.
I always feel so grateful to have Creative Live in my life, which, in turn, has given me the opportunity to have this wonderful source of information, Joe is one of them, he made find myself as a person when it comes to dealing with yourself and with the client, he vibrates in every thing that he does, every step from beginning to the end, that is the essence, put your passion in everything you do, we love what we do, It was so touching when he said that he tears up with moments of their clients in their weddings, I do too and I thought it was wrong, show our sensitivity it only proves us that we are human, and we can break barriers created by wrong schemas letting us be who we really are and then we can be free to feel and create, and do what we like to do, thanks JOE, thank you also for all the technical information, is PRICELESS. Your course it was my Birthday present that I give to myself, and I have not regret, thank you.
Student Work