Wedding Photography Weekend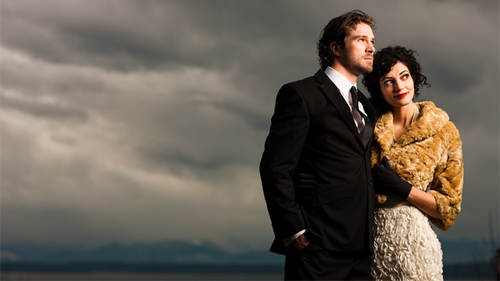 Wedding Photography Weekend
Class Description
Being a successful wedding photographer isn't just about taking gorgeous shots, it's about creating an incredible experience for your clients. If a bride feels great about the services you provide—from your first meeting to your wedding day demeanor to the final delivery of the album—then she'll be a happy customer for life and recommend you to her vast network of friends and family.
Zach and Jody Gray not only produce beautiful photos, they take great pains to ensure that every aspect of the wedding day is well planned and executed. In this weekend course that includes actual shoots of a bride and groom, Zach and Jody cover all the components of wedding photography, everything from marketing your business to finding the perfect lighting sources to posing your subjects to picking the best shots.
By describing their humble beginnings and explaining how their modest start-up grew into a thriving business with clients across the country, Zach and Jody will inspire you to pursue your own wedding photography dreams.
In this class, you'll learn how to:
Establish a strong connection with your clients.

Identify the essential gear you'll need for your shoots.

Use light rigs when natural light is unavailable.

Understand lighting ratios, strobe lighting, clamshell lighting and more.

Figure out which lenses to use for each part of the day.

Build up your network and attract more clients.

Market your business with your website, sales calls and word of mouth.

Review your images and find the best shots.



Reviews
I have two words to use to review this first day of the class. The first word starts with an F, so I can't use it here. The second word is Awesome. There was a technical glitch partway into it, which I wouldn't wish on my worst enemy. To have thousands of people watching the live stream and then it dies for a whole hour. Ouch. I was feeling like I would just wait and watch the whole thing later, as I purchased it before it started, but I tuned in this afternoon and watched some more. Wow. Thank you Zach and Jody. I have been learning so much from people whose work I admire, and who inspire me, and I put it all to great use. (My girlfriend told me so, so I know it's true.) The hour I watched after lunch was PACKED with GREAT info, and I am so glad I bought the $99 package beforehand. But if the rest of the weekend is as info-packed as the hour I caught this afternoon, even $150 is money well spent. This is how you go from good to great. Take that knowledge and move forward and don't let anyone tell you that you can't do it. Thank for putting this event on, and I look forward to downloading the videos when they are up!
Great class. I didn't get catch it all but what I did was fantastic. I had an opportunity to attend a workshop they did last year in Nashville at Dury's and it was great, so knew this was going to be extra special with 3 days to work with instead of about 6 or 7 hours. I plan on purchasing the class and using this great info to help me do my first wedding shoot in March. They have inspired me and given me courage to press on. Thanks, Creative Live and thanks to Zach and Jody.
A great couple who truly deserve to be where they are at! They did the research, read, set goals and accomplished them!..as you know it isn't easy to follow through with your own goals! They have passion for what they love to do! CreativeLive you are the BEST! And you keep getting better and better! I have learned so much from all your workshops! I feel like I work for CreativeLive as I tell so many people about who you are! Wish I lived closer, I would be knocking your door down for a job!! Thank you all so very much!! You are a gift to me!