Your Passion Is a Full-Time Job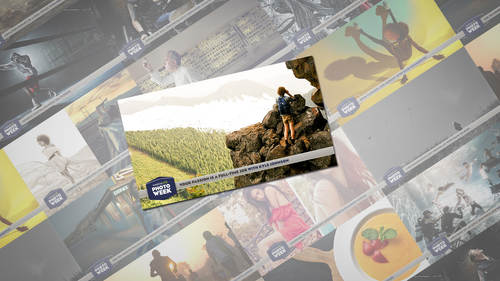 Your Passion Is a Full-Time Job
Lesson Info
Your Passion Is a Full-Time Job
She mentioned my name is kyle johnson and I'm a twenty nine year old freelance photographer based right here in seattle, washington in the great northwest, and I recently had a chance to be interviewed for pgn photo district news for their october issue and the interview was about how I transition into a full time photographer and I've been doing it for about three years full time, so it had been a while since I actually sat down and thought about like, how did I get to this point and, like really think about what were the steps I took and who were the people that help facilitate making my passion and to actually leave my job? And upon doing the interview, I thought that that would be a good thing to talk about for this, but a week creative, live events. So that brings me to the title of this talk, and that is your passion is a full time job, so hopefully I'm gonna be ableto inspire some of you to push yourselves to bring your photography to the next level and maybe take the plunge int...
o full time work if that is what you want to d'oh and just kind of outline the steps and the things that I personally did to make it happen, I know you know, everyone's story is slightly different, but I think there's definitely some key themes and some things that can help anyone, you know, push themselves to a better level, whether it's for work or just elevating your own style on your own ideas. Um, starting out, I wanted to kind of just show you guys some of my work so you can see what I like to shoot and what I am shooting for work, starting with the editorial assignments, I would say editorial work is my favorite hands down, like, I just think I'm so lucky, like I love my job like it's, such a cool opportunity to get to, like, peer into so many different worlds and like so many different people's passions and, you know, I don't think I would ever get to see half of the things in places and people that I do if I wasn't doing photography, so editorial is ah, is a challenge, you know? You never know what the situation is going to be like. You don't know who you're going to be shooting if their personalities going to mesh well with yours, and you kind are forced to make these situations work and sometimes not the most ideal, but sometimes just very pleasant in ideal situations. So going through some of these slides, these air, both current issues, september issues out right now, on the left is an assignment. For wired magazine, that was about a sleep deprivation study for pilots at boeing. So pretty cool chance to get inside of a flight simulator and super tight conditions. But, you know, I had to get a photo that tried to show the space is, well, it's, kind of the scientific end of it with the wires and things. They were measuring all his heart rate and eye movement and stuff like that. And on the right, totally, you know, different end of the spectrum. But that is a wallpaper magazine, a london based publication, and it was a story about vintage clothing, about how it's kind of people that collected are inspiring new collections and the kind of surprising worth of some of these pieces. And this was about a guy in seattle who has the world's largest collection of american work, where specifically pre nineteen, thirty, so pretty insane to get to see some of these pieces that were literally, like, worn in nineteen, oh, two or eighteen, ninety and, you know, photographed them in a kind of modern way that that made them pop and stick out on the page. So I was pretty pleased to see the spread ended up being a nice two page spread and really gave the photos the justice that they deserve, um, speaking tio area, um it's a little bright alison but the this is a shot of the smith tower in seattle and it was a story that I shot for qin vogue magazine which is kind of a magazine about, you know, theme based kind of dinner parties and having small gatherings and I always heard that there was ah condo in the top of the smith towers so this was a pretty amazing opportunity to get tow actually go inside of it and throw a small dinner and, you know, get a view of seattle that a lot of people never get to see sticking out of the bubble so that's, you know, another example of editorial we're taking you to amazing place that you know you would always probably never even know existed unless you get to do it. Um moving on is a couple other portrait based assignments. The left is a story from bloomberg business week and this was about a guy who funded a video game about realistic swordfighting via kickstarter so kind of a cool story about on odd guy who wanted to make a sword fighting game not just a button pushing and actually sword swinging thing and a lot of people laughed at the idea until he raised over a million dollars on kickstarter um on the right there is the satisfaction local hip hop artists on sub pop and that was for nylon magazine and music is definitely like one of the things in seattle that I feel like it's helped me make a name for myself and I've really been involved with music and I think that was a cool assignment to get a couple of years and where I hadn't been shooting as much music is when I started and kind of brought me back to that and fun girls to work with um this next photo was also for wallpaper magazine and it was of stephano lander he's a vp at nike and he was the guy behind the fuelband so once again I was like a kid who grew up, you know, loving michael jordan bo jackson really cool opportunity to get to go to nike's headquarters and kind of see a lot of memorabilia in see the places where these athletes actually train and go in there and, you know, make make a portrait that that speaks to that but also have my own style in it. Um, popular mechanics ran a story about people created crazy things in their backyard or in their house this guy in seattle actually built a tesla a gun, so a tesla coil based gun which is pretty scary but also a pretty amazing shoot um and yeah, once again, you know, just such diverse kinds of assignments for editorial work, which is why I like it so much this was in last month's bon appetit magazine this was about sorry about seattle and kind of it changing pioneer square and a lot of new options for people for lunch and different things. That was a cool, food based assignment in kind of a little travel story about seattle um, some more food type stuff, these were all for seattle met story about cocktails and seafood and hillary's so, you know, all really interesting stuff that I've I personally find interesting and good chance to tryto but my own style and lighting and make some images that speak to the to the assignment, but also that speak to my own like composition and kind of simple, like graphic images, so commercial work, this is definitely newer end of work from myself. I've been shooting commercial work for a couple of years now and for about a year have had a commercial rep, which has helped to get more of that work, and I'm realizing, as a freelancer, you know, obviously commercial work is going to pay a lot more than editorial, but it's it's challenging it's, you're dealing with a lot more people you're dealing with a client as well as an agency as well as talent, and you're still, you know, the guy or girl trying to make the image that you're proud of at the end of the day, so I feel like in seattle I've had some cool assignments that although commercial still speak to the aesthetic of this area and and my own personal style this was a thing for nordstrom where they profiled some local guys that were doing interesting stuff and age it was a story about denham so this was ah guy who builds harleys like nineteen fifties harleys and was documenting him for for a profile in their blogged this was probably the largest assignment I've had today it was an l a bean winter campaign we shot actually in chile during the summer so amazing opportunity to get to go to chile and try to make it look like it was main so it's kind of funny but these aerial people so that's that's another thing is like sometimes you know she's involved professional models and talent and sometimes they're just regular kids and that could be good and bad you know, kids there kids want to have fun and play and you know, making them still have a good time but still get images that the client was happy with was kind of a challenge and it was a good opportunity to break into that type of photography um murphy's oil so it's like a product of that everyone's probably seen to the store and it was, you know, not a job I expected to get but it was a cool opportunity and I feel like way scouted some interesting northwest homes and some cool stuff that's inked up with my own aesthetic and made some cool images out of a product that I wouldn't generally associate photography with more recently I just got back a couple weeks ago from idaho so these air a couple sneak peeks at a job that I did for educational campaign about education and idaho and trying to raise awareness about that and the subject matter you know ranged all over the place from from farming to kids playing football and like you know anything you could really think of as far as like professions and jobs and training and kind of landscape so it was a really good fit for my style and is a really fun job to get to travel around idaho and and make some images that will hopefully help you know, raise awareness about the education problem a couple more quick examples both of these were for a dicky shoot for dickie's clothing once again kind of a lifestyle clothing angle like real people that are actually working in the field. This guy was an organic farmer incarnation on the left and the guy on the right is alaska southeast alaska fishermen who you know actually these guys wear dickies every day and it was like fun to shoot him because they weren't out of their element they were just doing what they do and it is making port it's that actually felt candid and real and it was a cool piece that dicky's produce that was actually a print piece that was kind of a brand book about their history and about where they're at now, so seeing the final product in kind of a print piece was really nice for that one. Um one more thing for nordstrom this was amends kind of a look book type thing for the fall stuff that just came out so this was recently on their website kind of day viewing some of the more high end brands for men's and it was fun I scouted a cool spot in seattle a park kawabata gardens that I feel like it's kind of an interesting location that isn't always no no it's kind of a hidden hidden away japanese garden, so that was a fun spot to shoot a couple more from there. So now that you guys have seen a little bit about the work that I like to shoot, how did I get there? And it's, you know, there's not one day where I started getting big assignments or getting flown around it's it's been a transition and it's been something that I've you know work towards and I want to give you guys kind of my history of how it's happened, so starting out I went to school for video production at the art institute of seattle and after graduating, I got a video editing job at microsoft, and it was a great job for student loans paying those off. But it really bummed me out on editing. I was like, working on really, like, mundane, internal, like, boring videos, and it just I hated my job. I was I was in front of a computer all day, and I was working in redman living in seattle, and it just it wasn't what I want to be doing. So after about a year, I finally got the guts to, like, cut the court off that and get it typical seattle priest a job and I worked as a priest a part time, and I started picking up my camera again, and I always enjoyed shooting photos, but I never really thought about as a job. I always thought that was kind of my fun thing that I would do on the side. So work at the coffee shop kind of gave me more time to shoot and shooting personal work was obviously what I mean to start with because I needed to build up a body of work and personal work is the first way to do that and still to this day that the way that I feel like you make your favorite images because jobs are great. But then the stuff you really excited about is always what's going to really shine through and hopefully that's what people notice that image right? There was an example of personal work from a hike, which lately has been, you know, something I've been really into. So I want to put that there because I felt like I was a good starting point of the personal work section starting out, though bands and music like I mentioned earlier was was probably what got me started. I was really involved in the music scene in seattle. I had a lot of friends that were in bands, and I went to shows and festivals, and I always had my camera. So naturally, I always, you know, took photos and started doing promo photos for certain bands, and this is like, back and kind of like my space days where bands, you know, needed those kind of photos, and it was it was a thing where you could, you know, you could make some money on the side shooting bands, and obviously I started locally with fans that I knew and that at that time were not big at all leading to the next slide someone I'm sure you guys have seen lately the's photos were probably four years ago and you know, before anyone really cared about macklemore and just goes to show you that like people you believe in the people that are doing music you think is worthy of listening to you could end up being on the cover of rolling stone you know you just don't know like so it's kind of been cool to see something like that where he's obviously transitioned into a whole nother caliber of music where when we shot these photos we were both kind of just getting going with what we liked and it's cool to look back at these when I made this presentation it was fun to dig up some old shots that I kind of forgot about to be honest and it's cool to see the sea the difference another band heading the heart was also pretty successful last year also featured in rolling stone which I got to shoot which was cool and, you know, have have gone on to play jimmy fallon and saturday night live and stuff like that and once again that these photos were taken before, you know many people knew of them and they were just playing seattle shows pretty front, pretty much primarily damien dorados, another local artists that I worked a lot with so music was the thing for me that was kind of my body of work that I that I started shooting and it made me realize that you know, these airports essentially they're not they're just banned photos, but they're also portrait so it inspired me to want to do a project that was also personal work that would lead to hopefully more work and and maybe shooting assignments instead of just band. So I came up with an idea actually inspired by chase jarvis, who had put out the seattle one hundred book, and I I thought it was cool, but I thought, you know, there's a lot of people that are doing also great stuff that I know that are in this book, so I kind of did my own version of that project where I did fifty people and I shot it on hasa blot on film and all kind of close portrait's and I did the whole project, you know, funded by myself, and it was a wonderful opportunity and these air a few, I'll go through a couple slides of photos from that project and each of these people, you know, it's cool right now look back and two or three years later they're all still doing really cool stuff stacey rose it up there's amazing illustrator has gone on to be featured in juxtapose magazine and a lot of different shows around the country. Sean pactel up there is a director who's done a lot of music videos. Christian hansen below ben castle key. His film is nationally playing right now with the ellen page and several they're pretty famous actors and actresses he's, a cinematographer charlie shuck up their fellow photographer. Um, so the project kind of had musicians, and then it also had that's isha from sheba's palaces down there on the right and the guy in the middle is named marshall has been a big proponent of skateboarding in seattle for a long time. So I kind of just reached out to people who I thought were doing interesting stuff and tried to make a consistent body of work around that. So I feel like that's a good, you know, tip if there's something that you think would be worthy of shooting than you know, sometimes it pays off because at the end of this project, I had plenty of portrait that could easily be translated into an editorial assignment and that's what led to a building up the first chunk of my portfolio? The second chunk, I would say, is travel. I think most of us usually go on a trip at some point or visit family or anything like that, and I think being in the mindset of no longer looking at it as just a trip for to relax or does vacation and look at it as a chance to build a new body of work and travel stories and food and lifestyle stuff can often be stuff you get on a trip so this is a slide from mexico from a personal trip where I went for a friend's wedding and got some stuff that you know could easily be translated into a travel story or a story about sayulita and I started thinking about that when I traveled so hawaii same kind of things like a shrimp truck and a little local fish like swimming spot and just getting some images like that was was exciting and at the end of the trip I realized like this looks like I could have been sent here you know it doesn't look like I was right here for fun these were from orcas island just you know, just hiking around and hanging out and it helps to have a girlfriend or a friend sometimes in the photos to give it some life and think that's just a good a good tip to building up personal work so I eventually started getting some assignments locally I think reaching out to smaller things like city arts or the stranger or seattle magazine you know these are all great local publications and no matter where you live there's always usually some sort of paper or local publication you can reach out to you and right away, I started, you know, getting some editorial assignments, and I definitely mess to feel them up, and I think, like there's, some there's, some great tips I've learned over the years, and I'd like to share a couple of those with you that I think can help anybody in that situation. So I think prep time is one thing you really got to think about. I think I was so excited at first to get an assignment that I say, what time do you what time you want to shoot? And I would say three o'clock and I'd get there like, two fifty and like, all right, we're going to shoot at three o'clock and instantly that could be a problem, you know, if you khun, if you're gonna ask the subject. Hagen, you mind if I get there thirty or forty minutes, they really just, like, hang out kind of scope it out like you'd be amazed how many times they're totally fine with that, you get a nice, comfortable lay of the land, you get to check out the lighting and you're not so rushed and thinking about what you're going to do, you're not like oh, the ceilings are super low, and I only brought these big stands, or you're not going to be, you know, caught off guard when there's a weird chair that isn't gonna work, so giving yourself enough prep time on a shoot is a really great tip. I feel like when you're starting out and something you can easily lose sight of when you're just excited about getting your first jobs. Um, secondary, I think, um, let's see, having concepts ahead of time is is a great thing to at least jot down one or two ideas to say, you know, you're going to be shooting a chef at the whale wins, you know, for seattle magazine, like you maybe have an idea, like, ok, maybe we'll have him prepping some food, or maybe we'll have him or candid and hanging out, like, just have a couple ideas ready, so that you're not just totally winging it. I think that can help around you when you're getting a little flustered, and you look back at your ideas and like, ok, I've covered this one, but, you know, there's always room for for inspiration on the fly to, and I think seizing the opportunity is is a really good tip in these situations, if you if you see lighting that is amazing and maybe it's not where they wanted you to shoot maybe it's in the courtyard in the way of the building or if you see a really cool textured wall that's like in the side of the room instead of where they thought you'd want to shoot, don't be afraid to ask, you know, like they're your vision is what's important and that's why you're being hired to do the photo, like they might think that based on their scout photos that, like, oh, the conference room is the best spot to shoot this businessman, because that's what they always do and sometimes the best thing might be, you know, a really cool painting that's in the lobby and just an interesting, weird texture, like so I think approaching situations with an open mind and seizing the opportunity is good. These two photos are good examples of that. On the left is the french actress, a musician in charlotte gainsbourg and I had an awesome chance to shoot her at knxv in seattle, which is, you know, a local radio station, they are a great place to volunteer for photography. They have a lot of bands, anyone from built to spill in charlotte, gainsbourg down toe, like, you know, small local bands who have yet to really you know, do much besides local shows so it's cool because they haven't even playing field and it gives you some chances toe meat you know, famous actresses who have been on the cover of vogue magazine and also someone like macklemore who might end up being, you know, a huge huge in a couple of years so in this particular instance I was shooting her in the studio, which is very poorly lit and you know, microphones and cords and everything like that, which it's a studio that's what it's meant to look like, but I knew that for my portfolio, having a portrait of charlotte gainsbourg would be an amazing thing tohave so you know, doesn't hurt to ask they didn't mind if I asked if she said no, I wouldn't have done it, but she was totally happy to go outside and take a few photos and I tried to make it sort of an anonymous location it's looking a little a little hot on this monitor but it's a little hazy and just kind of out of focus but that's kind of the look I was going forward, you can't say oh, he shot her and tsp it's like it just kind of has this timeless quality to it and on the right I was assisting a good friend of mine a fellow photographer jakes dangle on a travel story about alaska and I think assisting is, you know, a great opportunity to both learn and to experience things yourself jake was totally cool about you know, in our down time obviously not when we were shooting and not when I was helping him, but I could have been sitting in my room watching tv but I went out and shot and got some pretty amazing alaskan landscapes and some cool photos this one in particular I kind of like the anonymous nous of someone down there and looking out the vast landscape I think that was, you know, a good opportunity where instead of just thinking on the assistant I should just work and then go to bed or whatever else I went out and shot and stayed up later and made some great images um anyone have any questions so far anything they want to try to go when you reach out to local local publications years getting started you don't have a huge body of work to show them of all these tearsheets any tips on things you say how you find the right person to talk? Teo, I know a lot of people get hundreds of e mails how do you kind of break through all that when maybe you're not quite as well known or you don't have names necessarily drop? I mean, I think that's a great question I've gone through that, you know, email seattle magazine in seattle metropolitan many times without hearing from them and I think it's a mix of sending them both printed materials you know, make a little promo card of sorts, which I'll talk about a little later but also just being kind of persistent, like finding finding images that you think fit the style like, you know, if they're not, you're sending them photos of flowers and you're trying to get portrait assignment it's obviously not going to work, but if you have maybe say you shot your friend and you had a great portrait that you feel like would be a perfect example of your work, like sending them a small pdf or a small like kind of look and feel mood board of your work could be a great, like way to try to just get their attention and just let him know like I'm local, like I'd love to come in some time, bring you guys don't spring, I'm coffee like I mean, bringing people treats, you know, funny way to do it, but like agencies and magazines are never going to get mad about that's just, you know, everyone has like five or ten minutes, maybe not every day, but like there might be a day that works for them where you reach out to the art director or the photo editor or you know anyone that you know that could help you if you have a friend who's a sometimes I had friends who were designers or interns and, you know, just about asking for, like, not much, but just asking for like, you know, five to ten minute chance and eventually, if the right thing comes up, you know, they throw you throw you a bone, hopefully or, um, I've been lucky with, you know, eventually hearing back from some of those places, and I think that most people will get that it just takes time and you can't be discouraged by one email that's left unanswered, I think thinking about that is good because, you know, everyone has different schedules, and I think monday's, they're always about a day, I think, like fridays are bad, but there's there's days you've got to think about when you send these things, and I think the more I do this more, I realized that like, yeah, there's a reason why there's like days that e mails have been answered in days that haven't even at this point my career, I don't hear back from magazines, and I'm always looking for more work and, you know, trying to meet new people that can help get me cool work, social media play into getting yourself out there and getting noticed I think social media is an interesting one because there's definitely people who do a lot more of it to me, and then the people who do none of the and people who do about what I do, and I think I think it's important personally, I kind of I don't have a facebook page for my photography like I have a personal facebook, and I do have, like an instagram, which I feel like it's, a great thing for photographers because it's photo based and it's, you know, it's more about images and kind of what you're up to, and I could suddenly put a picture of, like me doing this, which is a promotion, but it's also like just my daily life. So I like the the instagram thing because I feel like it is a good mix of something like a funny food photo to like on a cool location or, like, maybe something you just noticed walking by that you wouldn't have taken a real photo, but you take a phone, but, you know, that's actually pretty cool, like so I think a blogging website are a must, like, as a photographer, like the first thing people look at is your website, and the second thing, if not the first, is the block because a web site could be a body of work that you've had for years, but bloggers like are you actually working? Are you actually staying busy and whether you're working or not updating it with new images? It shows that you care inches that you're excited and so I think blogging website for me is a must and the rest of them are just kind of added on like I don't I use twitter occasionally I don't you know I'm not totally young how about that? But some people are so think it just depends on your own your own personality so we have a ton of questions coming in from the internet let's take a look a couple from there and this one is from kevin in boston who says regarding those early assignments could you say a little bit about more about what? The publication I offered you as an assignment or how did you work with them? How did that work? Cool? Yeah, I think so. Initially couple of the places I start getting signs was this stranger and seattle magazine and seattle magazine. I was quickly thrown into portraiture and I remember one that one was about some of like seattle's best letter like most interesting people of the year, so it was a pretty diverse group of subjects I shot a woman who was ahead of ah nonprofit that helped with a something that you double spacing out exactly but it was a portrait of her at the u dub campus and then I also shot a guy who won a uh esteemed award for medical thing at u dub for sort of outside of the school but he was like a scientist that worked there and researched and it was a fortune of him and kind of a lab setting so my first ones were a lot of environmental portrait's kind of in people space where they were and then the stranger would often have me shoot vans because that's what I was doing at the time so on that was also the question was did they tell you why they selected you? I think the guy in seattle magazine christmastime was the photo editor at that time quite a while ago and he liked foreign fortunes of bands and he liked the sensibility of kind of a more candid feel in a natural its expression and less you know, super lit and less super posed and I think that that style is why he wanted to use me on some of these more could be stuffy portrait of like a scientist or you know a researcher so I think like that was kind of a cool mix and then the band's it was more of an obvious thing where is like you already do this like we'll have you do it for this issue about this man and how did you develop your style? Would you say maybe what what would you say your style is and did that evolve? Is it's still evolving? I think it's always evolving a bit I mean, I definitely think I have more of a solid esthetic now that when I look at my work from the last year or two, it seems a lot more consistent where I look at those old porch it's like clearly I didn't bring a lot of those to show because it's not the work I want to show I think you grow I mean, you actually learn like better techniques and whether it's whether it's like technical stuff or just comfortable being comfortable with the subject and being comfortable working, I think your work rose and you start to realize ago I kind of like center composition stuff or I kind of like stuff that they're looking off camera that was something I wasn't like thinking about, but it just kind of happened that you're like a year shooting I look at most of my fortunes I love we're off camera boards are like looking off camera was like little things like that I feel like kind of define a style, but sometimes you don't even realize that it's happening awesome have so many questions for you, but I wanted to make sure you get going through everything that you have come to already one more though from deland how much direction are you given by the publication on what they would like to see in the photos? Is that really the various on publications I mean, I think nowadays like working for publications like dwell magazine and wallpaper there are a lot more you know they're huge magazines like and they have very specific aesthetic and the specific guidelines and design so you get a lot more direction from a big publication like that and it still gives you a room toe experiment and define what you like but I think that you definitely go into a shoot a lot more prepared I recently had a shoot for martha stewart living down in the bay area and it was ah mushroom farm where these guys are making these grow your own mushroom kits and I mean, I was amazed at the level of pre production that the magazine had done like scouting and very specific design layout that are already in place so you know you're you know you need a vertical shot or horizontal shot and like so various publications publication sometimes you have free rein and they say just go for it and sometimes you you know exactly what you need and it makes it easier and harder at the same time because sometimes you don't want to be limited by those things but other times it's nice to have a new idea of what they want awesome all right, well let's keep going and we've got more questions when you're ready all right? We'll scoot through here a little bit assisting and that working I think are are two very important things for transitioning and going as a photographer I as a photographer I'd never really did a full time assisting position there wasn't really any one in seattle that I really love their work enough I want to be like I want to assist you full time but there was people whose work I liked and howard petrolia no longer lives in seattle but he was an old school new york guy who lived here for twenty thirty years and shot fashion and I loved his work you know, I thought he had a really interesting aesthetic and I knew I could learn from from his style of shooting and I bugged him and didn't hear back from them and eventually um we kept in touch just the e mails occasionally and eventually he asked about a certain photo of mine about a processing type thing that I did and I told him I would tell him how I did it if he let me assistant finally so I got a couple a couple of days with them so it's fun and I became a good friend and like appear and I think like assisting him I even though it was only a couple times that I learned a lot so after that I was like well, you know, I see that assisting is something that is valuable but if there's no one here doing it then what can I do? So one thing I did was reach out to shoot producers so for for a commercial work you know there's a producer who is hiring assistance who is hiring, catering everything and those people can are the ones who go to a city for a shoot and they need to hire local talent our local assisting if it's not a giant shoot or even if it is sometimes they still will use local assistance. So I reached out to producers who were working for photographers that I liked and photographers and other markets like l a and new york chicago and I tried to become kind of a go to guy so I could occasionally assist when their chutes in seattle so reaching outside my city I think was a good tip that's me and the jacket right there assisting david black who is one of my photographers based in l a and this was a shoot for google and it was here it in seattle have shot it smith bar and that was a good example of that the producer on that job I had been in touch with for several months never gave me a job then all of a sudden it's like oh david's coming like you want to be second assistant on this so it's a good opportunity to learn you know how that worked their foot on the right is the band the decemberists and that was autumn two wild who shot it? Who? She's a very well known photographer based in portland who are actually l a now but she has shot a book about elliot smith and she's done a book on the death cab for q t and she's done covers for wilco and for lots of just amazing bands and reaching out to her producer was another good move on my part because she did shoot a lot of bands that were based in the northwest and this december shoot here in portland on a farm you know, it was no different than than how I would have done it and I think that was a cool thing to see on a shoot of that caliber where yes, the shoot is probably, you know, costing a lot more than I would ever charge a van but she's still shooting natural light on a farm with a hostile blot and it was it was a cool eye opening thing to see that you know, somebody I admire their work so much still wasn't if the light was good, they weren't, you know, needing to light it and I do think lighting is amazing, but sometimes natural life is what you want same kind of thing with this shoot, this was a starbucks campaign that a good friend of mine, elizabeth weinberg, shot, and I got to assist her from that same producer as the david black google shoot. And once again, it was like elizabeth coming to town to do a starbucks campaign and, you know, I got to help out, and it was a good opportunity to see a really high caliber commercial shoot and as someone who had yet to shoot one once again, you know, a very pretty natural light kind of vibe, obviously still very technical and a lot going on, but it was nice to see that, you know, my own style could translate into something like that as well, and it was kind of another eye opener where I always admired her work, but it doesn't mean she was, you know, having to necessarily do something that I wasn't proficient in, um, building a network, I don't really have that cool of a visual slide. I'm not a designer, but I threw together somewhere is that I think are important about your own personal network, and I think there's two parts to your network, I think it needs to be local, and I think it needs to be national, I think. Like I said about photography, the photographers I reached out to his people be a tumbler, people via flicker. I mean, there was all these social media platforms where I saw people's work, I just loved, and I followed, and often times there were guys or girls, my same age group in different cities, doing similar kinds of work, and, you know, it was kind of dorky, but we totally sort of, you know, corresponding via the internet and people like jakes tangle and michael freeburg and daniel shea, like those guys, became sort of friends through through talking and just kind of being a community and a support system, like, if you had new work, you could send it to your buddies and offer feedback, or if you got a big job, and you're curious what, maybe you should send for a bit, if you were a little questioning on the rate, maybe you could run it by them, and they could help you out with that. So I think nationally, that was that was a good thing to do was toe compare like rates and compare strategy with other people that were doing the same. Hustle is yourself, and, you know, not just limiting yourself to seattle or whatever city you're because sometimes that can be a little a little sad and a little hard when maybe you're in a small market where magazines are paying a really unfair rate, but you just get a big break and you don't want to sell yourself short, so I think, you know, knowing what things go for and knowing rates and proper things with your network is a good way to do that locally, I think it's awesome to just get together with other photographers and people that are in the same boat is you and, you know, trying to do the same thing because it's it's, fun to go shoot photos, whether it's a photo walk or whether it's, maybe you set up, you know, some kind of day where you're doing a test shoot or some modeling type stuff where you guys pull your resource, is and pay a makeup artists and rental location and go shoot something just strictly for fun and like those kind of things have been helpful when I was first starting out, events like that were really, really helpful, and friends working together was exciting. It was a good wayto get better and also toe, you know, feel like you have a nice core ending the section I don't want to actually do a quote from my buddy jakes tangle put out his own little guide to helping photographers in a similar situation kind of like this talk, and I like to this quote about the network, and he said, so many of these photographers I speak of had turned into some of my closest friends, in part because we all get each other so quickly and so well, and also in part because we're going to the same life pursuit because I feel like, weaken, I also feel like we can really get to know someone by looking at their work, and I think that's a good quote, I mean, it's, just like the core of it is essentially that, like, of course, some kid in, like chicago who's also doing what you're doing is going to, like, become your friend because you're both, like, relating to each other so much and like, oh, I just had the same experience with a client where I've I've sent them pro mose, and I haven't heard back or I just heard back teo and it's exciting that kind of grow together, um, marketing going into that, I think building a printed book is really important the's days I pass a great and I think they're a good way to have work candy, but I think a printed book is something you can't you can't do better than that, it's just a classic you know, the best representation of your work like nice prince of your work is fun to look through, you know you're you're excited to look through prints that you've made and see them together and kind of an edit that makes sense and I think asking for feedback when you're assembling your book is really important. I know myself a zoo photographer I've been really tied to certain images, but I just love like, for instance, this image director mike mills I love this portrait and it's been really hard for me to ever take it out of my portfolio, but my my red maria has been a nice voice of reason where sometimes sometimes it doesn't fit or sometimes you know you might have three photos that seem wade two different to be together and having someone help you edit your book to something that feels coherent is really important because I think often we forget that we need tio we need to have a aesthetic and a style you don't need to show them you can do everything like you don't need to be here's my studio shot here's my landscape here is my portrait it's like it needs to feel consistent you might have all three things, but unless they feel right together it could be over overkill on the magazine just is like, what is this person even want to do? So I think once you get that book and you feel good about it and it doesn't matter if it's just personal work at first my first trip to new york was all those portrait's from that syriza as well as some traveling and some just street photos and things that I thought were cool but you know nothing that big of an assignment or tear sheet so I went to new york to midtown and it was terrifying but as you know, somebody from seattle who had never done it never even been there I sent emails to photo editors I sent promo cards and about two weeks or so before the trip you don't want to do it too early because these people are very busy they you know, if you think seattle magazines hard to break into, imagine trying to get a meeting it like elle magazine and somehow I pulled it off so it's like they want to meet you and they want to meet outside talent they don't just want to hire new york people because you know, if you're in a region that has cool things going on like there's people covering it there's a lot of tech going on in seattle there's a lot of food, there is a lot of outdoor stuff, so you know, knowing where you live and representing is is actually an advantage in my opinion because in a week they're going to meet probably you know one hundred photographers from new york and l a and maybe three or four from the northwest like so you're a lot more likely to be at least remembered whether or not your work is going to remember in a good way or bad way is hard to say it just depends on how the meeting goes but I think being being not afraid to try to get those meetings and pursue it you'd be amazed what you know what you can actually get your first run there and every time I go I've had more meetings so obviously getting tear sheets and getting more jobs has helped me get more meetings but the first time that that scary you know first trip was not as bad as I expected and using your network to help you maybe get a foot in the door somewhere if you're your buddy shot for somebody maybe they could shoot you a quick intro that doesn't always work but I mean it's one way you can try to do it is you know using people you know toe to get in there I mentioned promo cards this is an image I used on a promo card last year I think the things you need to look for on an image that is on a promo is something that has your style in it whether or not you know what that style is yet is you know up to be determined but if you think that I really like things that have motion and I like things that air senator composition, you know, think of something that your house your style not just a random photo like, um unique, exciting, memorable personal it doesn't really matter I just need to speak to you in some way and your own you need to speak to what you want to shoot it doesn't mean I want to shoot fashion necessarily this could be translated into like, you know, a travel story or something about, you know, a youth, a portrait about, you know, someone doing something cool I just think like this image speaks toe like commercial lifestyle photography, it also speaks to fashion. It also speaks to portraiture so kind of covering covering something that you think is good. This was another old super old promo that I did back in the time when tyler, the creator and odd future was like, really blowing up and I had shot some photos of them before people really knew who they were, and so I use that for a kind of an instant recognition kind of a feel, so sometimes that can be a good thing to do if you had an amazing moment that you caught maybe it was a journalistic type thing maybe it was a portrait of somebody you ran into but sometimes using the the celebrity or the exciting moment could be another promo card where they might have just threw in the pile but they noticed oh that's that guy who's like getting famous because of his weird rapper something you know like so this guy was you know had this kind of rep going for him so I think that this card helped get me a few more views at least if not maybe some e mails back digital promo czar kind of controversial I think some people hate him some people love them people obviously get hundreds of e mails every day so you can't get too bummed out if you don't get open but I know personally a lot of photo editors put them in a folder and review them later and you know they'll go back to them. So this was a promo about my most recent personal project, which actually turned into a project for filson clothing company I've been hiking tio all the fire lookout towers in washington and I'm doing a two part post on wilson's blogged about the project and this was the first kind of email promo that I sent out kind of educating about the project and showing a grid of images to kind of get people excited so this was an example of an email promo that you know it's it's not it's always easy to get people to open those up but when they do if it makes an impact, it can it can get them to look at your website, which is what you want um, social media, we kind of touched on it a little bit, I think it is important to update your block, and this is like on online instagram screengrab, and I think it just shows how much I, you know, go all over the place of mine is like it could be a photo, like some of the landscapes on the bottom from a recent trip to maine that, you know, could easily be considered, you know, nice photos in themselves, but then also something like a shot at my house or beer, whatever else you know, I think like, I think it's important to me slice of life stuff and not just bombard people with, like, check out my work, check out my work like, I think sometimes people just want to see what you're like as a person, and I think that can be actually more mohr benefiting sometimes than just on ly showing a really cool like jobs that you do because sometimes that's overwhelming and I think intimidating and I'd rather be somebody people just like, oh, that guy likes to go fishing, and he also she hates photos like, you know, so I try to show kind of slice of life um website isaac screen grab from my home page I think having a good web site that you can update yourself is really important obviously you want to look good but if you hire someone and they have to do all the updating that's that's not gonna work well and I think it's a it's a good thing that you can change it out as quickly as possible and tailor it toe new work and new projects um looking ahead kind of ending this talk I talked a little bit about doing personal projects and I want to say that for me I know that like I have a good momentum going right now and I'm getting some cool work but I also know that every year there's a new guy or a girl who's going to get, you know, written up in pgn and he's going to be sending from losing any working that much harder and you want to stay relevant you want you don't want to think about one assignment being like, ok, I'm a professional now you want to keep thinking what do I want to get next, what I want to do and the fire lookout project like these a couple more photos from it has been a good example of that where I started in the beginning of the summer with no real client and I know riel purpose for it except that I want to do it and that I wanted to go explore these places and create these images. And, you know, it was a good chance to get some lifestyle and environments and landscapes and even some food shots. And all of a sudden, you know, this project turned into something that a company like filson wanted to put out and want to sponsor. And it just goes to show you that those ideas are what's going to keep you going as a photographer. Um, this was from a cheese northwest cheese project. I did personal project last year, traveling to some local cheese farms and kind of seeing that there's this boom in this kind of artisanal cheese thing and, you know, it's it's cool toe like she was something like this and then pitch it to other, you know, pitch it to clients and use it on your site as something that you can market like this totally help me get that martha stewart job. You know, it's it's work that it's feels fresh and it feels light and it feels like candid and it feels authentic, and I think that's because it is it's, like, you know, I went to these places and reached out to these people and, you know, gave them some cool images and ended up getting a nice body of work for myself. Um that pretty much wraps up my talk I mean I think basically transitioning there's not one way to do it but I think if you stick toe shooting what excites you and don't get discouraged and you know keep keep up putting material out there for the world and hopefully eventually people start noticing it so kyle when you're reaching out to shoot producers or photo editors sometimes I've found trouble had trouble finding out who to contact email addresses you know sometimes is the masthead sometimes it's not sometimes on the website sometimes if you call you just get reception is just trying to shove you off in the corner deveney tips for finding out who to contact and how did email addresses and phone numbers I mean honestly like I've gone through the same struggles it's like there's not really one perfect database aside from once you like I still don't even have a full time membership ad based but theirs is things that you khun purchase like add base which are uh you know, companies who you are a member of them and they haven't updated list of contacts that magazines and agencies so until you can actually afford those things there is just the classic way of going to the same thing taken I've taken pictures of mastheads at barnes and noble gone home and done guessing I've guessed the email addresses and then sometimes it bounces back sometimes it doesn't you know it's not that hard sometimes you like you think ok, this is a condom ask publication it's so and so's last name at a loss it's like kind of doing that that challenge for myself has been how I've done it and then also things like linked in things like twitter things like facebook sometimes you confined contact sometimes you can't but even calling like you said sometimes that actually does work sometimes it doesn't so I think it's just a mix of those things you're doing the right things sometimes it's hard to break in I still have ones that I have been able to find so it's even for someone who's been in like plenty of stuff I still can't seem to tap into certain ones just depends so I'd say keep doing that keep you know I asked around if you talk to somebody who else's shot for them and you know it's not one way to do it really all right, I'm going to take a question from the internet and then we'll go back to our live studio audience. This question really resonated with me it's from the mindy's could you please tell the whole process to sell your traveling job? You're traveling images and kyle I traveled around the world for a year in two thousand eight I came back I probably shot about forty thousand images and I thought I'm going to go out there and I'm going to sell these images and then I came back and I didn't know what to do with them so tell me a little bit more about that that process I can offer a little bit of insight on that but I actually myself have not done a whole lot with the whole stock thing are selling for me the traveling thing was more building up report folio and a body of work where I wasn't so much selling it as much as using it in my book but there is there is times when magazines if you reach out to them like sunset and um you know traveling the easier in places like that where they do so calls to photographers and calls to reps about you know we're doing a story on san juan islands and we need a photo of you know mt constitution by tomorrow so sometimes things come up where they do reach out and ask for images like that so I think reaching out to photo editors at magazines that air travel oriented is a good way to do that but I haven't done a ton of stock selling or a ton of travel selling as faras you know going on a trip and trying to market those images I have more just use them to market myself in the studio yeah paul going you said that you have a commercial right? What is that? How do we get another that's a good question, another like one that is no one way to do it but a rep is basically a kn agent or commercial representative that represents photographers they're artists or directors and you know their goal is is hopefully to get you work and it's it's been an interesting thing because obviously I've seen my peers who have reps and sometimes you think like, oh that's like instantly the way to get all these big assignments but I also think there's something to be said for like I myself signed with a rep about a year and a half ago who only represent one photographer at the time and was a pretty small operation and for me I think that's actually been great because we've been able to grow together and you know, she's out there working with you and for you and it's been a cool process bianco artist management is my wrapping she's expanded you know quite a bit since we first started, but I think that's a good sign, you know, it's like she's, she knows her visit, she knows her photographer's work and she knows the kind of work we want to get and I think that's my tip would be if you do get to a point where you want to get a rep for start trying to find one reach out to people who you think are are doing cool work and representing photographers you admire, not necessarily just because they have fifty photographers, I think that's actually sometimes a bad sign because you have fifty photographers, so you're probably gonna get your money somehow, but you're not necessarily pulling as hard for all fifty. So I think for me having a smaller up means yes, sometimes we lose a job to a bigger company or a bigger photographer, but sometimes they see that spirit and that kind of, you know, the new guy who's working that much harder. And so I think, that's a good tip is when you do get to a point where you start trying to find one, make sure it's a good fit personality wise and a good fit that you know, this person, they're going to be working for you, and you're going to be like, you know, seeing a lot of each other, so you want to make sure that you get along and that you have the right your heads in the right spot. Did you interview a number of people? And then fabio had specifically had asked, I noticed that you work within our agency rep when you decide to hire one, how much of that has an impact on getting you work? Um, I mean, the impact berries like I'll tell you right now, commercial work is not easy to land like, you know, you're always up against at least two or three photographers for a job and it's often not up to the agency stuff to the clients, so at the end of the day, you might be the total recommend for the job, but the client might just think something is a little better about this one guy or this one girl and I think that you can't get discouraged, you just have to keep doing your thing and eventually the right jobs come up like, obviously that l a bean and the nordstrom stuff was a really good fit for my style and having a rep, you know, help help pull for getting you those jobs is good it's hard it's harder to get commercial work without a rep, I agree, but I also think on the editorial and things it's actually easier to get work without a rep because, you know, they want to meet the photographer who's going to be working for them where an agency generally wants to meet like this whole company in this whole feeling, this so I think that having a rep has been helpful for getting commercial work, but it's definitely still a really hard work for both of us and we're working together and it's you know, we've lost way more jobs than we've got, but good trials we have got have been great so it's interesting because I think so money of us photographers do feel like we're alone and working alone unless we have a bigger team and so just having that support, I imagine definitely is very helpful, yeah, like I mentioned before before I had a rep, I mean, having that support system of other photographers is sometimes justice helpful is a rap if they've done a job that was of that same caliber and you're wondering where your, where your estimate should be at and what the going rate is for, you know, this type of work or this kind of usage like there's there's also reps that you can hire freelance for if you're up for a job, they can help you to submit a bid freelance where you pay them for that one job they're not necessarily working for you full time, so I think that's a good tip to you is if you do get in over your head and you don't want to sell yourself short on a job, then you know, pay someone who does it for a living and like, you're going to pay them a good chunk of money, but you're probably gonna make a lot more than you would have if you didn't hire them so absolutely as a late we have more questions in the background when you work for someone like nordstrom or when you just happening upon macklemore had do you and then you want to use those images in your portfolio you obviously don't want to put in the new fall fashion before nordstrom does on your blogged so how do you mean do they give you that? Yeah, mostly leaving every job should have a contract like even when you're starting out like even if you're just shooting an artist for for their promo photos like you should have a contract because you know you can never just assume people are ok with things like you just need to outline the usage and if you get in a magazine job you'd be amazed sometimes how sometimes the standard contracts are very not okay for photography like and they just give they start with what their dream world contract is and if photographers don't read it and just sign it, then you'd be amazed how how long you're giving them these images tone so sometimes if you read the contact me like, oh, I'm actually could we switch this toe like six months instead of nine months or you know, whatever it is, the usage can change and often they're totally ok with that you just have to bring it up and I think that's been another learning thing is like if you don't, you know, sign a contract with an artist and then you're using their photo, then you could get in big trouble or vice versa like I would never post, you know, client work before it's out, I mean, obviously I showed you guys a little sneak peek provided job but like it's not like the final ads or anything like that, so I think, you know, obviously don't put out things that aren't that are owned by you yet and make sure to read your contracts and understand that you do on the images after a certain amount of time and sometimes that can be negotiated sometimes it cannot. So yeah, so you mentioned earlier that your work is a reflection of you. I'm curious how selected you should be when taking on new assignments and how you balance working with in your vision and your creative space and pushing your boundaries and going for the types of looks that maybe aren't part of your current style. Oh, that's a good question. I think I'd be lying if I said I only shot jobs that, like, we're totally my style, but I do try to be kind of selective I mean, I've definitely turned down some assignments this year that I just felt like we're not we're not going to be good, I mean, like a ce faras maybe the money was good, but if it was totally just a complete contrast to what I do, then it's you know, at the end of the day you're it's no worse than a desk job are a job that you don't enjoy for shooting content that you don't enjoy that goes along with the commercial work, especially because I've heard of photographers who were just doing really cool stuff and like blowing up and getting all this attention and then after two years of working with a rep who was getting them just work that they would never show all of a sudden they're just fizzled out and they haven't produced anything they're excited about it ruin a career, so I think having a little discretion is sometimes hard to turn down work, and I'm not saying to do that, but I think putting out things you're proud of and constantly shooting is really important to keep up that excitement and not just, you know, more finger style into something that it shouldn't be if that's not what it is yes, adding under that actually, you have such a lovely wide range of study, not styles, but genres that issue issue landscape and food and important it's do you recommend someone expanding if we focus mostly on portrait ce or does that had did that help you in your process? Because you had that range I think it did help me personally being in a smaller market, because when I was going to new york and doing those meetings, you know, I realized I did kind of have a little I didn't have a ton of food but had a little bit of food from the trip for something, and I, you know, shooting a few things like that and kind of building up a secondary body of work, I think I wouldn't have gone into martha stewart to do a portfolio meaning if I had no food and no like lifestyle stuff in my book, and I wouldn't have gone to bone appetit if I didn't have that. So if it's something you want to shoot, then I would say, yeah, it's helpful. But if it's not been, don't force it does, I think, like having a section on your website that's, underdeveloped and just rushed and just like, oh, I want to be a food shooter, so I shot like ten things this week and, you know, I think take your time with it, but if it's exciting like I've kind of I felt like I wasn't sure if that would work, but it has worked for me toe have kind of a diverse spectrum because, you know, getting hired for a portrait and then getting hired for a food shot is slightly different, but being in seattle, those things both come up, so it's been helpful that I could do both of them go ahead, who generally, in the shades, contractors that use a photographer or an ancient or the client for it's, almost always the client, most magazines or publications have their standard contracts for photographers, which that's when I mentioned reading through it, the first round of the contact is often, you know, they're ideal situation and it's not like I changed every time, but there is times when you, you know, you notice that the use of seems really high or seems a little insane and like you, khun, you, khun, you know, counter back with, like, an updated version of the contract and ask if they're ok with that, and as far as commercial work it's kind of a mix of the client and your agent, when your agent submits or yourself submits a bid, you're outlining everything you know you're outlining, like insurance meals, like all these things on a job, and and the contact will also stipulate usage, so if you don't specify that, then you know, that could be a problem, so you need to be very clear about in a contract like these images air for web only, or these images are for print, or for billboards, and those those things all change prices. So that's the thing there's, not really, people often there say, what's your rate, or, like, what is your rate? And there is a standard rates and things, but it really depends on the project, you know, like doing a small project for city arts in seattle is not going to the same rate as doing a shoot for bone appetite, so it just depends on on that. So I think the contracts are always initiated by the client, but it doesn't mean there's not room toe adjust, and then you always retained copyright. Then I'm not super versed on all that, but usually as a photographer, you own your images, but after a specified amount of time, go ahead and friend, so your passion is a full time job. Are you constantly passionate about what you're doing? I do you have ups and lows our ups and downs? I mean, there's, bad days, but I think overall, I love what I do, and I working for myself has been a challenge, but the second I cut the court of the copy shop job even though I was only there two or three days a week just having that mental space of like, oh, I have a day job like was was like, oh it's a safe thing and then the second I cut the cord it it was scary, but it was like you do better because you know, you wake up and there's not going to be a job you need to be at necessarily, but if you're just sitting around, you know, it's, like I think there's certain personality types that can do this and certain ones cannot there's plenty of photo jobs that are a little more stable I mean there's like a lot of studio work and there's a lot of things in seattle like amazon and nor show and great, you know, great places to shoot, but I think as a freelancer it it is challenged, but it's a challenge that personally makes me excited and like it is fun and there's definitely weeks where I don't get a call and I get a little nervous, but then she has something you're excited about on your own time go on a hike, you know, it's like I always try to make the most of the downtime and then you know if push comes to show there's always like, you know you can go back to you know, hitting up some people for some band fortunes or whatever else like so I don't let it don't let it slow me down I always you know, if I have in a slow week I'll try to make something happen I think that's a really important point and I really appreciate that question and what you said kyle about it works for certain personalities excuse me and not for others what do you think are the characteristics of the person that it takes to be able to run their own business? I think social is huge like I think like it doesn't mean you have to be annoying or chatty like in a way that's like knowing if you will but you need to be not afraid to seize the moment and if you're at a party and you know that this guy's the social media guy at filson you know you're going to go say hello to him are you know, meet him or if you're going to go to new york with your portfolio and you have ten minutes for the photo editor, you're not going to sit back and let them look through your book and and say have a good day you're going to guide them and you're gonna talk and you have like ten minutes to be memorable so I think having a personality that's not afraid to talk to you about which I know that it's very hard for some people that's why I think some people struggle with freelances because it's often your own push that's doing it and even when my rep like has a big portfolio meeting at an agency she wants me to come it's not like she wants to be like showing the work she wants them to meet kyle as like a person to work with like there's a reason they want to hire me versus like someone else like the other guy could be just as good of a shooter but maybe not the right personality that you want on a three week shoot delay you know, like you got you got to get along with people so I think being being pleasant and being like polite and also having strong opinions is good. What do you think about diligence? Because I personally I'm now full time employed here at crate of live and I wish him every day super grateful for that being my job. I was however, before this launch my own photography company when I left the corporate world and turns out I was not that person to want to run my own business turns out I've loved that balance of security and working with a very, very creative team but I think that perhaps for me one of the things wass having that diligence and staying toe a schedule there are a lot of things but are you telling me about about your daily sort of as an entrepreneur has a solo preneurs what keeps you grounded and sticking to what you need to do I think you kind of just after you make the decision to do what you have to come up with some I guess quote unquote rules or like kind of a schedule for yourself there's definitely time you know you spend whether it's ending images it just needs to be time that's productive to your business whether it's the annoying stuff that I had the most the taxes and the business and which is very important like I feel like most people I know who are really doing well have a background in business and no photo education whatsoever and I went to school for video and no now I'm doing a photo so it's similar but I think the business end of it is right away like don't slack on that I think making sure europe you keep all your seats you keep aware of all these things because I'll tell you like first hand that could be as a freelancer every job I do is a ten point nine so it's like you know there's no there's no tax return here you're paying and you're going to be paying a lot of the more you make in the more successful you get so that's been the part that is the hardest for me but that I think being diligent on that being diligent on shooting personal work and sending promotional materials like try to send a new promo card or doesn't have to be a card it could be even a really unique package or whatever you want to do it could be a newsprint thing but some sort of promotional piece I try to send every quarter so like you know, four, five a year and you don't always know if people open them where they end up but sometimes you do get a call so I think diligent on that and diligent on social media and that's kind of what I've done is just kind of usually make a daily routine if I'm not shooting then then try to do some of those things at least for part of the day and also don't be afraid to go spend some of those days that you're you're in the often the middle of the week and you don't have a chute and sometimes it's good to have some personal time and it keeps you excited about shooting and you're not just like you know that you're not working ninety five so you can enjoy one or two of those days and not feel like you're slacking I think you end up shooting on the weekend often right? I love it I love it well questions in the audience all right, I know we have more questions out there, okay? This is one that's interesting from wolf heart when you first started did you ever enter any photo contests for recognition or for money? What do you think about contests in general for someone who's just starting his photographic journey? Is it a starting part or yeah, I mean, I think I don't think that can ever hurt like I still submit photos to pgn and this recent thing getting written up in pg and was really cool because I've submitted toe probably twenty p m things have never been picked, so gradually you never know, so I think and I think that's a good exercise for yourself like local shows, their local of submissions are often like, I know we have p c and w vocally, which is a really cool organization and like so many into those things, a good chance to kind of look very own work and get excited about it. So I think I think that's a good thing, but I hadn't I haven't done a ton of it and it's always something I enjoy like submitting but doesn't necessarily mean it always works, right, right? Absolutely well, I love that you are continued teo submit submit submit a loving speaking of submitting just a little break here we are doing an image critique here at creative lives, part of photo week, I want to make sure you guys all go to creative lives facebook page and check that out because talk about getting critiqued and this is an incredible opportunity, but I'm going to keep going, but I wanted to throw that out there, ok, so another question from marine spouse and we see this question quite a bit I'm a wife of a marine, and we move a lot. Thus I feel I have to start over every three years. Do you have any suggestions for getting your name out there to get the business off the ground again? So moving to new locations, I mean that's a tricky one. It really depends on the location because I know like, luckily seattle, even though it's, a smaller market is large in the sense that it's a pretty big urban city, so that could be challenging, I think it would just depend on the type of work that person does, and sometimes I think having your website and all that stuff less about where you are, like I like representing the northwest, and I like the aesthetic here, but I also don't always say, like, I mean, I'm in seattle, I mean, see, like she could reach out, you know, whatever the next big city is or whatever is driveable or like, you know reachable sometimes I take assignments in idaho vancouver, portland like I try to be a west coast floater because those guys in new york sometimes forget where exactly you live because they just look at this as one big area and I think that could be I mean that could be a good tip because like if you market yourself maura's a northwest floater or wherever this person is then that could be helpful I think to at least not limit yourself to one city I think just putting out work that speaks to what you like to shoot and then being like if she's a portrait shooter or like does engagement there couple or whatever it is like there's always going to be people that could probably use that kind of work and sometimes if you travel a little outside your region it might be helpful if you're within distance of a big market. I like that I really like the idea as well of finding that mitch that makes you who you are because you clearly have done that with the pacific northwest of her that over and over and using that to your advantage like you said versus new york where there are a lot of photographers so kind of building on that music like we said is one of your things how do you recommend that people find or discover what that passion might be if they don't even know what it is the light bulb hasn't gone off yet are there sort of action will things that you think people could do? I mean, I think that that's just a matter of actually forcing yourself to go out there and shoot like you might not get any images on a certain day that you are happy with what if you're not totally sure what you want to be shooting? I think shooting stuff will quickly tell you you don't or do wanna shoot it I think you love doing porch it's you know you could you could branch out a little bit off that where you're like ok, I could shoot a band I could shoot fashion what end? Of course it's excites me is it environmental porch it's where you're going to someone space and kind of documenting is it is that a more candid documentary stuff? So I think exploring that and maybe reaching out to people you know, whether it's like maybe you know someone who works at a cool facility and you think it would be fun to document their work space or you know you you have a friend who has a really cool look and you just want to some portrait it's you know, trying different kinds of photography and like collaborating with others whether it's like maybe you know a makeup artist or, you know, food stylist like reaching out to those kind of people could be a fun way that create work and see what you're passionate about. Like I never thought I would actually like food photography that much, but I do like it. And I think that you know something that once I started doing it a little bit more definitely not a specialized some people who, you know, highly, highly curated and style it which I think is very cool, but I think the style of shooting and a bit more naturally could be really fun. What what is it about food photography? I mean, I like trying to make things look pleasing, and I think I like food and restaurant world a lot and like, I like meeting those people who are who are so passionate about it and then trying to, like, showcase what they do, that in a way that they're happy about is pretty fun cool question in the audience. So you do want to reach out teo let's, say, an organization or a group to do maybe a documentary project with them where you would do a trade, you given the photos for their time and use their space, and how do you even waste too easily conveyed to them? Um, how this is going to be easy for them. So I found sometimes that people I guess that'd be great, but I just on the time to figure it out or or they just see it as something that could be a times like for them because they have so much on their plate. Are there things that you've seen that have helped you kind of build that? If anything, I think I've run into that a little bit too, and sometimes people are just so stuck in their ways where you're not going to sway them, but I think one helpful thing is maybe sending them a pdf or a little mock up of, like, maybe it's, some other web site of a company doing what they do that looks a lot better and, like kind of showing them where it could go because I think sometimes clients don't realize, like what? It's like the cheese farm thing like someone one of the places just didn't even care about that, but then they were like, well, what what is it like? What do you do with them? And I kind of showed them a mock up of, like what it could look like on their website or whether it could just be something that they have for themselves, and there were a lot more like, ok, like that's actually not what I was envisioning when you set a photo shoot, so I think, like some people have an idea of, like, this crazy production and like it might, you know that, but if you're like, yeah, I want to come in there and it's kind of be a fly on the wall and, like, create some cool images that you don't even necessarily know are happening. That could be one way where you kind of teach them that it doesn't have to be this thing that they imagine in their head, where you show them what actually, what it's gonna look like, whether it's your photos or not. I mean, you could always take inspiration photos and show them tow company that you think can be like, this is the kind of thing I'm imagining. All right, we have another question in the background. That question, mostly work, obviously is on location, environment, environmental. Have you felt the date? Or maybe you have your own studio space to do? Yeah, actually, just recently left, I was I was sharing renting space in a studio called homeland in central district with a couple of graphic designers and another photographer able young and andrew waves, and I think for me, that was that was a good set up because I had a desk and that was honestly why I left because I was spending more time on the desk in the studio just so seldomly comes up from me that I prefer to just rent studios face if it's a commercial job or if an editorial job needs a seamless I can often do a seamless set up on location with you know, just c stands and and wait. So for me, having a studio would be nice but right now it's not, like totally necessary so I think I don't think that people should jump into running a studio unless that's something that I want to do on ly studio portrait's which then it would be very nice to have absolutely so you started out a few years ago assisting other people. Do you have assistance now? I d'oh it's a little funny to have that but like how do you work with how did you get them what's important for you with having assistant that's one of the interesting one this year? Because it's it's been kind of ah it's come up a lot because you know it's it's nice to have people reaching out but I also you know I also just love sometimes the old standby of like a friend who's, not even a photographer if I know the shoe is going to be pretty basic, like where it's just like having a hand or having someone help ease a subject a little bit like I think that's often underappreciated thing for sometimes having just another person there can help the subject be a little less nervous and obviously you don't want them distracted them or like chatting to much but having just a body in the room can sometimes help them give one other person to look at or things like that so my assistants have been a mix I've had some friends who have kind of taught stuff to be able to help me who have restaurant jobs who aren't working during the day because that's the hard thing is like often, editorial shoots are in the middle of the day random times like and anyone who works ninety five can't do it so there's several people in town who are full time photo assistants who are awesome I've used them on jobs there's people who are highly skilled for lighting and, you know, grip stuff which I've used on bigger commercial jobs. But for me, my go to you know, a handful of people are just people that I've I worked with for a long time who I get along with personality wise who are totally down to like, you know, work hard and just be be chill and fun to work with and sometimes even other photographers you know, I've totally still help out jake once in a while when he's here for a job because it's not doesn't feel like assisting it just feels like you're you know you're hanging out in your learning a little bit from a friend and I think just working with people you like but also people that are hungry and excited you don't you want to be professional and you you know you never want to poach on other people's turf and be handing out your cars and things like guys like I've heard horror stories of like assistance just you know, thinking like, oh let me pull up my like web site to show you to the clients just like you never want to do that, you know, if he was just somebody just like we're card be fun to work with and like, you know, offer offer just your health and that's all it is is like being helpful and being excited about it a couple more questions coming in about portfolios which we talked a little bit about rabbani had said how many photos should a portfolio have and you do editorial and commercial work do you have separate portfolios? And then finally kgo says a lot of pros suggest specializing how specialize should a portfolio or a photo book be should they only cover one thing or have categories within? I know you touched on this a little but let's talk a little bit so I have currently one portfolio and I'm planning toe hopefully get something a little bit more elaborate this year, but currently I have kind of a classic like it's lost luggage brand eleven by fourteen portrait crop with sleeves so sleeves air kind of love hate relationship they don't look as good as having a beautiful you know, bound, printed thing but I think the good thing about for my style work is if I go to new york and have thirty meetings in a week which I try to pull off, you know a lot then you're not always gonna want to show the same work if you're doing what I'm doing where you're meeting food and other people so I usually bring prince and then I'll swap out things and try to make it more specialized ous faras number of prints that really depends I mean, I think like I said earlier about leading leading the portfolio meeting is a good thing to try to do is the photographer sometimes they don't let you do that and they're going to look through it, but if you're leading it, I mean, would you rather have thirty pages to talk to somebody or would you rather have ten s o I think thirty you know, thirty to forty maybe that's really subjective I think some people would probably say that's too many someone say it's not enough, but I think it's better to have more stuff to talk about them less and if you're leading the discussion like, you know, I've had I've had that mistake where I handed off to somebody and I had, you know, someone just this woman at one particular publication just, like, looked through it and, like, probably ten seconds like forty pages, just like and, you know, it's like it's, fine, but like, that wasn't the experience I hoped I would have, so I think having enough images that you can hopefully lead them through a guide of your work, but table that to how many you've shot if you haven't shot enoughto have third even don't put thirty, you have twenty that you love have twenty, all right, we still have several more questions coming in. Okay, so from dave twenty ten, since you don't have a studio, kyle, where do you and how do you meet with clients, often just coffee shops or things like that were at their offices as faras client meetings? Editorially, I usually don't have meetings because unless it's at the magazine's office often the remote assignments, I'm just dealing on email and phone calls, so I don't really need a space to me clients, unless it's if it is something where we need to meet, you know we could just do a copy shop for our lunch spot that's that's generally what I do I usually don't have a ton of like meetings that need to happen because if it's not an agency it's generally at the agency or after magazine sure and a question from j morgan images who is one of our regulars here about personal projects how do you find sponsors for personal projects? Where do you even start this filson thing was probably the first time I've ever pulled that off to be honest so like I think if you have an idea that you know is like a really great fit for client which I knew this would be a really good fit for them it was a matter of you know you've got to find out who you need to reach out to who is the person who actually gives gives project sponsorship and whether that's something for nike or whoever it is like maybe you have a great project on some kids doing some you know, snowboarding, camper whatever it is like you have a great idea about a friend of mine just went out actually to jordan and did a whole personal project on the syrian refugee crisis and those guys went out there with their own money and then did to sit a kickstarter to put out the projects on kickstarter is a great way to produce something and or like things in that nature where you you can seek funding and produce a project and then as far as getting it sponsored I think when people see that you're going to be doing something that you're excited about and maybe you have a kickstarter than maybe a company will be more inclined tio sponsor you in a small way like so filson you know, sponsored this project with with gear that I'm going to be using on these hikes they weren't it wasn't a commercial job around shooting their clothes for money I was doing my project but they gave me sponsorship of things I could actually use outdoors so I think reaching out to the people explaining what you're doing and maybe producing some work ahead of time to show them what it's going to be not just like a pitch you actually show them some I had at least two fire lookouts shot before I pitched it to them so I had images to ship that makes a lot of sense another question in the audience kyle so for printing locally are there any companies that you really like in terms of high quality paper high quality ink you know, to get something that's going really good to show? Yeah, I mean, I think the best lab that I know of in town is panda and lower queen anne I think there's also a lot of great spots online that even if your local you can get prints sent to you oughta ron I've used in a pinch in new york have gone there same day imprinted new portfolio shots that didn't got crinkle there's something happened so I think you know auto rama's great, I think pandas great and there's plenty of other web sites for more specialized like fine art prints and declares and stuff like that but report folio prince I think it just depends on the kind of binding you're doing and all that. Another question in the audience it sounds like you put a lot of thought into the chutes that you're that you're wanting to do is specifically for the personal work how much do you find the storytelling plays a part in not only finding those projects but selling them either while you're doing them or after the fact I think the storytelling part is huge sometimes you don't know what the story is when you're shooting it, but then when you go through a body of work later I love I love that like I love getting back like I got back from maine about two weeks ago and I haven't looked at any of my personal film next I'm trying to space it out I kind of forget about it and then look through everything at least on proof stage before I re scan everything and you know for when I shoot film for personal work it's like I love I still love film, and they're still clients who love it as well, and I think that that's a good example of kind of, like a nice exercise to not go home right away and ended everything the day you shoot was even kind of space it out and forget what, what was your favorite image on the hiking? And you might end up seeing something that like, oh, this was just a random, like detail that I didn't think was that cool, but then it helps tell the story and then follow. Do you find that having themes and sets of photos works better to get your get your name out there and get recognition? Or do you find that having disparate images that have a particular look is more appealing? I think I think both things that got first just having more of a look was more helpful because, you know, at first I had a bunch of projects they didn't have telling me people cared about him, so the more the more people, the more people look at your work, I mean, obviously, like, sadly that's true, like even now, I'm not having a million people like looking at my side, but, like as I've gotten like, I've already done like you know, so many jobs for this photo editor, then I send her my project and she's excited to look through because she's met me and she like, cares about my work where is like, if you've never met me once and I'm like, oh, check out this project and it's like, I don't even know what you do, so maybe I won't look at it. So I think that at first just having a solid, like kind of generals small edit that has a nice feel and look, and then the more you start to kind of be known for that look, and you're constantly updating your blogger, your tumbler, then people come back to your tumbler to see like that look, and then you could be like, I'm working on this project, guys, and you kind of raise awareness about it and like the way that I slowly kind of released this project has been great because people have been asking about it and it's kind of like when you're gonna put it the last part of it out it's been an exciting to see that people are following along, and I think that's been the best way to do it is kind of ease into it and put out some little sneak peeks but don't put out the whole project until you have people actually wanted to see it. Well, this has been an incredible way, tio, an inspirational way, tio, kick off vote a week here at creative live. Kyle, thanks. Do you have any sort of parting words for everybody out there? I mean, if, if anything, just like this is a wonderful job they have and, like, I feel so lucky to have it, and I think if it's something you guys want to do, then then you could make it happen. It's, not overnight and it's definitely been ups and downs, but I think, like the last thing I'll say is, just stick to what you like to shoot and keep shooting and, you know, don't be afraid to take a risk and hit people up. And there is people that really want toe want to work on things, and you're working it out there. You just have to give it time.
Class Description
29-year-old wunderkind Kyle Johnson will share his personal career path — how he went from part-time assistant to full-time, nationally-known photographer in under two years. Kyle will outline how he turned his side passion projects into major campaigns for national clients, including Filson, Rolling Stone, Bon Appetit, and L.L. Bean.
Kyle will teach you how to identify the type of work you enjoy shooting and translate that into a viable marketing strategy for landing commercial and editorial clients. Lastly, Kyle, who lives and works in Seattle, will outline how to successfully get the work you want while working in a smaller market.