Contest Winner Revealed
James Wedmore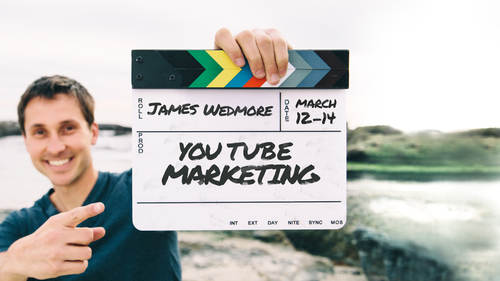 Contest Winner Revealed
James Wedmore
Lesson Info
25. Contest Winner Revealed
Lesson Info
Contest Winner Revealed
start us off. I just want to read an inspiring quote from one a person that left a comment on our blawg post. And it's from Sergio. Felix says already gave my vote, Loved all the energy and for the first timers. Believe me, when I say this, I almost cried on my first video. Ha, ha. So all of you did amazing, and we would love Teoh. In addition to that, we love Teoh. Read some quotes that have come in from YouTube for each of our students as video responses. Yeah, we have, um, categories for each each person, right. We have a quote that we've pulled for each student. Awesome. So what? I'd love to dio. Who do you have? First we have Kate first, KK. If you could grab the u seven u c described the microphone. Um, And go ahead and read off these what we've people have insane about takes the stage. Kate from Wayne Upchurch. I know this just seated you with great ideas and added confidence. You created excellent value in this one video, especially as I watched your progress and contribution t...
o the creativelive workshop. Your openness essential for growth, is also inspiring and shows your commitment to your personal mission. You're willing to do what it takes and you make courage look easy. Well, thank you, Wayne. So So it's OK. You've already had ah, ton of views on your on your video, which was very exciting. Um, and it was a great video. And I know you already have ideas and content for future videos. So what I love to hear from you really quick is just some of your feedback. And really, you're your takeaways. As far as, like, what's What's the next step for you? Like, Where you gonna go beyond these these three days? So I was just on the phone with Mike, my business partner and boyfriend, and he and I have to write a busy a business partner first. Which one comes first? My boyfriend. First way. Welcome. I thought you back. Thank you. And tonight I need to write a marketing email for a course that I'm launching tomorrow called Money Love. And he was like, Are we going to shoot a video for that? And I was like, No, because after what I've learned today, there's no way between now and tomorrow morning. I could possibly do it well enough with the information that I have to make it worthwhile. And I know I can do that better and faster in writing and then for the like the next time, just slowing down and taking that time. And I think my biggest take away is I probably do too much. And I spread myself too thin in terms of launching things and projects and whatever. And if I could just, like, even cut out 20% of the things I'm doing or 30% and take, like, what? Stew? And, um, Dean shared what you shared and get that calendar mapped out. But, like, kind of like when you're packing, you want to want to put in all your clothes and then take half of them out. That's what I need to do with my calendar so that I can do it right. So that's my big take away. And you feel like you have the confidence in the know how to do it to do it right from here on out, I dio yeah, yeah, so on the plane tomorrow, I'm gonna take out my highlighter and my notes and make my action list. Awesome. Uh, thank thank you. Okay. I appreciate. Well, um is Rachel Rachel, are you ready? All right, Rachel, this video style actually makes it easier to debt to digest that information when you present than those other videos that come up as suggestions on the same topic on YouTube. And you yourself are interesting to watch and your passion for using color effectively for your clients in creative graphic uses comes through. You also present a confidence in your information in a voice quality. I can't quite explain. You show up trustworthy in that respect. So integrity, persona, creativity and fun. Eso So, Rachel, one of the things that you you said you had the biggest fear around was not how to make a video. Not how to do all this stuff, but how people would react. The video. Is that a pretty good reaction? Yeah, it's a pretty good It's pretty awesome. So we've spent three days. I know. We're all exhausted. Uh, what is day four look like for you and beyond? Um, I think that for a long time, I think I've had It's like almost if I don't get started, I can't fail. Um, and I think that that all the things that we own over between the video and also how to take that and work it into a comprehensive marketing plan with blogging and just how all of these things fit together, um really gives me the confidence to bring a these things into my life and actually do them, Um, in a way that I think I was just too afraid to do before it all feels very clear. And I'm totally going to go home and make a bunch of video. Awesome. Thank you. Thank you. Handed Teoh. Randy, we have something we dio or the mill amount. Master. Everyone has so much praise. You guys will have to go home for a really good ego boost and read all of your comments. These air Just a little sliver. Randy. Yours. This from mate? Um, I voted for Randy as he shows how the modest person can do great video using his special skills editing and using Muppets. Thank you for convincing me that the out takes can be done and can save video. Randi, you've done something that I've always wanted to dio. And if I'd fear myself to do it on. That's taking an idea in your head and throwing the money or finding the people to give you the money and actually seen it to fruition. And then you want to sit here and have the audacity to tell me, Who am I? I'm not an expert of anything. I don't have a reason to be teaching or saying anything. Video. I hope now that you understand that that's totally BS. That's not true. Uh, what? What does the future hold for? You passed this workshop tomorrow and beyond Tomorrow. It's all about perfecting a system that I can use for the rest of the year, and in fact, I'm thinking about making a calendar. In fact, I'm thinking about crowdfunding that calendar, uh, with my with my great backers out there from Kickstarter. So it's all about getting 2013 into 2014 all mapped out. I really look forward to you inspiring and helping other inventors and creators of products. I think you're already a source of inspiration. How many? How many sales have been making a ton of sales today as well? I would send everyone right now, but I'm sold out. So thank you so much creative life or in the audience for for that, 2013 is gonna be about the mill amount movement so that absolutely I have I was on my way out on the first night and I was on my bike and, like, ready to go. And then all of a sudden, um, Kate was like, I just first ill and cheddar phone out. And then all of like, they all were like, Oh, my gosh, I have so many likes. Thank you. This is a really random introduction, but thank you, Internet audience for really actively responding to our students. It's so encouraging for all of us. Actually, all of us here. All right. Next up is Krista Crystal. Your comma is from Laverne Who says I love Krista's video? Of all the topics and videos, calculus would be my least interest, but Chris is energy and way with words with definitely entice me to learn more great song. Thank you, Chris. Quite a difference from video one several years ago when you made that first video. Yeah, I Please don't go look back at my original videos. There 1000 times more horrible even than my current videos, which I don't even love that much. So even if you didn't make the step up to becoming more in the spotlight and having more of that engagement and energy with your audience, the number one thing I care for you to your take away like the thing the transformation I want you to have is is making more money from what you're doing. I mean, it's a full time job, what you're doing, And I know you still have to make another living doing something else in order to continue your passion. And, uh, you know, $500 a month is not gonna Obviously, we can't live off of that. But it's also it starts to drain your passionate starts to put out your fire a little bit when you're like, Is this really all I'm getting back for it? And with a few simple tweaks, you have the audience with views in the content. With the right back in strategy, you can have something that pays for itself and reignited that flame to make 600 more videos. And that's what I know you're gonna be doing so awesome. Awesome. Yeah. Awesome. Brooke, I want to see you this'll one high brick I absolutely loved the out takes where I could see the real you And you already did the hardest part, Which is getting your first video done. Looking forward. Toa watching your progress on YouTube and best of luck fab u slash Berg, You came in here having only made one video in the past which, technically your friend filmed it. Not you and I helped you film your video yesterday and I see many more videos in your future. So what? What what is the rest of this? Ah, your business future. I'm just excited. Like you said, Make more videos. Mention before just, you know, connect with my current clients, attract new clients and be creative and then share my passion for skincare. Awesome. I love it. Good And last, but not least. Of course not, Charles, Your crew I love this. It starts with Sorry, I don't know your name, so I'll call you drug talk TV guy. Great YouTube recent tour the channel. By the way. I think you did awesome with this video. You already do radio. So you have the talking pace and groove Understood already. So it's just a matter of doing more videos, and you feel in complete control. Good luck on the YouTube, journeyman. I believe you are going to crush it. Very nice. Thank you. That's awesome. Comment. Uh, Charleston, Day one. You came in here with such a positive attitude and such a like a unique perspective of caring first about the message and your mission, and I just don't ever lose sight of that. And, um, you know, you are gonna crush it. So what is what is day four and beyond look like for you? What type of action steps and takeaways do you have? Well, I mean, obviously, you know, I've got a lot of knowledge that I wanted in part, but I really want to not just bring out what I know. I want it really interact with the people who are interested interested on this subject. I really want to build discussions between people all across the world on this topic. And ah, really kind of like what Randi said. I need to sit down a map out kind of a course of where I'm going and kind of look at what I can do to Ah, as you say, monetize, um, all my knowledge, but also, while doing so providing a really useful product, whatever it may be for everybody. Yeah, and I think I think that will come to you. That'll get clear, is you do more more of your video's so awesome, you guys, I am. I'm so happy for you guys. I'm looking at how many views you guys have already received. And even YouTube takes a little bit of time to catch up with the real time views. Eso You got many more? Um, What I'd like to do first is you guys applaud yourselves and everyone else in the studio just amazing, because in a second here we are going Teoh award one of you guys, um, some special prizes and and dubbed the official video champion of the world, which is going to include access to all my products. Like I said, which, by the way, I'm gonna make sure all of you guys have all that stuff. I want you to leave. I mean, you guys had to be in the hot seat three days in a row. Half this stuff you're gonna forget because you were worried about how you were looking like on camera. And so I want to make sure you guys are all leaving with with every type of training that I've ever created at your disposal. Hopefully not for you guys to go through it, but for an assistant. Ah, friend loved one Billy down the street. Right? But on top of that, ah special invites to my next one day mastermind in May and a virtual invite for that as well. And a brand new GoPro hero three video camera. So I have here the results straight from the Internet, the winner of our video championship contest. The person who has the most thumbs up Even though you guys all had a time of thumbs up, The winner goes to commute a drum roll Ladies, over there on the winner goes Teoh Krista, Congratulations.
Class Materials
YouTube® Background Template
YouTube® Background Template
YouTube® Video Placeholder Template
YouTube® Video Placeholder Template
6 Steps to Video Creation
YouTube® Marketing and Optimization
Overlay Green Arrow - Bounce
Overlay Green Check mark and Box
Overlay New YT Subscribe Button
Overlay Red Check mark and Box
Ratings and Reviews
I am POSITIVE that this is going to be an AMAZING course! James ROCKS and is an AWESOME teacher with REAL actionable steps! I am UBER EXCITED to see this! :-)
I just started this course and its really great, very interesting and fun course, James is a great teacher.
Student Work