Student Script Review
James Wedmore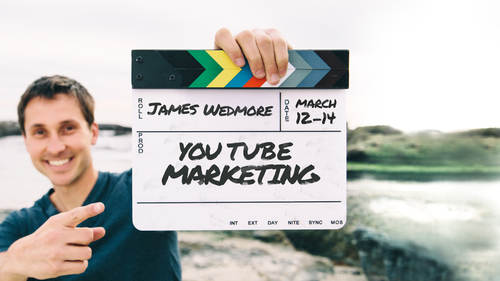 Student Script Review
James Wedmore
Lesson Info
8. Student Script Review
Lesson Info
Student Script Review
Chris Zuna video on What's your topic? My keyword is what is calculus? What is calculus? Awesome. So cool. You remember how many searches I got? Um, yeah. So it wasn't perfect, but it was sort of in the range where I thought it be successful and also something I thought I could have fun with. So it had, I think, 8100 Google searches. And it had 368,000 YouTube results. But I looked at those results. Um, and I felt like there was really only one video on that first page that was relevant. And even that video I didn't think was really well done. I thought I could do something better and a lot more fun, so I wanted to try to do it. Awesome. So one of the issues that Chris is worried about is that there are a lot of results that come up for what is calculus. But what she may or may not know is that one of the major And we'll learn this on the third day. One of the major factors that YouTube looks at for ranking your videos. Which is why we say consistency is key is your channels collect Ho...
w many views, videos, subscribers and activity you have. In other words, are you using YouTube the right way or the wrong way? And you are? So it's very easy for someone like you to outrank people that have one or two videos and haven't been on YouTube for two years. So that's that. Those type of like competitive results are going to be a non issue for you. And I looked at that person's channel, and I do have more views and more action going on and more consistency. I'm publishing a video five days a week. Um, and so that was one thing that I thought that maybe would give me an edge. Something good. That's great. So why don't you go ahead unless you have questions first on anything. Are you stuck anywhere? Um, no. I'd love to see what you have to say about my scripts. So I might interrupt you in some parts. Okay, So why don't you go ahead and begin and read it and read it, okay. And why don't we pretend like that's our camera? Could we? And you're reading into that, So everyone know, judging you Not yet at least know judging, because this is, I think, and we were talking about it earlier. I think this is gonna be something that we all go through like being outside of ourselves and, like, bigger and something that a lot of us don't have experience with. You know, like you're gonna be talking about econometric substitution and you're gonna really go OMG. So I think we owe so it'll be a little, like, uncomfortable for me, but hey. Yes. Okay, so get excited for calculus, right? So I'm gonna have to, like, not look into that time. That's fine. You gotta leave. That's totally fine. Don't worry about that. All right, So here's Here's how it's gonna be. What is calculus? What is calculus? You're totally like Oh, gee, I need Teoh. It's an important question because it's kind of what you need to know. What? Pastor class. Right, Right. Okay, so today, I'm gonna tell you about what calculus is, what it allows you to do and a little bit about who created it. That way you'll have someone to blame when you get angry about having to take a calculus class in the first place. All right, So who created calculus? The guys you want to get mad at our Godfried leaving its and Isaac Newton. Although you may want to cut Isaac some slack because there's that whole gravity thing plus some other stuff he did. So I guess he was pretty cool. But you can still get mad. People argue about whether leaving its was the 1st 1 to discover calculus. Or if Newton was first there like it was leaving its and then the other people are like, No, it was Newton. And then they're like ger. And then they're like, It's like, Ah, but basically, all you need to know is that they created it at the same time. So what did they discover? What is calculus? Well, in the same way that geometry is the study of shape or trigonometry is the study of triangle. Specifically, calculus is the mathematical study of change. Calculus has two major branches differential calculus or derivatives and integral calculus. Or in a girls derivatives are all about rates of change or the slopes of functions in a girls, on the other hand, allow you to find area driven derivatives and integral are inverse concepts which are related to each other through the fundamental theorem of calculus, which is really gonna make your head spin when you get there. Get ready. So why do you care again? Well, you care because you really need to know how fast this function is. Increasing or decreasing. I was gonna show some gags. Um, and the area under this one, don't you? Well, maybe you don't, but if you're gonna be a doctor or an engineer or an astrophysicist, calculus has a lot of really cool applications to your field. So you should give it a try. Promise you'll try. Okay, Great. I'm so glad you said yes. So if you want to learn more about calculus, click the link down below to sign up for my email list. When you do, you'll get my e book. Integral Couch's Calculus One Survival Guide, which breaks down all of count one's toughest concepts into language you can actually understand. It's a great place to get started, so make sure you click that link down below. Thanks. OMG, That was so awesome. Okay. And that brings up a great point. You know you have ah home run video when people who don't give a lick about your content is enjoying watching the video. And I think we're gonna have that awesome thing. That was incredible. I don't have any. James, don't. I'm sorry. Did I fail? I don't kind of. I wanted you to tear it apart. The I love the colder action. Um, this is a great place where people don't know you yet, so you might want to throw in something somewhere to get subscribers. Um, you know, make sure to subscribe to my channel because I create videos every week or every day. Will. Often it is making making videos. But that was that was that was perfect. Okay, I don't know how long that comes out to because I wasn't timing. It was about, like, 2.5. And I feel that the jump cuts will take down sometime, gives time to put in, like, the bumpers that we talked about yesterday. And, you know, and the next step when we're when we're filming is I'm going to just help you make sure you're, like 100% animated like having fun with it. And I think I think you've got that. So feedback even finding. Ah, there is lots of Internet love coming in. I love calculus. I got energy Well done. A few comments. I hate calculus, but I want to watch this video. I'll take that something Some Internet high fives as well. Do you guys have any feedback for Christa with me? Thanks. Great. I was awesome. I don't have anything for you. I'm sorry I failed you, but we're gonna be filming. I'll help you when you're filming your video. It's perfect like it really is. So And it's a great topic. You're gonna nail it. And when we do the gravity part, if somebody can, like, stand above me and drop in Apple next to me, I feel like that would be cool because I mean yeah, you know. Hello, Dumbo. Yes. Yes, yes, yes. Oh, so good. Okay. Thank you. You get to pick, go pick up a victim. You're Come on down. Randi. How you doing? Very well. Thanks. What's your what? Your keyword. My key word is make money with your android. So that is an actual key where they put the and worried Or did you do that? I did that. Okay. I did that. And, uh, so the reason I used make money. And although it found I found a lot of results on YouTube was the fact that the similar to Christa's situation a lot of the videos. Yeah, they were about making money, But there were more of those infomercial type videos on a lot of it Didn't have solid content. And if you click through, it would just go to one or two videos about some guys, multi level marketing scheme or whatever. Right, So So I took that into, but there was a key word that was that was, uh, made money with my IPhone. Uh, the keyword was make just make money. Okay. And then I threw on with Android or with your android. Did you? Did you try that keyword, though? Could you try to searching, make money with your IPhone and to see how many results there that there was with that? Oh, no, no. With that. Okay. See, that's where this is. This is a good topic to bring up because Randy's got found this key word on. Just make money and it's huge, right? Everyone's looking to make money, but he's added to the key word. What? You made it more long tail with your IPhone, and we don't have results on that. I will like you to check that on the break, because that's that is still going to go from here. It's gonna bring it. Bring it down. Hey, it'll be great to try and get you to rank for some, like, make money. Uh, you're gonna have is did you see the you tube results with it where they're pretty high 1 11.5 million. That's pretty high. Um, so So I'm gonna I'm gonna warn you. It's gonna be a competitive term. Um, so it's still something we're like, You saw how yesterday I took a video and, like, changed the title. Andi, like, I could re rank it, uh, so we know you're gonna make a great video either way, but we might. I'm not 100% sold on that keyword until we look at how many search results how to make money with your IPhone. Um, if it even if it gets 3000 searches a month, I'm like, that's good enough for me. But if we do it and it gets like 200 searches that's that's the type of search. That's the type of volume you're gonna get a month. It's like 10 views a month off of that, you know you're gonna get up percentage of that. So I want you just to keep Consider that. But I know you've created a great script, so let's do you have questions first? Before we go, we go into that, you know, just need more research. OK, so let's ah, let's let's hear it. And here's our we'll use our howdy because I'm born in APP was born in Abilene, Texas. Randi Kaye nations here with the mill amount, and I'll show you three ways to make money with your smartphone. But first I got to tell you why. And then this is where the video just kind of pauses and question marks around me. Um, because, you know, I'm a nobody on the Internet, so I have to explain why I am an expert. So you're not nobody. You are an inventor who friggin created and and had a Kickstarter project go through, raise all this money and had that made the first thing I want to say, Just interrupt you and apologize people won't know what the mill amount is. Have that Do you have a tag along for now? Like the all purpose? Yeah. And that'll top up right after you know, who is this guy telling us how to make money? I want you to say that. So when you say hey, Randi here with the mill amount, your all purpose tripod mount for any smartphone, like just like one little bleeps. Otherwise people won't know. And you're not here with the mill amount. You're the creator or the inventor of it. You see, Now you are something, okay? Those little distinctions of words I'm the author of, I'm the Creator and the founder off those little things. Now you are something so you don't really need to go into stuff like who am I? And one thing I do like that, you said. And by because I'm tearing you up and not Chris. That doesn't mean like yours is worth anything. So don't do that. But these air like very small distinctions where I love how you said hi, Randi. Here. A lot of people say, like, Hi, my name is Randy and blah, blah, blah. And there's this is the power of presupposition Where when you say Randy here, the founder or the inventor of the mill amount your all purpose video camera mount, you're presupposing. That's like you know who I am? I'm just telling you, because I have Teoh not like Hi, I'm gonna introduce myself. My name is James, you know. So that's that's great. It's so Randy here with the mill amount Tagline for the middle amount. Continue, um, and started here and I'll show you. OK, so if I'm not an expert on anything, I'm about to tell you why should you listen? And that's when it cuts because of my experiences alone in bringing the middle amount from concept to global sales. And that's where put in perspective eso number one in your profession. Have you ever shared your knowledge publicly? And why not? Why not start now? Use your camera phone to showcase your expertise. James Marie Lizzie. Also, they're great examples of a house someone someone with experience is consort building a subscriber base that can then turn into sales. So just start recording to in your purse. True. Uh, excuse me in your pursuit of your career business, Rennie Venture lessons learned in each step is not only invaluable to you, but anyone having the same desire. Just think business coaches are paid to advise you. Where do you think they got that knowledge from? So document your journey and number three finally share. The main reason I use my smartphone for many of my videos is that quality is great for the Web. I don't need an HD 3 9000 or whatever to make a video presentable and sharing ideas just takes a few taps. So get started and visit our store. Enter coupon code Creativelive or James Wetmore, and I'll give you a free tripod. Not just any tripod, but I mean inter Tripod. That's great. Is it, Dan? Okay, I'm just gonna add some things to it s so bear with me. Um hey, Randi here with the mill amount, your tag line, right, The tagline for it. Blah, blah, blah, blah. And I'm and it's you have. And I'll show you three ways. And in this video, I'm going to show you three simple three simple ways that you can make money with your smartphone, or I can hand it to you off camera with your smartphone. But first, I don't want you say, if I'm not an expert on anything to be us, um, you know what? You know, guy, um, it's called YouTube, not expert to. Okay, um, but and I'm not a proponent of the whole fake it till you make it thing. I want to be clear on that. You know what you know, and you're gonna share what you know. You're not lying about any of these things. You're not making any things things up because Randy here, inventor of the mill amount, your cool tagline. And in this video to show you three simple ways that you could make money with your smartphone. But first, um, I'm trying to see how, because I like that. But first, why should you listen? Um, so I I even if you just cross out the if I'm not an expert, anything. But first, let me tell you why you need to pay close attention to this short little video because of my experiences alone in bringing the mill amount from an idea or from a concept to funding my Kickstarter product. Or how much did you raise for it? 22 grand It's amazing raising over $22, to creating, you know, sales each and every day for the mill amount. Blah, blah, blah. OK, that's that's your claim to fame. It's awesome. And you even wanna show this is the next thing I want you to dio with this line, you're gonna add something. Hopefully you'll remember all this or someone's gonna help you taking notes. Um, I want you to share your that. Uh, gosh, there's a great video on YouTube by Simon Cenac. It's a it's a Ted 10 video. We talked about people by, um, Why you do it, Not not what you dio. So if you could say and I'm on a mission to help others to inspire others or show others how to make their dreams a reality, how to make their ideas a real thing. Throw that line in there so people know why you're doing what you're doing. So what can we What can we use our anyone? A little segment here? So what can we use this powerful little device that we carry with us in our pocket each and every day? Here are three things that you can do right now. Number one, Number two, number three. Okay, so you got the contents. Great. I'm just trying t smooth it out. The last part is your call to action. And the only problem I haven't called action is you never really talked about the middle amount itself. Eso you say Go to the store and buy it. But we should say a little bit. So, like I said, I am the founder of the mill amount. It's a blah, blah, blah, blah blah. You know you're showing it. Or maybe you have b roll of it, like being shown with, like, a cool little shot or something. So if you have Ah, if you have a smartphone Films video now, you can do it with ease on a simple little tripod. Because of this, because of the male amount. In fact, just for watching this video you can get a free tripod. Ah, free miniature tripod. When you click the link below and fill out the coupon code creative life and only give him one coupon code A guy not to know. Not in two reasons to do something When you click the link below, It's not if you want to go to my website. If that's okay with you. I don't want to bug you anymore. When you go to my website and type in the coupon code creativelive, I will personally give you personally ship you a free miniature tripod to go along with your brand new mill amount. Thank you so much for watching. Make sure to subscribe because I got a ton of awesome er videos coming your way. Give it up for Randy. Awesome job on your next. Rachel, How you doing? I'm great. How are you so keyword? What? Your topic way. Color schemes, color schemes. Which had eyes that still very broad. Just like Krista eight and broke. Kind of talked about can apply to a lot of things, but I have knowledge that is relative. Can you make the video broad enough where it could be, like someone who maybe wants to re decorate a room in their house? Absolutely cool. Yep. Um, so, yeah, that had 200,000 Google results and 6000 videos on YouTube. Did you? Did you remember what the top few videos were about? Um, no. Okay. I didn't ask you to go like watch videos. So do you have any questions about your script before you read it in the world? Uh, no. Except no judging. Yeah, Um so just start. Yes. I'm gonna have to start going. Um, what is the color scheme? What? Designers make everything. How do designers make everything so pretty? And how can you use this info in your business home and artwork to make it pop today? I'm going to give you information that could take your ideas to the next level. Okay, I I love this today. I'm going to give you the information you need to take your ideas. The next level is to me, a very broad statement. And what What already has got me excited is saying I'm gonna break it in this video. I'm gonna break down color scheming into some simple, fundamental lessons or practices that you can use for the rest. Your life versus I'm gonna give you some information. That's helpful. Like anyone can do that. What are you really gonna do? You're gonna break this down and make it simple so that you can use it and in every area of your life for the rest of your life. Okay? great. You have your little intro music done. A color schemes. Um, so today I'm teaching color schemes color affect our mood and how we feel about everything around us. When you understand how color can affect headspace, you'll be able to manipulate what your, um, your viewers experience, um, and how they they experience your creations from branding your personal artwork, decorating your home or working with your business. However, today, before we get into using color schemes to manipulate the mind, we have to go back to art kindergarten and go over color theory. So first we have our primary, and this is all gonna be animated. Um, have her primary colors red, yellow and blue. From there, we mix our primary colors together and get our secondary colors orange, green and purple. Next, we mix those primary colors together for secondary colors and get tertiary colors. These don't have any fancy names or anything special about him. But I'm gonna make up special names. Um, and they're gonna be on the on the screen animated, um, red orange, which is hashtag team shirt pants. Um, yellow orange, which is honey butter. Yellow green is lime light green blue is enchanted Forest. Uh, purple blue is deadly. Night shade and red purple is passionate plum, Um, and that's our basic color wheel. If we split the wheel in half, we have warm and cool colors, and you can see green and red stand on the divide and could be either warm or cool. Grey can also be either warm or cool. Um, from there we have the concept of Hugh, which is what a color is. Saturation, which is how intense the color is, and lightness or value, which is how light or dark your color is. When you mix opposite or complementary colors, you get a neutral color, and I could do a whole show on how to effectively use neutral. But I'll just leave it at that. You could throw in a great like to make sure to subscribe, because I'll be doing that in the future. Um, so, using the variables of hue saturation value, you could make literally any color you want, and it is awesome. It's another recovered of the basics of colors we could get to color schemes. The real point of our video, um, and what you want to do with colors can vary widely, depending on what kind of instinctual feelings you want to pull up in your audience. There are monochromatic color schemes, and they consist of using different values within the same Hugh I'm, and this is the easiest thing for you of your beginner to apply into your life. It's really hard to mess up. It ends up. The scheme can help make your product feel smooth and authoritative, authoritative, but it also might be less vibrant because you're only using one color. Analogous color schemes use colors that are next to each other on the color wheel up to three colors, and you find this pattern in nature a lot, so it feels really comfortable and is pleasing to our eyes. It is great for accommodating different moods and spaces, and you can go up this road. Um, if you choose to go up this road, choose one main color and use the other colors to support it. Complimentary color schemes are the most complicated. They use three different colors on the color wheel, and you can have colors that are far away or close together on the color wheel. If you decide to go that down this path. It has the most potential for award, but don't use colors that are completely opposite and highly saturated. They vibrate in your eyes and kind of hurt you. So unless you want to hurt your audience, stay away from that. And if you find something like that or you see in your products, you already have that take down the saturation or or contrast of it. And it will, um, make that not happen. It's, um, so there's a basic rundown of color schemes. If you want Teoh, find out more information about this or how to better use this in your business or, um, with your art than having over to my website. Rachel rawson dot com I also have some sort of free gift that will make up. There should even be something as faras like a color scheme guide that goes into more detail. OK, because if you get a lot of people that are interested in this, they're gonna want more information like Wait, I want more. You just gave me a touch of this. So, um, and how to customize your color scheme for your use or something like that? Um, and then click below to follow my channel cause I'm gonna have a lot of great videos like this coming up in the future. Awesome. Great job. We get a round of applause. Eso obviously what's gonna make this video great are the visuals, right? And that's what is so magical because it is a very visual topic. People need this information in the form of video much more than article or podcasting. When you just read, it is and that's what gives me like, OK, don't want Teoh. Listen to this, but I get it and I see where you're gonna have colors and things. There's two big things I have for you. The 1st 1 is that my only little hesitation is that when you're like color scheming but first color wheel, it's gonna be like, Whoa, I didn't want to learn about color wheels. That's two basic. So you need to have a line in there to help people Why it's so important. We need to take a quick second, let you know if you want a master color scheming. We have to start with the basics. Let's talk about the color, will you? Just that quick little sentence to be like This is why we're talking about a color wheel because people like I learned this e. So just make sure this is important. Even let him know that. Okay, Because that's gonna be an area where people will No, this is it. I'll go to a different video. So it's not that the snooze there like I know it, so I don't need to watch it. The other thing is I would go through before we film you and see if there's one more time with the script and see if there's fun, little things that you can put in here. Like we said, Pattern Europe's like when you said the like the cool and calming colors and eyes. Isn't it nice? You know, like fun things these little powered interrupts like I gave you guys the Walt Disney Story that trash cans of putting little things in your video that keep people I engaged. That was amazing, and I really think it called action were. And if we feedback, you guys raise your hand where it's more specific to what you're talking about in the video, you could crush it. So guys, any feedback or Internet on anybody we've had. Yeah, we've got some great great comments from the Internet. They love your color, naming on the and speaking of color, they love your hair again. A lot of exploration points going on. There were some suggestions You maybe for dividing it up into different videos based on the color eso focus on one at a time and you could even bring in like visuals. You know how? Yeah, I don't like the scares. An even better idea. Let's one up that one. Here's your video on cut was color scheme and color scheming. And then in that video you have an notations which will talk about on day three, which can link. So we're gonna talk about the basics color scheme. But if you want to go for this one click down here, you know this one click here and now and they're different video right now. Here's why. This gets so exciting because this is how you triple your views basically because it's like someone goes to this video. Hey, you get a view view, But then when they click on this link while they get a few and then they're probably come back. I want to know about this one another via same person three times. Views on. And it's a great way to do it. Kind of turning the first video into this, like title the table of contents for future videos. Keep people mercy and hooked inside of what you're doing. Create your own YouTube Rachel tube within your world color world. Kate, you could do a video on like, if you want your customers to think of you as an expert, these air the colors. If you want your customers to feel calm and peaceful, these air the colors so you could do something like that cause I use that tool all the time. But I'd love to know more about it. And I just have this silly little pdf. Um, all right, who's up next? I am Charles doing it. How you doing? Good. Good. Um, what topic did you end up choosing? Well, my keyword that I chose was swab drug test parentheses, saliva using your technique of kind of combat, combining keywords. It had about 18,000 Google searches. It's a good one, and only about 470 on YouTube. Oh, so a lot of guns. Oh, yeah. I mean, if this isn't on the first, like the first results in a couple of days, Yeah, we're we got this great, great job. So any questions, you run into any hurdles other than reading your own handwriting, my handwriting can be hard to read, and my wife would testify to that. But, um, my main problem that I had mentioned this to your lawyer was narrowing down the topics because there so many types of drug testing to pick one to fit for justice. Three minutes. That's a good problem. That's how many people are. So anything. I don't know what to make videos about her. I ran out of ideas. Even we look at some of these YouTube stars if anybody else been following them for years, like I have and you can see they're running out of ideas because they've been making a video every day for 3 to 5 years. So these are all individual videos, and you want that you want to be in a place where it's like I just don't know where to start my room. So messy. I don't know where to start cleaning it up right So you just pick one and go. Absolutely. This is a great one because it has such low competition. That's the reason why I picked. There's There's so many that had a large, large searches like Randy's and that, you know, I didn't want pick something that was that broad, and it was really a narrow topic. I wanted to really sit down. So let's let's let's hear your script. Okay, Well, the title is saliva drug test. Do I need to worry when applying for a job, which is probably a topic on everybody's mind when they're applying for a job? So here's my script. Great. You got a job interview. That's awesome. Oh, you guys do a drug test, man. Relax. You're in good hands. I'm Charles with drug talk TV, and today I'm gonna share four tips about saliva. Drug testing is gonna help. You have peace of mind. Awesome. It's really tough. Teoh, be my bumper number. Yeah, You're an awesome bumper, James. Thank you. I'd love doing that on Contain. Okay. Today I'm going to cover the common uses of saliva drug testing. The types of drugs tested the windows of drug detection and potential methods that can help you pass the test. So all of this is important to know, because you may not need to even worry about the drug test at all. First of all, the common uses most employers are switching to a saliva testing the save testing and collection costs because they want to save money. This is all about cash, and they still want to qualify for the discounts as a drug free workplace and to save on their worker's comp insurance. Now most employers are going to test for pre employment testing, which is what I'm going to cover today. But they also will test for what's called random testing and for post incident or post accident testing, which I'll cover in future videos. So u subscript so you should subscribe today by like looking below clicking the link will. That's right. Um, knowing this information is key because you'll have advanced warning of your job interview. And usually, when it comes to saliva drug testing, your job interview will be when you have your drug test. So, second, the most common types of drugs they're testing saliva drug testing, our methamphetamines and ecstasy, amphetamines, PCP, opiates, cocaine and THC killed. Detection times for saliva are relatively short. This is a good thing for most people. Uh, methamphetamines and ecstasy is 2 to 4 days. Opiates is 2 to 3 days. PCP is 2 to 3 days, Cocaine is 1 to 2 days, and THC is only 12 to 24 hours. Okay, so that's the basic information. So what can you do if you haven't upcoming job interview and you're worried about this drug test? First of all, stop doing drugs seriously. If you can't abstain for a few days before your job interview, then you probably aren't going to be helped by my video. Otherwise, I have several steps. It will help you win going in to take this test. First of all, brush your teeth seriously. This is a simple topic, but residue stays in your mouth for a long period of time. If you can brush your teeth 7 to 10 times a day, plus rinse and gargle and even try rinsing with hydrogen peroxide, it will help you and you going to take this test Step two. You can try to boost your metabolism by exercising most of the days before, but not the day of the test and drink lots of water, much like other types of drug tests. This will help flush your system, and lastly, this one's kind of difficult. If you can keep a penny in your mouth when you're doing the drug test, it helps you salivate and increases the amount of fluid it's collected. This can be really difficult to achieve because a lot of drug test collectors will inspect your mouth before you take the drug test. So there you have it. The most common uses of saliva drug testing, how long the drugs are gonna be in your system, the drugs air normally tested and potential methods to pass a test. So to get further information, click on my link below for my free tip sheet on drug testing guidelines in a sign up for my weekly newsletter and also subscript subscribe because I've got many great videos to come. Awesome. Great. What a great topic. Internet really loved your engagement with them while you were speaking. They really liked that, and they would love to see here like a list of medicines that would trigger a drug test, even like poppy seeds came up because, like one of those things people like stop taking drugs. But like something like a poppy seed muffin can can set off some test. So just to clarify, some of that's the greatest poppy seeds can do that, although they try to dispute that so well, those those Great, um, I want to say my My biggest thing I saw was that you're very clear. You did a fantastic Dr thing today. This is what I'm going to show you. You I told them exactly you're gonna say and you delivered, and I think that's I just communicated it very well. So it's fantastic. My only thing was you through, like, three, kind of like 2.5 3 called actions at the end, right at the end was like, makes you describe for this and this and do that. Um, so you want to be kind of careful how you deliver that? Because people usually I can only do one thing at a time, So I would actually like you to have that subscribe in the middle thing, where it's like And, you know, I could have another video on this coming up soon, so make sure you subscribe. You don't wanna miss that. And then do the call action for the newsletter in the drug sheet. Only that at the end. Okay, Sounds great. Any feedback from you guys other than don't do drugs? Drugs are bad. Okay, does awesome. Thanks, girls. Uh, there was they loved your energy and your They said that. He seems like he's been doing this for years. Like, really poised in your presentation. So good, Brookie. Ready? We're going to go straight from drugs to Brazilian waxes. I'm kidding. We're doing, We're doing eyelashes. I know you're excited. I waas I don't look into So what is your And of course you did. What is it will be the next video. What is the specific keyword that she went after? Eyelash extensions. Eyelash extensions. Give me some numbers. Do you know how many searches? 201,000 but 21,900 on YouTube, It's It's high. But it's also even if you're just somewhere on the first page, like within the first week, you're still gonna get views. And I looked at the videos and they are actually eyelash applications, like showing the extensions. Okay, being the setting where we're at. I'm not going to do that. Okay, Target. So I feel good about the script. But since I've never made a video and this will be great for all the other people haven't out there either. A little nervous? Not sure, but I just don't know what to do. So I created, like, these little sections to kind of break it away. You know, like the jump cuts which I saw radio took that. It's awesome. You're shortly right. So I don't have to do that. And then I don't. I went and took your recommendation to do a PowerPoint slide and then did the animation, so it was easy. We can do it. Yeah. So creating ah logo intro bumper Right after you have your hook. That little green section over there and the easiest way you can do it yourself is throwing something up in keynote or PowerPoint on, um, have it animates. So we'll be able to see the finished product when you show are your finished video tomorrow morning, which I'm excited about. So learning how to do that is going to be important. Other than that, I also had another question. But I did eyelash extensions. I don't know if I should leave it just at that, because then I put it I don't know if this could just be the description, and we'll talk about title smart, but eyelash extensions. Beautiful, addicting time saving and affordable. Okay, Addicting. All right. Now, don't dio or drugs. So, um, how can you save time? Be confident, feel beautiful and look younger. The answer. Eyelash extensions. And then I want to do something where I bat my eyelashes like the cartoon like Quick, quick, quick. You know, I could do it a little when Bugs Bunny dressed up as a girl I'm talking about. Yeah, it's your Ebeling. Okay, time out. Was that amazing? Can you read that one more time? This is our attention grabber. Our little red section. Woman time. Sorry. How can you save time? Be confident, feel beautiful and look younger. The answer. Eyelash extensions. That that Because it's not. It's not. Hi. I'm Brooke, the founder of blah, blah, blah, And you can visit my website, you know? And you actually paid attaching. It was amazing. Uh, it's really good. I love it because it's I'm your meeting them with where they're at. They want to feel younger, more beautiful, more attractive. And they do it. Look at me point. I thought I did my little logo, Maturity pointed out. And in my contents, a hapless by Brooks Kidcare. Eyelash extensions are one my most popular services for who doesn't want longer thicker, fuller, beautiful lashes. But before a potential client books an appointment with me, they usually ask, What's the process? How long does it take? How long will they last? Are they difficult to care for, and how much do they cost? Hello. My name is Brooke Kennedy, and I am a lash addict. That's like another Sina's, so you will begin by arriving with clean, dry eyes. I will then take a synthetic lash made of a single polyester fibre thread and apply it directly to one of your natural eyelashes, using a pharmaceutical grade adhesive. Yes, it is a very delicate, monotonous work that requires patience and should only be applied by a trained professional process is painless and honestly, most of my clients fall asleep. Your eyes will and must remain closed for the entire two hour ish appointment. Mascara not needed Right now, I'm not wearing any makeup, and I love it. The eyelash extensions may lost between 2 to 4 weeks before a touch up. Four last Phil is needed. This varies individually, depending on your natural eyelash growth cycle and how you care for your lashes. The lash extensions remained adhered to your natural lashes until it sheds. Therefore, when done correctly, I buy a certified professional. Lash. Extensions will not damage your natural lashes. Eyelash extensions are easy to maintain. Just avoid excessive rubbing. Also avoid oil based cleansers, oil based lotion and oil based makeup removers. At these will loosen the adhesive bond of your lash extensions. At my skin care studio, I charge $ for a full set of eyelash extensions and $50 for a standard lashed touch up that is needed every 2 to 4 weeks, as I mentioned prior so we can see if I could be the but of my work on the quote that I have. Of course, I've always wanted long lashes who doesn't fluttery dark lashes make a face look finished, innocent yet sophisticated, and that was Vogue magazine, May of 2006. Thank you for watching my video. I hope you found this information helpful. I would love to see you at Bliss by Brooks Skin. Care for your eyelash extensions Service soon, in fact, mentioned this video when booking your appointment and receive a full set of lash extensions for only $85. Now, that's a fabulous deal. So wait the description box to book your appointment right now. I look forward to seeing you. Yes, yes. So good. Okay. Did you mention Issaquah anywhere I got? It s so that would be one thing I'm thinking is like And if you're living internee, recycle outcome, give us visited and, you know, just kind of throw it in there because someone's gonna be watching this all the way on the inside the world and being like, yeah, I'm gonna stop in and the like, book the appointment and everything, and then realize that you're nowhere near that. Love it. So I just started. But in the end, not the beginning, because you do still want to keep people to be and, um and yeah, that's this Great, though, uh, front from our in studio guys. Feedback questions, comments, observations and Internet. The Internet is loving Breck. Uh, Jennifer says I love it. She's ready to be a cover girl. Uh, one dude said if I were not a dude, I would definitely be comings of list by rogue. Um, yeah, there's a ton of of love for your enthusiasm and your engagement. It was fabulous. Lash on bond real quick. I just don't think the Internet, because I you guys have all been giving feedback after every person. And that's so amazing. Eso thank you and keep that up. There was one good criticism or techno that they there were a few people that said we were document not mentioning price. Yes, I don't know. That's something. How you try, try without. I think that's I think that's a great idea. Don't don't mention the especially because when when you get so much more business, you're gonna be raising your prices anyways. But the number one reason onto a surprise, because it would probably change. So so say, to get 15% off or whatever. Um, you know, best prices in town. You can always say it like say something like that, so they know it's like affordable, and it's a great deal. Good. Yeah, that's a great That was also. Thank you. Thank you. All right. You're all set like this. Thank you. Yeah. Last but not least doing Kate. Harry, I'm good. All right. What are you making a video about? Financial planning. OK, but not what you'd expect. Not what I'd expect. Right. But if I still search that and founder video, I'd be happy with what I saw. Totally. I'm gonna give good value. It's just not what people give me some unexpected. Give me some numbers on the I. So I don't remember. It's in my spreadsheet, but I think it was like like 49,000 searches and and for all the money ones, it was hard to find ones that YouTube numbers were low, so I separated them into YouTube numbers that were in the five figures. And this was one of the five figures ones as opposed to the six. For seven or eight. This was on a lower scale. Relatively speaking. For these, it was, um, should I start? Begin and I'm looking up and does financial planning freak you the freak out? I'm Kate Northrop, author of forthcoming book Money. A Love story. And in this video, I'm going to teach you one simple financial planning tool that will make the process feel good so you can make more money, pay off your debt and save money, too. Reminds me a little interest. I'm sorry. Um, didn t o maybe you can come. Are you okay? So, uh so why is financial planning even important? Because money is the number one cause of stress. According to the American Psychological Association and tons of others who put it at the top of the list. People who take control of their financial lives by planning they're spending their savings investing and giving and giving whatever make more, make more, save more and are able to pay off their debt faster. I'm about to give you a simple strategy to make financial planning fun and effective. But first I have a question for you. Have you ever felt overwhelmed by your finances so much so that you just avoided dealing with them all together? I certainly have. And I want to tell you a really quick story about it. Six years ago, I found myself in over $20,000 worth of credit card debt. I was ashamed with myself, and I was terrified to tell anyone. I was also so overwhelmed when I thought about what I would need to do to get out of this sticky financial situation, that I stopped paying attention to my money altogether and what I was going to dio, which I won't because I can't for this but was gonna have, like, an image of a little ostrich with their head in the sand. But anyway, it was great. The B roll is great. So my debt kept increasing, and I kept shoving my credit card statements in a drawer, praying that somehow magically, my debt would disappear. Can you relate? I ended up doing a free session with a financial planner, which I totally didn't want to do because I was so scared to look at my financial situation. But I'm so glad I did, because something she taught me, changed everything and started me on the past or creating true financial freedom. I'm going to teach you about how you can implement this one thing in your life to feel good while getting into control of your finances in a moment. So what did she teach me. She taught me that instead of thinking about reducing my expenses from the perspective that I'd been bad. And now I needed to deprive myself of things I wanted so I could pay off my debt. I could create a money for me. Accountant will have a little money for me. Account. Um, when I decided not to buy a pair of new shoes, the money I saved went in the money for me account. When I got a lower rate on my insurance, the money saved went in the money for me account. And when I received unexpected money like a refund for over paying my taxes, it went right in the money for me account. So how can you use this in your life? Make a spreadsheet, use a legal pad or create some sort of other system to track how much money you're able to put in your money for me account. And I'll do a little screen flow video of me putting together its Reggie. You can create a free online savings account with I n G and name it the money for me account. Each time you make a smart financial decision that will keep more money for you. Transfer that amount from your checking account into your money for me account at the end of each month, you'll be amazed by how much is in there. Then you can decide if you're gonna put it towards paying off your debt, putting into savings, investing, gifting to charity or maybe even spending it on something that you really and truly value. Be sure to do these three things when it comes to your money for me account. Look for ways to get money in there every day. Negotiate for fees to be removed from your bank or credit card. Do a little bargain shopping the next time you're out buying new furniture and check in with yourself every time you're about to spend money and ask, Would it feel better to have this thing I'm about to buy? Or would it feel better to have the money in my money for me? Account. Track the money for me accounts. Growth studies show that tracking our progress helps us stick with new habits, so make sure you're doing that and lastly, set a dollar amount goal for your money for me. Account to get to and celebrate when you get there, you might remember, If you don't pay attention to your money, you'll never be able to achieve the kinds of things that you dream of in your life. As an Ran said. Money is a tool. It will take you wherever you wish, but it won't replace you as the driver. But as I taught you, dealing with your money doesn't have to be scary, boring or over your head. You can actually make it feel good with the money for me account accumulating money and there will give you a tremendous sense of satisfaction, and I'll just take that outs, too. Now hop over to Kate north of dot com, where you can grab my free money love quiz, which will teach you what your relationship with money says about you and what might be holding you back from the abundance you really want. Plus, you'll get customized action steps to move you towards financial freedom and bliss. So go to Kate north of dot com and enter your name and email at the top of the page to get the quiz. It's free. Thanks for tuning in, and I'll see you next time for more money. Love tips. Awesome. Okay, uh, one quick little like side note thing was, I love the thing. In the beginning were stress number one, cause of stress. I'm sure you can even find a stat about, Like, stress is the number one cause of, like, all major illnesses like you can take this from, Like, this is not necessarily just a money issue. This is like your life is at stake. Like your health and wellness. You're going to die if you don't watch this video without actually saying that. So it's fantastic. I loved it. I love that you took all my suggestions. You had a quote in there. You have your own personal story in there. Um, my only thing with the call to action I would happily heavily consider, actually require that you have a separate landing page squeeze page for the money love quiz. So that in the future, because I saw your website today, and it's great for your website, but I think you can have its own page, its own home, cause this is the quiz. We all said we wanted to take this quiz, and I don't think it gets showcased enough at the top. Your website. It's just like there in case someone goes to a website. If we have an entire page, even a domain, like take the money love quiz dot com and it's a whole page dedicated to that. Um, to be honest with you, this is, you know, I'd like to do this where it's like now we're not talking YouTube, which is what I said. We're gonna go so much deeper. I would like to see if I go take the money. Love quiz dot com It actually takes me to the quiz without an often and I take it and I have to submit my name and email at the bottom in order to get the results, because people will take the quiz right off, right off the top. That's great. So you want to do it for tonight? I know that, but for the future and interviews because I don't want you call the action back. I need you go to this website. I need you jump through this hoop. I need you to go up here and I need you click that I want you to go to the site. you know what to do. Start answering the questions. The quiz feedback from you guys. Do you like it? It's good Internet audience. We have some more being in. And it was nodding their little interweb head. Jessie says she's cute, perfect and a genius and subscribing. Okay. And there were a lot of comments about your professionalism, Like a lot of people said, Isn't she famous? So it seems like the crowd. So there was kind of an overarching theme about you being rooted in your and your beliefs and what you're sharing. It's awesome. It's great. So excited. Too long. It felt long. Well, maybe at the break. Kind of like read it again and time, innit? Time it, I think for, you know, for for this video we want to keep it assures pause, obviously. But if this was under normal circumstances and making this video on your own time, it's perfect because you had great stuff to share all about financial planning. So can I ask you a question? Yes, Um, if I wanted to do another video using the keyword financial planning, but do a totally different video topic. Is that okay? Later on, down the line. Sure, but you're competing with yourself because the goal is to get to the number one spot with every keyword. So to be at the number one. And the number two is like cool, But you could go after a whole nother keyword. So Great job, Kate. Thank you. You guys are awesome. The most exciting thing for me going through that. And I hope I hope you guys all loved going through that. Um, was that listening to you guys read your script? You guys got it? There was little stuff, if anything, I had to change, which is all about making it better. Which means that day one was a success, at least in my mind. Like I see that you guys really got it. You grassed it, and you understand it. So, yes, we're spending three days of our lives doing this like one thing. But the most magical part of that is it. From here on out, this is gonna be like riding a bike. And it's just like I need. I'm selling a new product or have a new service. I want to do something else. I need to make a video and literally for me. What it is today is like I need to make a video. It's like, Hey, guys, James, when we're hearing in this video, we're gonna talk about how to create your own video. We're going to in three simple steps. First you want, you know, boom, boom, boom, boom, boom. We're done and it's uploaded. And when it gets to be that simple, quick, efficient and easy, it's just in your back pocket. Because video is only gonna become more more powerful and more and more of the standard. There's, ah, statistic out there, a prediction that by the year 14 2090% of all online traffic will be video based. You guys got that in your back pocket now You guys can create video content on the fly. Um, and did scripting the video make you guys feel much more clear on what it is you're about to do? How about Chris? Do you script your videos? And if we could give her the mic? Have you scripted your videos in the past the way that you're doing doing this? It's interesting because I have my normal video, which is a video about a particular calculus topic. I do the problem ahead of time. I go through the steps so I know how to do it, that I got the right answer that I'm going to explain it. But I was thinking about it last night. I think even with those types of videos, I could make videos like this that are like, more fun. It's easier to incorporate this style. Those videos, I think, will be a little bit more difficult. But I can definitely do a better job with the content, making it more concise and not scripting every word, because I'm just showing you how to do this kind of problems, but making sure like we talked about yesterday, that he hit certain points. You know, I have that after the video. Oh, I forgot to say that are like That's where people normally get hung up and I forgot to talk about it or something like that, so I can definitely make a big improvement in that area. Good. That's great. Ah, showed you guys example of Liz de Altos armpit fat video yesterday. That video I basically made for her in a way. You know, I just told her what to do. She was my, uh, you know, my you know, little puppet on stage. And I was, like, Do this and do that. What's so great is people watch other videos. I gotta James, help me with this one to what did he do? That was like, No, I got it. I did it all myself. So, like taking you to this one process going, Just make you will take the training wheels off by the end of three days. So here's what I want you guys to do. You guys know your keyword, You have your script. I want one last thing from you guys. Make sure that your keyword is said at least twice in your script and towards the beginning. Like within the first sentence or two. It needs to be there. There's a video I did that was an example of showing people how I do what I do. And I made goofy videos. One of them was on kettlebells, which is a fitness thing where it's a big, heavy cannon ball with a handle on you swing it around, you get in good shape with it or try to and I did a video. How did how to use kettlebells? And in the middle of the video I said, I am. I am passionate about kettlebells if you in the middle of video. If you go to youtube dot com and you type in, I am passionate about kettlebells. My video comes up Number one. I didn't put it in the title. It's not in the description. It's not in the tags, not anywhere else. So how did that happen? One of things going to showing you guys and you guys on Day three is that we have a transcript. The tight yours. Your script could be type written and integrated with your video and uploaded and sink. So YouTube and Google knows exactly line by line, word for word, what your video is about. And they're reading that and they're checking that. And they're seeing if this person wrote financial planning. Is the video really about financial planning? And if you've never mentioned financial plan in the video, then it's not going to use someone else's video at the top, not yours. I want to make sure you say your keyword on camera when we film you. Simple right? You guys got that. I'm gonna go over some few things when we have about five minutes left. We're gonna take some of the best awesome ist questions that have come in over this last segment. Is that sound good, guys? Awesome. Okay, let's see what I got. Um oh, we'll check in on this really quick, so we'll do this briefly, and we can do another check in. I put this, um, this video of live for you guys. This was my video on how to do a jump cut, and I'll do the numbers that it had from this morning. So it's probably a little bit. The views that this video had at least about an hour, hour and 1/2 ago were 507. Now, that's not a lot of use. And that's not really that impressive. It's really not. It's nothing too exciting. In fact, my most of my videos don't get more than 2000 views. After a week of of promoting them and doing all the cool stuff we're gonna dio. However, out of those 507 views, one of the things they did was added a squeeze page or landing page. Owen often page that I drive traffic to my cold action and all those 507 views. I've had 97 people give me their name and email address. So 1/5 of the views have converted into contact information. Leads that Aiken market my products and services and additional content to That's all I care about. I don't care about views except from a percentage thing. It's going to stay for me. It about 1/5 of my views. They're gonna convert. And so it's all gonna be obviously, at that point. Well, let's get more views, right. But I know the videos working, and when we know it's working, we could do some really cool stuff. We're gonna be checking in a little bit more on this, probably maybe the end of the day and tomorrow a few times so you guys can see what what I'm gonna be doing tomorrow and what I've done today to promote it, to get even more views. Okay, some cool. That is the copy bythe of. That's why everyone wants too often That is the copy of the squeeze page that I'm using. I'm using software for everybody to write down we will be talking about this tomorrow, so don't get overwhelmed by this. I just want to show everybody where I'm sending people. Place called lead pages dot net lead pages makes landing page. Beautiful looking landing pages, obviously, is my own custom image that the creative, creative live team supply me with, Um But they make these things on the fly for you, and they're amazingly beautiful. And I love them and they and they convert. They're designed to get people to take action. So you got to do is send your audience to places like these, and you could make one like that. So, yes, today is all about creating engaging videos that get your viewers to fall in love with you. And you guys are on the cusp of that. You all have great scripts. I'm really happy with that for Internet audience. Who? I can't go through all your scripts one by one. I really wish I could I'm gonna share some additional tips and things we could do really quickly, Teoh to improve your videos to make sure they have those secret magic ingredient. Because let me tell you each one, you guys, even though you have great scripts. We could put, you know, a monotone, no energy like lifeless person up there and read it and would be the worst video ever. You guys are what make it come to life. And I'm gonna be there to coach you guys and make sure you're given 100 10% for every single line. I do want to make sure that you guys and this would be great for you cause I'm helping you. But our Internet audience is not getting caught up in the details of the techie stuff. The the what? Kodak and format and exporting and file size. All that type of stuff, content strategy will always come first. And at the end of the day, we're all business owners and businesses were designed to generate profit detail. The details won't make money. We can we can learn him. And I'm gonna answer all those questions. Yes, but if you don't start with your with your strategy first, which was all day one. You guys were clear on the strategy. You're gonna get stuck here, and I don't want that for anyone, Not for anyone. Okay, so I like to say a few things like done always trumps perfection. We had people yesterday. How do I know if it's gonna be good enough? You don't until you do it. Okay. And then it's How do I make it better house every week Going to be better and better and better. Um, And then obviously start with where you are and find higher beg for the help of others. Simplest tip is never film a video. A lot of friends don't let friends film alone. Esso e Because look at what you're doing. You're you're in front of camera. You're the script writer. You're the director. Cinematographer. You're the marketer. You're the business owner. Like, how many more hats do you need to wear even if you have little Billy down the street? You know, the year old kid that knows everything that on everything and, you know, has like, a 1,000,000 APS on his IPad. And could you call that type of stuff, have him come over paying 20 bucks and say, I just need you to, like, be my little assistant for the day. You know, find somebody a loved one, apparent a child to just help you while you're doing it. If you're doing your videos all on your own, which most you guys will be starting out that way. I've recently been able to get Teoh. I have my own team, just like Marie does, where they come in and fill me. And it's a great luxury. Why? Why do? And I spent a lot of money doing it. Why? Because I know with every video I put out, I get those type of leads. I get those type of results. I see the R A y, and you will see the R O. I soon enough. And that's when you know it makes sense to invest and stuff like that. We talked about most of these yesterday, these air, some essential ingredients and things I want to make sure you guys are including doing in your videos. Um, we talked about concise forever. So so for people just joining us today, people ask one of the biggest questions. How long should my video be? We're making all of our in studio participants creative video under three minutes, but that's not a rule of thumb for anybody else. It's not about making a video shorter. It's not about hitting a certain magic number. It's about being as concise as possible with your content, not saying it in two minutes. If it could be said and one. Okay, most of you guys have some sort of visual component that we can should be role to. You know, Randi, you can show you can show your product, Brooke, obviously, like the how to step by step. Oh, I'm sorry. What's B roll? So be role is Thank you, Brooke. B roll is anything that we can cut to two, like visually heighten the experience of what we're talking about. So I could say, you know, last week when I was in New York City, I I blah, blah, blah, blah was walking down the street, and I could literally cut to a video of me walking down the street. And you hear the voice over of me talking when you see that. So those images you have that you want to put into the video, it wouldn't be. And here is on image of someone's eyelashes. And then it cuts that you'd be talking about the eyelashes as the image came up on screen, they would sink together. Is one OK, so it's a role is your view on on this backdrop? B roll is what you can put on top of that. You'll know all this stuff by the end of the three days and create that many transformation. I saw that with all of these. Every single one, even Charles. Like the fact that I'm, like, freaking out because I got a job interview tomorrow. And by the end of that, I don't Okay, I'm not gonna be freaking out. Uh, and be it be engaging. I'm gonna helping you guys pull that energy out on B is engaging. It's possible. What does that even mean? Be engaging? Um, all that conversation we had about talking one on one. Imagine that there's just that one person. I don't imagine that there's 50,000 people in a room on the other end of that camera that I'm looking at. I imagine one person sitting at either their office or their home in their desk or connected somehow one on one. And that's how we want to make sure you guys do that when you film your video. Okay, so I have, um, one last thing, and I think I think we've, you know, said this way too many times, but it needs to be said one more time, and that's always providing the value first, always thinking of that end user. What do you guys want to get out of what I'm doing up here? I care about providing value to you guys to you guys and I'm secondary toe all that stuff. And when you start with that mindset, that's when you get the audience. That's when you get people that want to share your stuff and fall in love with your content and your message. Okay, so those are some basic, simple things you guys already have that I saw that in your scripts. So if you guys do to, we have a few more things we're going to share after the break and then we're going. Teoh, get into our to case study test dummies. Can we take some questions from the Internet before we go to a quick break? Yes, we have time for just maybe one or two before break, and when I have is from Alex Rods James. Excuse me? James is recommending they prompt to subscribe for videos on additional per topics How can this suggestion be more evergreen? In other words, more relevant to both topic videos that haven't been published as well as ones that might already not exist on the channel. I'm having a hard time understanding that question. Do you understand? And you? Yeah. In other words, how can they prompt to subscribe for videos on additional topics? Maybe, Uh oh. How do you get them to subscribe to additional topics? Ones that haven't even been published yet? You just tell him. I mean, you just tell him I'm coming out with videos on this. You don't. You know, I say that all the time. Like Marie said, she has 150,000 ideas for future videos. Right? And you just say, like, I have new videos coming out every week, right? We're being consistent with our videos. Even if we only do one of mine or one every other week, you're consistent. You're saying make sure to subscribe because I have future videos just like this one. Or ones that are more awesome. Er, coming out soon. Did that answer the question? Laurie, was that? Yeah, I think it did. OK, we have an interesting question from Syria. Misspelling of one of my key words, an Italian phrase had 450,000 monthly Google searches. The same keyword phrase. Had 15,000 YouTube results. Would you ever recommend using a misspelled keyword? The question is, do we use a misspelled keyword in our title? And that's a really good question. We're getting down to the nitty gritty and I love that. Here's my I don't even know if I'm gonna answer. Let let our, uh, Internet question user answer that on their own. Here's what happens when you type that in. When you misspell something, you'll get video results. But then YouTube and Google say, Did you mean to say this? And they're gonna put that right under your search search term. And most people do go. Yeah, that's what I did mean to say and then click it and your video is gone. So can you still get traffic from views from a misspelled word? Yeah. So what I would do is start with the correctly spelled word at the beginning and then put the misspelling at the end of your title and so you can bank off of both of those. So so do both. But start with the correct spelling
Class Materials
YouTube® Background Template
YouTube® Background Template
YouTube® Video Placeholder Template
YouTube® Video Placeholder Template
6 Steps to Video Creation
YouTube® Marketing and Optimization
Overlay Green Arrow - Bounce
Overlay Green Check mark and Box
Overlay New YT Subscribe Button
Overlay Red Check mark and Box
Ratings and Reviews
I am POSITIVE that this is going to be an AMAZING course! James ROCKS and is an AWESOME teacher with REAL actionable steps! I am UBER EXCITED to see this! :-)
I just started this course and its really great, very interesting and fun course, James is a great teacher.
Student Work