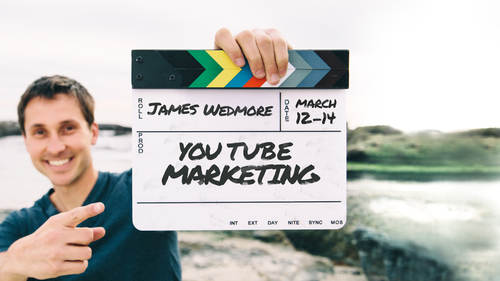 Lesson Info
Warp Speed Editing
If you're serious about social media marketing, you can't ignore YouTube. Not only is it the second-most popular social site after Facebook, it's the second-most commonly used search engine after Google. YouTube's 1.5 billion (yes, billion!) users are eager to be won over by your amazing videos and learn more about what you have to offer.
But what if you've never made a video in your life? What if you're familiar with video production, but don't know how to use it to market your business? Or what if you don't have the budget you think you need to make a splash on YouTube?
As one of the foremost authorities on video marketing and author of "The YouTube Marketing Book," James Wedmore offers a step-by-step guide on how to leverage this powerful medium and create a workable strategy to broaden your reach and grow your business. This in-depth course uses hands-on exercises, live case studies and special guests to help you translate video views into more leads, more sales and more profits.
In this class, you'll learn how to:
Develop your YouTube marketing strategy.
Gather the right tools and equipment on a budget.
Script, film and edit effective videos quickly.
Add overlays to your videos to encourage engagement.
Optimize your videos to increase views and traffic.
Win new subscribers to your YouTube channel.
Promote your videos on various platforms.
Convert video views to leads and sales.
Reviews
What separated this course from other YouTube courses for me was the "Editing for Non-Editors" portion - I thought it would be a great introduction and provide me with a few stepping stones to gain some base knowledge. After watching it; however, it was so simple that it almost felt like a joke. Everyone knows that editing means having to put a few clips together - but show me HOW. I was hoping he's show how using a program he felt was simple for non-editors. I got absolutely nothing out of that entire section and ended up having to buy another course as a result. I would say that if you have any technical questions about filmmaking or editing - don't be fooled by the outlines in this course; they are way too simple. The marketing stuff is lovely, but I felt like the titles of some of the modules was not representative of the content.
I am POSITIVE that this is going to be an AMAZING course! James ROCKS and is an AWESOME teacher with REAL actionable steps! I am UBER EXCITED to see this! :-)
I just started this course and its really great, very interesting and fun course, James is a great teacher.