Adding Alphabets to Scrapbooking Templates
Traci Reed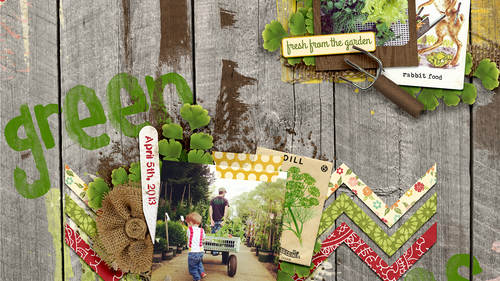 Adding Alphabets to Scrapbooking Templates
Traci Reed
Lesson Info
9. Adding Alphabets to Scrapbooking Templates
Lesson Info
Adding Alphabets to Scrapbooking Templates
So now we have these titles and they're actually to save space that are my preference is just to make them rastra recitals so you can type in here, but if I were to type in here, that would be kind of boring anyway, so I'm going tio add an alphabet instead and now this is another scrap bookers some people really appreciate it. Some people hate it, but you can't always control what your designer designs with and these happen tohave full sheet off of its and somebody is I'm going to show you how to use these really easily I think that people worry about them and get confused about them and they don't have to they're actually really easy to use that's why some people prefer them um, so I'm gonna open up this yellow alphabet and the way that I like to do it and some people will pull them, dragged the alphabet and entire alphabet onto their layout? I don't do that. What I dio is I know that I'm going to spell out happy birthday, so I'm going to select make sure that this is selected and I'm...
going to use my rectangular marquis tool and I'm going to draw a box around the age, and then I'm gonna hit command j to make a new layer from the age, then I'm gonna make sure that I click back on my full sheet off of it and I'm going to do the a and I know that I need to ace for happy birthday, so I'm going to duplicate it twice h ey and then, um any at the end of birthday and then I just go through and I make sure that I pull up all of the letters I'm gonna need so h a p p why let's do why I'm gonna need to wise for birthday ok, so they go if you do not, um, go back in here in the layers and select your full sheet alphabet again, you'll get an error or you will duplicate a layer that you've already duplicated before, so you want to make sure that you go in here and make sure that this is selected. So a j p p why birthday needs one too be once I have them all selected, they're everywhere they're going to be all over the page, but we can fix that. And when you have letters that are close together like this to make sure that you zoom in so that you are not drawing a rectangular marquee around the j as well, because you get a little piece of that j in there and you don't want that someone moving over a little bit, make sure that this layer is selected and replicate that going back out like the layer if you hold down command on any tool so you don't have to have the selection tool selected, if you hold there in command on any tool, it will reverte over to your selection tool, and you can just click to select as well. You don't always have to go back over to the later call it over here. So be I r teo cage, but where you have any? Certainly no, I think I'll into that once, yet only one soaring did again. Make sure you have that layer selected and a d so we already have the a in the way. Okay, so now I have all of my letters for having birthday, and if I turn off this bottom layer there all stacked up together, they're crazy, and if you were to drag with some your layout now, they would still be all over the place, so I'm just going to drag with my selection tool to select them all, and then I'm going to use my alignment tools, tow line them up just so that they're a big old stack uh, but it's now it's a big old stack of letters and I can drag them over. I think now what happened is I drag, I drugged them over, and I actually added them in between ahead, it's on and it's paper so it's not a big deal I'm just gonna command shift and the right brackets move him all the way to the top then I'll just go back in and select and control algae to fix the problem so uh now I have these title placeholders and I'm just gonna go ahead and delete them they don't look right as they are right now but I know where I want to put my title so I'm just going to lead them straight off and I'm going to add letter by letter my title and I like to have him over laugh a little bit this one's going to be down here for birthday j p p y and I'm really haphazard to begin with just to get them in the right spot birthday b I r t h now you can see that this all about his huge it's way too big for this space so I'm going to make sure that I select all of the letters together by going to the very top letter in my layers palate holding downshift and going to the very bottom layer in my layers palate and it will select everything in between so I don't have to go in and inspect them all individually and then I'm going to resize them all together because I want all the letters to be the same size and if I went in and tried to resize them all individually it won't work out so well, so now I think that that will work, so we're going toe overlap them a little bit more, fix the y and then dragged the stone, and we're almost there. We've almost filled this temple it up completely. Do we have any questions on templates while moving these letters? I think people find the alphabets thing a little bit daunting. Yeah, I mean, obviously, I think it's more to do with the time it takes to get a copy each letter rather than doing the spacing, but I think this is actually found of scrap. It all depends on your perspective. You wanted to take a little bit because you don't want to finish page in five minutes, but it can get a little bit repetitive. Teo, go in there and select all the letters, but I actually didn't really slow because I was talking my way through it. Once you do it a few times, you get really fast at it. Anouk abroad is actually joining us from the u k, even though she's canadian, she said, I've been avoiding using alfa sheets before now, but you're making this very, very straightforward. Oh, good, yes, I know that a lot of people avoid awful that she's and I even know a lot of people won't buy kids that have all that she's and I know that there's some programs that make this a lot harder than it then it isn't photoshopped, but if you have photo shop and you're avoiding off or even photoshopped elements and you're avoiding alphabet she's, this is really simple. And could you make your own action separated out, would you? There are actions, like if you want to make a off of it. If you just really hate working with alphabet sheets and you want to create individual letter files, there are actions. The problem with actions is that if you were to go, go back over here. If you were to go with this alphabet sheet and go in with the rectangular marquis and select every letter and record your action, what would happen is, um, it would record the exact dimensions and the exact placement of your rectangular marquis. So later, when you use it to an awful bit, that isn't this alphabet. Unless the letters are perfectly placed exactly where this one is, you're gonna have a hard time. But there are alphabet section. Yeah, there's, there are some that you can buy, but even those have to be perfectly aligned, so you might still have to work. With the alphabet to make it a line before you can run the action seems like a lot of work to me. This seemed that easier to me to just keep it the way it is, okay? And so this is the last piece is the journaling, and this is actually a journal block. So I'm gonna go in here and select everything, command a, change it to typical writer, because that's, the typewriter fun I like, and I actually don't really like this place, isn't the way that my lay out ended up, so I'm just going to move it up and in a little bit. And where did she use placeholder, journaling? It's, sure, ali, and we're gonna copy it, okay, layout is done.
Class Materials
Bonus Coupon - Sweet Shoppe Designs
Traci's Photo Workflow Actions
Ratings and Reviews
Great series of classes! For anyone from beginner to advanced Photoshop user, you will get something from these classes! Traci is a great teacher and easy to understand why she works the way she does. I would highly recommend these classes to anyone wanting to learn tips and tricks from a great scrapbook designer!
I'm currently halfway through the courses, and I am so glad I decided to watch these. I haven't been scrapping for very long, and am mostly self taught through tutorials found on the internet and youtube. I found that various concepts weren't explained to me (how to really use a template, designer intentions, how to use other layouts for inspiration) and so I sort of hit a wall trying to get further in scrapping digitally. This course basically broke down the walls and provided me with so much info and inspiration that I feel really comfortable in taking my efforts further. Whereas before I was thinking that I might always be stuck with a mediocre result :) thank you Traci!!
Student Work