Merging Pockets to Print Scrapbook Pages
Traci Reed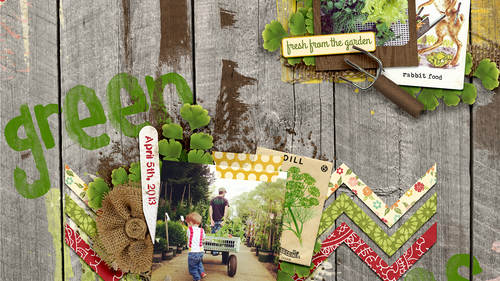 Merging Pockets to Print Scrapbook Pages
Traci Reed
Lesson Info
22. Merging Pockets to Print Scrapbook Pages
Lesson Info
Merging Pockets to Print Scrapbook Pages
So let's talk about um what you do from here let's say that this layout is done it's close enough for me so we can move on um what do you do from here? What is this going to look like in different mediums so let's start with digital um obviously for digital scrapbooking you're going to have a twelve by twelve layout and if you want there to be separation between your pockets your your pockets themselves are going to have to be smaller than four by six and three by four and I don't like tio necessarily use the templates out there that have the smaller pockets to begin with because I find that re sizing everything as I'm going along it annoys me so I normally will design like this and then resize afterwards so the important part is to make sure that you have everything um merged together per pocket once you're absolutely done designing your pages so I'm going tio merge these pockets together make sure got but photo in there and just take command e and because everything is clipped to it ...
it's all just going to be a four by six so I'm going to grab these emergencies together luckily with the journaling cars that don't but we don't need that luckily with the journaling cards that don't have anything added to them we already deleted the place holders we don't have to merge anything one emerged this all of these lines of journaling oh my gosh, so let's actually go and select him like this and what we're going to have to dio is we're gonna have to de select some of this other stuff you should see that the bounding box was huge because it was selecting these papers up here as well. So now we can merge emerge this together we're gonna like this stamp and the photo and the important part is to just make sure that you have all of these layers march together because if you're going to try and start adding or start re sizing things, you're going to miss letters, you're going to miss photos, you're going to miss something that's going to cause you tio have a problem with the layout, so I'm just going to go make sure that they're all emerged before I start emerged this one okay, we're good to go right now, so now that we have most of them urged, we're going to re sise and if you're going to want to match a pre designed, um a pre designed template, then you're going to want to pull this template in and you're going to want to grab this card and copy and paces from the control aid a cop there took select all control seat a copy and then I'm going tio clip right? Click right here and picks it and then I'm going tio resize it so that it fits now this is a flat template it's just a p indy guide for your cards so if you bring it in before you re side that you can see that if you clip it it actually will fill all of the pockets so I'm just going to use this as a guide for therese re sizing these cards you want to hold down shift while you re size so that it constrains the proportions and then one by one coming here and copy and paste all of these pieces and put them where they were no um some people find this to be more difficult than just scrap booking on the template to begin with it just depends on your workflow and how you like describe book I would prefer to come in here and resize myself and to make sure that they all become the same size and they all fit in the template perfectly just make sure that this corner lines up it'll snap to the corner if you have your your snap on which is over here you can snap tio grades guys layers document bounds I always have all my snaps on so that you can just snap it right to the corner and then the first one you want to resize so that if it's perfectly zoom in to see if you can see any black edges around the thing. If not, you're going to go, and then you could actually clip it if you want to and you can see that I have a little bit of a black edge, so I'm just going to resize it a little bit larger. You, khun you know, if you remember, I said that you can resize things and increments of five percent, so if you have just a tiny anybody edge, don't feel free to just resize and not start over. So as we go in now that we have one size perfectly, we can go in and copy what we did before snapped to a corner and size it perfectly. You just rebuild your layout. If you're if you're not talking through like I am it's, really simple process, you can actually coming here anything select one, two, three, four, five, six, seven. I don't think this one's merged. We have issue with that one, so you can grab them all together and just click and drag them on to lay out altogether if you prefer and just resized them one by one.
Class Materials
Bonus Coupon - Sweet Shoppe Designs
Traci's Photo Workflow Actions
Ratings and Reviews
Great series of classes! For anyone from beginner to advanced Photoshop user, you will get something from these classes! Traci is a great teacher and easy to understand why she works the way she does. I would highly recommend these classes to anyone wanting to learn tips and tricks from a great scrapbook designer!
I'm currently halfway through the courses, and I am so glad I decided to watch these. I haven't been scrapping for very long, and am mostly self taught through tutorials found on the internet and youtube. I found that various concepts weren't explained to me (how to really use a template, designer intentions, how to use other layouts for inspiration) and so I sort of hit a wall trying to get further in scrapping digitally. This course basically broke down the walls and provided me with so much info and inspiration that I feel really comfortable in taking my efforts further. Whereas before I was thinking that I might always be stuck with a mediocre result :) thank you Traci!!
Student Work