App Design: Create a Working Prototype
Applying (And Ignoring) Prototype Feedback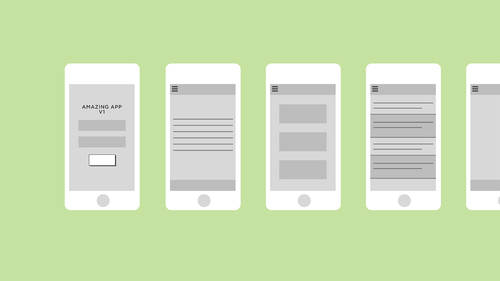 App Design: Create a Working Prototype
Applying (And Ignoring) Prototype Feedback
Lesson Info
Applying (And Ignoring) Prototype Feedback
with wrapping up this piece. Applying that feedback we just discussed a little bit about you don't always want Teoh Teik every piece of feedback. You really want to make sure that you're thinking about the goals and you're applying feedback that applies, uh, applying feedback that makes sense for those goals. I'm so that the big takeaways for prototyping prototyping is a working model. Prototyping is not coated. Uh, and to test test test. So we did some testing here when we went through this. What I would say the next step definitely should be is make those changes that we talked about play around with them in the wire frame stage and then bring them back into envision and tested again. You don't want toe. Assume that something is a good idea and put it into your app and then not make sure that it is a good idea, even an application, um and then always know hunger solving for, of course, And think about your users. You are the users number one advocate and make sure that you are solvin...
g for their needs and their problems. In addition to your stakeholders. Need some problems. Eso that's the gist of all of it. You guys absolutely have the skills at this point to wire frame and prototype for your projects to make them even better. Even stronger designs on and you have all the tools that you need. Teoh communicate your design thinking and why you are making your products better. So get out there, make design, make Web a better place. You guys have the absolute tools to do it. Now if you're interested in following along with any of my stuff I have my website up here and a couple of my social media accounts on Dribble on Pinterest. Um, please reach out with any questions that you have. I love hearing from you guys. I love learning from you guys. I'm a designer, You are designers. We are all working together. We should continue to share what we know what we've learned to keep, keep making design even better for everyone
Class Description
This class will show you how to prototype mobile apps easily, no coding required. Prototyping your designs - first on paper, then using simple, interactive online tools - will allow you to visualize the flow of your app, and test whether or not users will flock to the idea. Join expert web/UX designer Alexandra Moran to learn how to use the industry's most effective methods for prototyping your mobile app. In this class, you'll learn:

How to use the software Sketch and InVision for prototyping




How to storyboard your app, working out the product flow before spending resources on coding and building




How to integrate user testing into the prototyping process



After taking this class, you'll understand how to design the flow and feel of your mobile app. Alexandra will help you determine which tools you need and when to use them. 
Software Used: InVision 2016