App Design: Create a Working Prototype
Asking For Input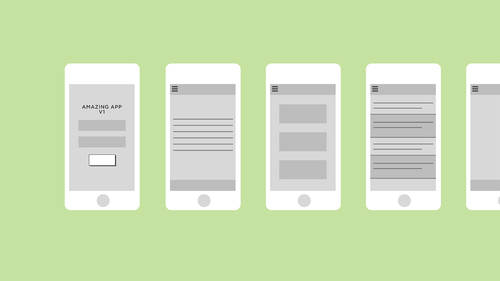 App Design: Create a Working Prototype
Asking For Input
Lesson Info
Asking For Input
when you're sending, uh, sending out this, uh, this prototype we're going, Teoh ask for input. So we've tested it by looking at how it works. We have sort of jotted down some feedback for herself, and then we're gonna apply that, um, ourselves. And then before we send that out to our stakeholders on and then when we do send it out to stakeholders and we ask for input, uh, what is really important to do is again cue up that story. Uh, review no recap where your last conversation ended. Maybe a sentence or two, you know, give people heads up of the work that you've done and then talk about the feedback that you're looking for. So it's very, very tempting to say I just have done hours, the work or two days of work, and I just want to get out there. You don't want to look at it anymore, but this is a really important step toe Follow through and queue up for the people that are giving you feedback, the kind of feedback you're looking for and you're gonna have to adjust that based on the con...
versations you've previously had. Based on who these people are. So if it's someone who's really, really unfamiliar with designed, you might need to say again Another time. Listen, this is not visually designed. There are a lot of things on the screen here, but we haven't used color. We're gonna change the visual styling. What I want you to focus on is how this app works. Remember the three goals that we have? They were goal a goal being goal. See, Did we achieve them here? And do you feel like this is working on? And that's really gonna help people stay on task and give you the information you need And it's probably also getting queue up The more the more feedback from them that you weren't anticipating this might you know, if you're working with a CEO, this mind call the mind that Oh, she actually didn't realize that this solves this problem. But, you know, something happened in her board meeting last week and there's a new problem they need to solve. Can we work that into this application? We fit that in Esso. Those air great conversations to have it also does open the pit full of, um, you know something that we also discussed before of, You know, I really like the color blue or I really want, you know, horses in it or a Snapchat school. Or can we make it look more like Twitter and always be thinking and regards to your goals in regards to your objectives? Does this feedback makes sense? Is the piece of critique that you're getting relating to? One of those goals isn't making it easier for the user? Is it solving that problem? If it is great, sometimes it is, and you don't want it to be. Sometimes it takes away a piece of the project that you really liked. And as a designer, sometimes it's really hard to let that stuff go, But you really have to think of the users. You have to make sure that you are not designing this app. Free yourself. You're designing it for the people who are going to be using it at the end. So save that great idea applied in your next project, or apply it whenever it makes sense, but always being advocate for the user. And apply that for your own feedback and for the feedback of, uh, your stakeholders who you're sharing this with
Class Description
This class will show you how to prototype mobile apps easily, no coding required. Prototyping your designs - first on paper, then using simple, interactive online tools - will allow you to visualize the flow of your app, and test whether or not users will flock to the idea. Join expert web/UX designer Alexandra Moran to learn how to use the industry's most effective methods for prototyping your mobile app. In this class, you'll learn:

How to use the software Sketch and InVision for prototyping




How to storyboard your app, working out the product flow before spending resources on coding and building




How to integrate user testing into the prototyping process



After taking this class, you'll understand how to design the flow and feel of your mobile app. Alexandra will help you determine which tools you need and when to use them. 
Software Used: InVision 2016