App Design: Create a Working Prototype
Testing Your Prototype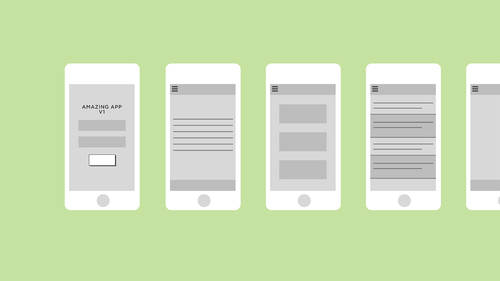 App Design: Create a Working Prototype
Testing Your Prototype
Lesson Info
Testing Your Prototype
Um OK, so if I'm on my phone here, uh, in and the InVision app I can see all of the prototypes that I have. So I have these three default ones that comes with a new account, and then I have my Burley's doughnuts prototypes. I'm gonna open that up. That's down, letting my screens. And now I have my splash page, okay? And so now that I'm in the app, I can tap And the functionality is essentially the same that it's gonna show me where the hot spots are and as ago appear to go into my menu kind of small. I think maybe the feedback that I want to give to myself is maybe this header bar needs to be a little bit bigger because I wanted to be easier for myself to tap and open that, Um, but I really like the animation of the sliding. I think that's how I want my menu toe work on. And then I can tap here and feel how the buttons work. That feels great. I can scroll down. And as I'm doing that, I'm thinking maybe maybe scrolling past all the options isn't a great idea. If I had 20 donuts for a sa...
le today. I would have to do a lot of scrolling just to get down to my complete order button. Maybe what I want to do. Instead, it's have that button hover on the top or, uh, swipe through left and right through the different doughnut options. But what I'm trying to do now is think about who's using this, uh, app, how they're using it and how we can make it even better. So I'll top complete order. This is a little bit tricky. My button is kind of outside the range of a normal sort of thumb. I have toe stretch a little bit. It's definitely reachable, but not nearly as comfortable is when my button was down here. And then if I tap in, maybe I really need Teoh. Build out a couple extra screens in my prototype of what the keyboard looks like, how it feels to actually fill in this form. Maybe it's not right toe have all five of these fields on the same page because this is an app and it's not mobile Web. Aiken definitely, uh, move through those five fields quickly and have maybe one on each screen, and that feels more right for a mobile app instead of for mobile Web eso. I confirmed my order is on its way and testing my other link so I can still use my menu, even on this page, just because of my template. And I go back Teoh where I was before. So that's the that's what prototyping conduce. Oh, this is a really, really basic and sort of small short app to go through. But I think we've really illustrated that being able to test it and being able to look at how it feels in my hand and how I engage and interact with it is really valuable for, um, improving and going back and implying.
Class Description
This class will show you how to prototype mobile apps easily, no coding required. Prototyping your designs - first on paper, then using simple, interactive online tools - will allow you to visualize the flow of your app, and test whether or not users will flock to the idea. Join expert web/UX designer Alexandra Moran to learn how to use the industry's most effective methods for prototyping your mobile app. In this class, you'll learn:

How to use the software Sketch and InVision for prototyping




How to storyboard your app, working out the product flow before spending resources on coding and building




How to integrate user testing into the prototyping process



After taking this class, you'll understand how to design the flow and feel of your mobile app. Alexandra will help you determine which tools you need and when to use them. 
Software Used: InVision 2016