Behind the Podcast : Lewis Howes on The Chase Jarvis Show
Behind the Podcast: Interview with Chase Jarvis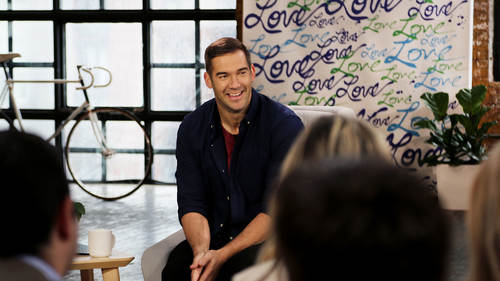 Behind the Podcast : Lewis Howes on The Chase Jarvis Show
Behind the Podcast: Interview with Chase Jarvis
Lesson Info
Behind the Podcast: Interview with Chase Jarvis
We are live in the studio right now with Mr Chase. Jarvis. But my name is Drew. I'm one of the hosts here. Ah, and Chase. You're the CEO of creative lot. It's true. There's not a lot of CEOs that let themselves come on live and be interviewed about how they do what they do. Yeah, I think that speaks a lot to just your commitment to education, to people learning things in your personal growth. Thank you. And, you know, I think each CEO has something that they can contribute. You know, again, I think of myself as a founder and CEO. So in that sort of do roll, every founder or anywhere CEO has something to contribute. Some are master operators like Jeff Bezos. You know, you know everything there is to know about business inside and out. Ah, and then there are, um, you know, maybe the Steve. I don't want to compare myself to these people. Just I'm just trying to make a point. But, you know, and Steve Jobs product visionary. Yeah. You know, I think my gift is that I actually a lived their t...
rajectory of the people that created life Serves Yes, I quit everything that everybody else thought I should be doing to pursue something that was a passion of mine, which is that point in life is photography. And I went all in on that and developed a career. So I think being part of the content creation world, connecting with the our tribe, which is, you know, tens of millions of people around the world. That's what I try and and contribute. And then I try and be a message for that for the company and then connect that with our fans and followers all over the world. Yeah, so in that continuum of going from creative to still creative but now founder and CEO Yep, and entrepreneur and you doing all these other things. At what point did you sort of realize, like podcasting? I should get into this or that should become part of what I'm doing. It was actually a before creativelive existed. Um, started podcasting, and it's a long time ago. So creative. I was founded in 2000. I think of 2010 and ah, and we had started, uh, live Internet was just emerging, and it was interesting. We were thinking like Wait a minute. Maybe we could do this. A live show. Now, there wasn't earlier incarnation. I will go down a rabbit hole here. But when the podcasting platform apple first launched, you could submit your RSS feed on your files to this service and you actually had to pay for some. When more people downloaded it, you you had to pay more money. They realized that doesn't actually motive people t get. And there was a photo pot. Uh, it was at that time it was just me interviewing my friends and photography and putting videos out there is a video podcast and an audio podcast. And what made me stop doing that is I once had a very popular video podcast that went sort of viral. I don't love that word, but and it costs me 11,000 bucks. I was like, I want to do that anymore. I think that's not It's so stepped away from it for a little bit. But then in 2000 and nine, when live Internet started emerging and there were some tools we said, Well lets you know, maybe this is another opportunity to express and share views. My biggest asset as a photographer was taking input and ideas from outside the photography industry. And a little I call that the dirtiest secret and photography is that the best things in photography come from not just looking at your peers. Will you know what's what's this other photographer across the street or down the road or across the country doing? But for me, my motivation was from the artists in this 50 60 seventies in New York folks like Jean Michelle Basquiat, Robert Rauschenberg, because they were doing art about art. And so I was motivated by that interested and like, Wait a minute, Why can't I do that with photography? Bring some outside sources. So I started having, you know, when you have a successful career, you tend to be piers with other people who are at a similar level in other industries and disciplines. So I started having, you know, friends like, uh, sir mix a lot or, uhm Mark Ecko, a famous clothing designer, I guess. Yeah, artists turned clothing designer, um, bringing them in and onto the show for different perspectives. Books like Tim Ferriss just had written at the four hour workweek that time, and he and I became friends. It's like Hayes doesn't have anything to do with photography, but that's part of what photographers need. They need to think and see inside the industry. So it started out as an opportunity that was somewhat selfish, like I wanted an excuse to add value to my friends and the same time learn from people who were the top performers in any discipline. So that was in 2009. And, uh, this shows been going since in almost 10 years now. So walk us through that generation process of sort of like starting with video. How has it progressed since then? Sure, um, the original show was a live show, and again, well, I was trying to do is do something. I have also have a mantra, which is be different. Not just better. Of course. We want to get graded our craft. But at some point when you've sort of cross a certain threshold in your craft, feel incremental difference is being 1% better at someone else than X or why it's not really why you get hired or why you have passion to pursue something, and it's about making your own mark making your own dent in the universe and being different. So I was thinking, Well, what are these tools? As these tools were emerging, I had had a lot of success with social media. There was not a lot of photographers doing it in 34 2005 when it emerged, and I thought, Wow, this is live Internet. Maybe we could do a live Internet show and broadcast it with these off the shelf tools and the first thing we ever did. They broadcast live a photo shoot and I kind it was kind of a podcast cause I was talking to the audience a little bit. But I was also shooting the cover of an album for a band, and 25,500 people watched. It was like this live broadcast thing, it kind of interesting thing, and that actually is a precursor to what became creative live. But it started out as a very heavy line up. These tell people that it was coming and we're gonna broadcast at this time, and we had a lot of cameras. It was very sophisticated. It costs a lot of money in time, and so we only did it monthly and that, as we know now, Frequency is one of the like, the big winds in podcast. The fact that it's lightweight, it's easy, Um, and so over time we morphed it from a show that we probably about 50 or 60 episodes once a month, and you can just do the math there. That's years of creating this, um, very fancy life switch, not dissimilar to what people experience with chary of live. Um, and then as we decided, like, Wait a minute, one increase. Bless you. It's an audio program right on way. But we wanted to like increasing the frequency was we didn't have the dollars, the horsepower, the willpower to do. That's a lot of work. It's a ton of work. When did that switch that switch to? Probably four years ago. Now. Okay, so we did a good 56 years of once a month. Wow. Big. And these were, like, you know, flying in super big time guests. Putting them up the night before we got to dinner. Talk about the show. Um, and in a weird way, it was a great brand building, but no one I was doing this No. One. No one had a live show. No one was doing interviews, especially in photography. But just in general, a lot of people say that it is the first live video show that I ever saw and again go back to being different. Not just better. Um, we had a sponsorship model that we sort of rolled in over after a couple of years when we started having super large audiences on and we would have sometimes 50,000 people watch these things, and, you know, we ended up just that same monetizing it. But it was really about for people who wanted to connect with the audience that I was in service of. These were big brands like, you know, the H P's and the, um, Samsung's and the, um, some of the bigger rental houses. And they were willing to pay a nice fee, and it wasn't like on a CPM basis it was more likely to sponsor the show. But generally speaking, it was trying to be different, trying to bring in some outside influences, and it worked when you know we'd fly folks like, uh, you know, I had met Tim Ferriss years ago. Some mutual friends in just 10 years ago introduced us and he had a book launches, and I got to show that a lot of people watch and he came on the show and he was like, Holy smokes. This is amazing, like super high production value. And, you know, we had a screen off camera that was showing all the tweets that were happening in real time. And so, you know, in part, he was like, This is amazing. And I realized that if I'm able to add this proportion value to my guests like that's a win for them, it makes it easier to recruit the new guest. So it sort of turned into a little fly. Well, so speaking of guests, we have Louis, How's your house? That's gonna be your podcast today. You've interviewed him a couple times. How do you prepare for an interview? It depends. It varies greatly based on who's coming on the show. Okay, um, a lot of people who are on the show, you know, part of the reason that they're on the show in part of the reason that that I select particular guests, is because they have an idea or set of ideas that they're putting out into the world, and I would like my audience to know about those ideas. I think that relevant in a lot of cases, this is new films, new books, new albums, new creative projects that this particular creator and sometimes they're close friends or sometimes they're adjacent to my network or sometimes they're people that I've never met before. But they have something that I have deemed that is really valuable to the people that I'm in service off. I think it's important to keep hearing me, say, like the people that I'm serving. That's the way I look at this show. I look at creative, live like that. I want to add valued other people's lives versus like I'm trying to make money or I'm tryingto meet new people or that's about me. If you think of your audience first, that's always a really, really helpful way to, um to just frame it because I think it it sets the dynamic up appropriately. So in these cases, once I've determined that there is a good fit between the people that I'm in service of the guest, invite them on a lot of times it will constantly reading their book. I get an advance copy from the publisher or from this particular person. Um and I I try and fully read the book with everybody that I interviewed before I do so that's like I gotta pull an all nighter, sometimes all skim and try and cover some of the high points because there's literally not physically enough time. But generally I prepare pretty fully, um, on the other end of the spectrum. Like I've interviewed Lewis three or four times and he and I have spent hundreds of hours together. We've traveled together. We've you know, he's a dear friend for dinner. Last night we were together for three hours, so I don't really have prepares much. I know what he's when he stands for core values are. And I am always busy thinking about how I can frame that for my audience. Cool. Well, you ready to bring him out? I'm always ready to bring Louis house. Give me that's Yeah. Would you help me? Welcome Miller's house, please? Eso again. There's little medicine going on here. We talked about this before the camera started rolling. What I want So we're gonna do an interview here. But I also want you to know, like, if there were, if none of you all were here will be doing right now. We'd be getting miked up. It's like, Okay, cool. So, you know, we're gonna talk about we're gonna talk about you got the new Facebook watch show you got obviously some of the greatness coming. I get all these. I know a lot about what it is that you want. Is there anything in particular you want? Whatever you are excited about. Oh, man, I'm excited about alive. Um, anything. Whatever. They're excited about the Yeah, and we're gonna take some some questions, But I do. I try and have a moment. You know, there is time. What you may or may not see is there's a few minutes before sometimes it's like, Hey, we're gonna show up a 12. We're gonna start recording at 12. 30. There's time between 12. And 12. 30 where I'm talking to Lewis and we're getting miked up, and we're saying anything. I often ask the question that you don't want to talk about and sometimes people like yeah, you know, that thing that was in the press about me. I'm really not that flattered about or like, It's not normal, but it is on occasion, people say, I just don't want to talk about this like the, you know, the Facebook thing or whatever. I just don't talk about it. Um, it's yours. Yeah, yeah, yeah. I may maybe had a widely publicized divorce or ah, had, ah, TV show that didn't go very well or I had a X and and so I'll try and take note of that because there's this respect that I wanna have. And again, I'm in service not just of our audience, but also of the guests. So I definitely try and cover that stuff in that small talk time between, you know, when the guests shows up and when we start recording. And then another thing I do, which I'm doing right now is so is anything you want to talk about. You ready? Said him. I'm pretty open to whatever. Anything you don't want to talk about. OK, cool. He's open book. He's an open book. Um and then So here's how it's gonna go. You've been on the show before. You know this. I'm gonna look to this camera. I'm gonna open the show, and I do a basically a live intro to this show every time. And that's part of the video. It doesn't. I do and do it a read when? For the podcast version of this, but yeah, for the video version, I do alive intro introducing my guest. They usually, like, want to say a couple things. So I want to say, former pro athlete turned lifestyle entrepreneur, bestselling author of the School of Greatness and Mascot Masculinity in the host of the Facebook show or the Facebook watch show. Um, inspiring life of Louis House. My guest is Mr Lewis House. Does that work for you? Do it. I'm doing a lot of talking. He's about to do more talking, man. Here. So that's what we do right now. I'm gonna open the show looking at this camera right here. And then just so you know, we're gonna talk for about an hour, we're gonna take some questions afterwards. Um, I'll deliver my monologue here. I'll say Lewis, welcome to show will shake hands and then we're off. Not staged at all. Not staged at all. But But what it does is, it makes the guest feel a lot more comfortable because they know what's happening versus like OK, I sat down Now what's gonna happen? What's coming at me? And I say, if you right now it's live. So the cameras that have the red dots if you want to look into the camera say, you kids at home it's the camera with the red dots on it. Um, And again, this is just contacts for pros. For people who do this on the regular, they launched new new stuff in Europe. You're a regular, like you've been on hundreds of podcasts and television, your real comfortable. But not everybody is. So I try and set the context, and that adds a lot of value, makes them relaxed, and it makes for a greater conversation. Okay, so now that all that's out of the way, I'm gonna actually do the thing I've been talking about for 7.5 minutes.
Class Description
Artists don't have a monopoly on creativity. In fact, the very act of making anything—including waves—in any profession is a creative one.
On the Chase Jarvis Live podcast, Chase talks with some of the world's most celebrated entrepreneurs, award-winning artists, and bestselling authors about what makes them tick, so listeners can get actionable insights on how they, too, can reach their full potential in career, hobby, and life.
On this episode, Chase talks with NYT bestselling author, lifestyle entrepreneur and former pro athlete Lewis Howes.