Bookkeeping for Etsy Sellers
Lauren Venell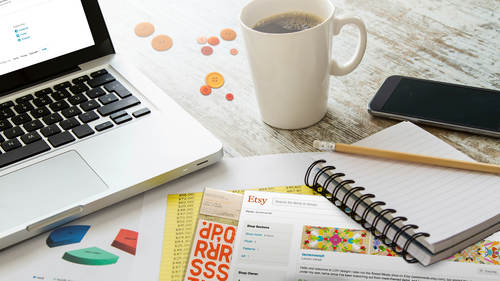 Bookkeeping for Etsy Sellers
Lauren Venell
Class Description
Easily integrate your Etsy® transactions into your small business bookkeeping with tips and insights from Lauren Venell in Bookkeeping for Etsy Sellers.
Lauren is on a mission to simplify small business bookkeeping for crafters and artists.
In this class you'll learn how to:
Manage Etsy transactions, inventory, and expenses
Compare Etsy earnings against other income streams
How to integrate Etsy into your overall bookkeeping
Spot sales patterns and identify opportunities for growth or restructuring based on the numbers
Set up and track your shop account

Deal with Etsy credits

Manage sales tax and coupons
Etsy's systems are overwhelming – this class will give you the clarity you need to successfully run your Etsy shop.
Whether you are exclusively an Etsy seller or its just one of many revenue streams, this class will make Etsy transactions easy to handle and every aspect of your business bookkeeping more manageable and fun.
Be sure to check out Lauren's other course Bookkeeping for Crafters.
Class Materials
Product Profit Calculator
Simple Ledger for Creatives
Crafters Sample Chart of Accounts
Etsy® Bookkeeping Resources
Sample Etsy® Shop Policies
The Etsy® Sales Chain - A Comparison.pdf
Ratings and Reviews
This is a meaty course that has you at a run from the moment it opens. If you are like me and you have been wanting to start a handmade business using Etsy, this will be a great course for you! What I like best about this course is the information that is given is not from a sterile corporate perspective. She has been down in the handmade trenches from the very beginning of Etsy so she has seen all the changes. Lauren also shares the realities of business and shows you how to calculate the actual costs that go into your products. She gives you the knowledge and resources to know how to set up your book keeping as it relates to Etsy. The only negative about the course is that there is literally not enough time to cover EVERYTHING that you might run into for your personal situation concerning Etsy, but she does give you enough information and resources through her Extras that gets you in the right direction. I would sincerely recommend this class!
This was so helpful! I have been wondering about so many things the last few months since I opened my shop on Etsy and have found some information, but often it is encrypted in such technical terms that it feels so unclear. I felt like Lauren answered so many of my questions (as well as questions I didn't know that I had) with such clear, easy-to-understand ways! I can't recommend this course enough! Thank you Lauren for making complex processes of bookkeeping seem reasonable and doable. Thank you for sharing experiences to back-up the information that you shared. This was wonderful!
This course has a lot of helpful information, but I do caution that there isn't really enough time to get it all down if you are watching the livestream. Also, quite a bit of time is spent talking about VAT rules which are out of date, and much easier to deal with now.
Student Work