Build a Fan Base on YouTube
Sunny Lenarduzzi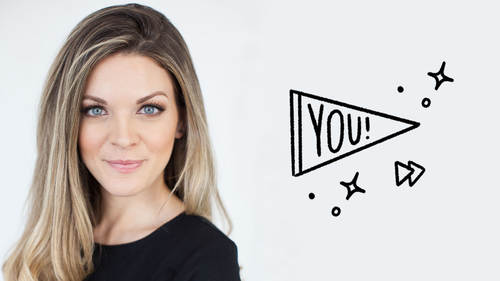 Build a Fan Base on YouTube
Sunny Lenarduzzi
Class Description
We all know YouTube as the preeminent place for video online. But did you know that it's also the second-most popular social site with 1.5 billion users and the second most popular search engine right after Google?
YouTube offers boundless opportunities for businesses looking to make their mark online, but many entrepreneurs and marketers don't know how to create content that rises above the rest and parlay their video views into actual sales.
Touted as a "marketing master" by Entrepreneur.com, Sunny Lenarduzzi works with entrepreneurs, personal brands and corporations to create brand strategies using social media and video marketing. She'll teach you the secrets to choosing topics that will attract viewers, writing scripts that increase retention, and turning viewers into leads and buyers.
In this class, you'll learn how to:
Choose the best topics based on search terms and keywords.
Optimize your title, description and tags for search engines.
Write a script using the H.O.T. formula to maximize retention.
Film a video to make it easier to edit.
Upload video to YouTube.
Understand the YouTube algorithm.
Promote and distribute your video through social media and email.
Continue getting traffic to your videos for years to come.
Class Materials
Boss Youtube Channel Checklist
Ratings and Reviews
I make videos professionally. Perfect videos will not necessarily do great on YouTube, and not perfect videos may do well on YouTube. The secret is "the strategy behind them". Sunny´s class is great to help you give your videos a better chance for a "successful life" on YouTube. Thank you from Costa Rica.
Amazing! Great class. Precise. Concise. Highly Engaging. Love the Q&A here. Sunny is such a boss on Youtube marketing. I binge watch the entire 3hrs and grab my phone and my mic to start making my first vdo right away! So empowering. Lots of great practical tips.... will come back and rewatch again.
Awesome class! When I launched my latest YouTube channel, I watched a TON of Sunny's videos for guidance on how to build great content and an audience! I had decent initial growth, but when work got busy, I stopped creating long form content. I'm launching my Patreon this month and was pleasantly surprised to see this course with Sunny on CreativeLive! My favorite part was diving into analytics. If I'm being honest, I've ignored this part for a long time because it seemed complicated and arduous. Sunny made it easy to understand and pointed to the exact places I need to look to see why my top ranking videos are getting views. I will also be stealing the Outdoor Partner Workout idea, since I am a fitness professional ;)
Student Work