Commercial Portraiture
Joey L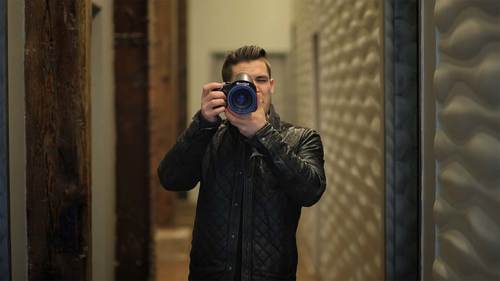 Commercial Portraiture
Joey L
Class Description
Joey L. has balanced hard work, technical execution, and boundless creativity to become a commercial portrait photography wunderkind. In this class, you'll learn how Joey gets inspiration, organizes his shoots, and processes the images to create the stunning shots for which he has become so well known.
In this class, you'll learn:
How to embrace the creative concepts that so often stay trapped in our heads
How to merge cinematic lighting techniques with onset special effects
Joey's post-production tips in Photoshop
Ratings and Reviews
Are you keen to learn about creating painterly portraits - as much in-camera as possible? Then you likely get how important lighting is. What you may not realise is how little a role photoshop plays in creating such effects: what such JoeyL like portraits seems to mean is: - thinking about portraits - what they are - how light creates them - how therefore to see and manage light "if you can use one light you can use many" - how to tune the image to create the output in your vision. Within this there are thoughts about photography as a business, workflows and data management. It's all remarkably accessible, too. Joey's teaching approach is calm and effective: he has mastered the art of the recap to make sure everyone is on the same page " first we did this; then we did.. then we did..." THe pragmatics of the course - the lighting/shooting sessions - are sensible progressions from one light (including using a flashlight and a foil lined cardboard box) to a multi-light set up. Intrigingly the lenses are limited no. of primes in the dlsr sections; the medium format is well motivated too, and clearly not a limiting factor for creating the desired image look. This course should get bonus marks for going above and beyond expectations on two counts: the portfolio section for people looking for work is v.well done in that a) it exists at all and b) Joey is not just highlighting his own work, but showing the work of others to allow him to explore options in presentation. Fantastic. The discussions of workflow- including data back up strategies - and image processing including print and web - are also sufficiently detailed and rational to be able to test out quickly. Delighted to see this work being done in PS v6 for those who haven't leapt to CC versions yet. It's also rewarding and inspiring to hear Joey say "i don't have a studio" Likewise, though Joey does work with a crew, it's clear they're working as a team and for very specfici purposes - all of which get costed into a budget. There's a lot of questions about the experience of shooting for a client - about the air of calm one has to maintain even if freaking out - to get through these points. It's all very real. WHile joey is clearly very confident about what he does, he's not arrogant, and the confidence is earned and reassuring. IT's clear he's an alpha kinda guy, a little competetive, and working for him (preferring folks who don't sleep - oh dear) may be different than attending a class - but this IS a class and his manner and way of teaching/organising/presenting work extremely well. Because the course is so complete, going not just from a to z but -z to +z it seems, these next bits are small beer: There's a rather surprising section with CL founder Chass Jarvis - but many CL courses have guest teachers bring in guests to add perspective. Here the section mainly demonstrates how gracious Joey is as an interviewer. And because all the other bases are covered it's no loss to have this business discussion of de-bunkings about how to get into this game. In other sections we see Joey as a patient guy too - answering quesitons it seems several times that had been answered previously in the course - while not everyone has tuned in for the whole thing, it's undrestandable why live questions weren't better filtered to highlight new questions - but Joey calmly will indicate as discussed before...and then give the answer. Never get the sense he's irritated by the repetition. While we hear his father as a strong critique his folks must be well pleased with how Joey's doing. This course has no extra materials - and that's ok: the links to the portfolios and software used are all in the discussions. Joey's blog also goes through a lot of discussions about gear lists. So head to his blog for supplementary detail. Overall it's hard to find a more complete course in CL on a complete portrait photography workflow. Scott Robert Lim's somewhat more frenetic but incredibly detailed 10k wedding photography and Joel Grimes Strobe workshops are also v.good in this end to end regard. But this one goes a bit beyond these perhaps in terms of vibe/cohesion (that may be unfair - it's just a feel thing between the three). Some folks label courses as "something for everyone" - i don't know if that's the case or if this case largely appeals to keen beginners who are exploring lighting and thinking about business thoughts, or if more experienced/pro photographers will be gripped by each moment, but my suspicion is that even for experienced portrait'ists it will be engaging at the very least to see how a fellow pro manages a shoot. Excellent excellent offer. With the guarentee, this is a no risk, slam dunk if commercial portrait photography (or painterly /cinematic and maybe earthy portraits) are for you. Thanks CL for bringing this together.
This guy is amazing, so easy to listen to, great personality and style; very engaging, worth every penny and more. Joey L. sparked my creativity and tied up some lose ends and misunderstandings I had concerning lighting. Creative live has some great courses but this is one of my favorites, thank you Joey I hope you continue on in your success and I love the end of the class when you said what is the worst thing that could happen if you fail. Great point of view, very encouraging, AWESOME ATTITUDE!!!
I think this is a great class. You can definitely tell Joey L is a master of his craft because of his simple explanations. He's concise in the way he teaches, demonstrates, etc. The most important thing is his workflow or process he uses while setting up the shot, how he builds, etc - it's essentially a "checklist" of how he likes to do things. Something newer photographers need to know. He did forget a couple of the models' name here n' there, but I'm sure he met them shortly before filming for the day started, lol. This is something you should not do, but he apologizes and openly admits. There are times a couple questions are asked and he has no shame in admitting that he's just "openly thinking of what would happen," but does not know for sure because he shoots in a specific style. For someone his age (younger) who has penetrated this tough industry, you can definitely tell why he's successful - very mature with a great knowledge base. You can definitely tell he sees lighting differently from how an advanced amateur or even semi-professional photographer does... even in the introduction he talks about how important lighting and the quality of that light is. For those who are more advance, there might not be as many nuggets and pearls. There isn't any information on how he got into the industry, how he grew his business etc - with exception to how he feels you should display your portfolio in both web and print format. Overall, I think someone who's looking to get into commercial photography would benefit from this workshop. However, someone who's already getting paid and just looking to advance his or her own career probably already has the skillset that Joey L teaches and is best spending time just studying light. A little about me... I'm primarily a natural light portrait photographer specializing with families, kids, pets, etc. I'd consider myself an advanced amateur and I found this workshop beneficial. I hope that helps!!
Student Work