FAST CLASS: Turn Your Service Into A Product
Tara McMullin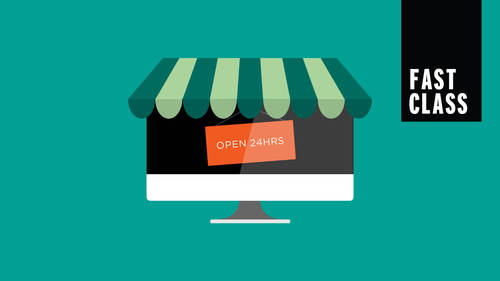 FAST CLASS: Turn Your Service Into A Product
Tara McMullin
Class Description
Typically, when you sell a service, you have to work more to earn more – and that can be exhausting. Find out how you can stop trading time for money in, Turn Your Service Into a Product with Tara Gentile.
In this comprehensive class, you'll find out exactly what it takes to transform your process into a product, program, book, or class you can sell.
Tara will teach you how to:
Use previous client work to develop your focus
Create a process plan from work you've done in the past
Discover what's important to the people who matter most
Identify your must-have components — and edit out the rest
Develop a prototype and package it
Create a sales and marketing plan
The key to making more money is to serve more people without burning out or working harder. Tara will help you discover and document your process, so you can take a backseat and serve more clients without doing more work.
Turn Your Service Into a Product with Tara Gentile is for business owners who deliver a service and are ready to make more money, serve more customers, enjoy more free time, and cultivate influence in their industry.
Whether you are a designer, coach, developer, therapist, doctor, writer, or consultant (or pretty much anything else you can think up), this class will help you earn more money while working less, by transforming your process, methodology, or ideas into products and programs you can sell, at scale. 
ABOUT YOUR INSTRUCTOR:
Tara Gentile is the founder of CoCommercial, a digital small business community for entrepreneurs serious about making money, impacting their communities, and transforming the lives of those they love. She's also the host of Profit. Power. Pursuit., a podcast that takes you behind the scenes of successful small businesses. Entrepreneur named it one of 24 top women-hosted podcasts for business owners.
She's the creator of Quiet Power Strategy®, a business design system that helps you break through the inevitable earning plateau, and a bestselling Money & Life instructor on CreativeLive. Tara's work has been featured in Fast Company, Inc, DailyWorth, Forbes, and The Huffington Post.
Class Materials
The Observation Engine - Multimedia Pack
cL-1510-GENTILEPRODUCT-S00L01-INTRO-MARKETER-HD.mp4
cL-1510-GENTILEPRODUCT-S00L02-THINK-WHO-HD.mp4
cL-1510-GENTILEPRODUCT-S00L03-THINK-WHAT-HD.mp4
cL-1510-GENTILEPRODUCT-S00L04-THINK-HOW-HD.mp4
Create a Product That Resonates Workbook
Turn Your Service Into a Product Workbook
Ratings and Reviews
I'm in business a looong time and know a lot but... Tara is great, the course is great and it is a MUST SEE for every entrepreneur. I'm not a native speaker (from Germany) but I can follow Tara very easily and there is the transcript... just in case ;-) Well done!!!
Student Work