Class Introduction & Muslin Backdrop
Mike Hagen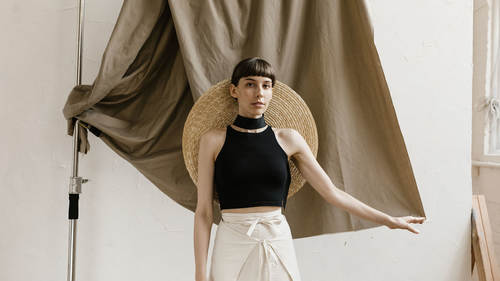 Class Introduction & Muslin Backdrop
Mike Hagen
Lesson Info
1. Class Introduction & Muslin Backdrop
Lesson Info
Class Introduction & Muslin Backdrop
Welcome everybody, I'm happy you're here today. We're going to be talking about backdrops and this is basically an introductory class to backdrops. I wanna show you lots of different ideas. I wanna show you some simple things that you can do. If you're starting out in photography, this class is good for you. If you've been in photography for a long time, maybe I've got some ideas here that you've never thought about before. In today's class we're gonna go through seven different backdrop styles. And everything from things you can buy on your own from a typical camera store, to things you can build on your own using PVC pipe and bed sheets. Up to things you can buy from your hardware store. So we've got four commercial type products that you'll use as a photographer. And then we've got three kind of DIY type of products that you'll use. Backdrops are important for photographers because what they do is they let you control the environment. A lot of photographers, are maybe available ligh...
t photographers or they go on location, maybe to the city park. And you're basically limited to whatever's in the background. So we're always trying to find some pretty background. Backdrops let you kind of design that and control that. As a photographer, if you're looking to step up your game, you need to put some thought into the type of backdrop. The colors, the shapes, the design and into days and age, there are so many products that you can buy. I mean if you go to some of the websites that are out there, there's just an infinite number of backdrops. So I always kinda say that we live in the golden age of backdrops. There are so many options out there. Some of them are designed for studio work, like we are at the Creative Live Studio. Big heavy things that just aren't gonna move, other stuff is designed that you can take on the location with you. So I'm gonna show you both today. So I say that we just get started, get going, and the first backdrop that I wanna show you is the Muslin. I'm gonna bounce through here just so we can get to each of these bullets. I always forget how many bullets I have. There we go, four bullets. So a Muslin, and I'll walk over here in just a second, but basically a Muslin is a big honking fabric backdrop. And they're generally pretty heavy, and there in multiple sizes. The one I'm gonna show you today is a 10 foot by 12 foot backdrop. The idea with the Muslin is they're big. In other words, big means that you can put a lot of people in front of the backdrop. So let me walk over here and show you what this Muslin looks like. And just so that things can be clear, I'm gonna pull this away from the camera just a bit. So you guys can all see what this backdrop is doing. So say hi to Abby. Hi! Yep, so Abby's gonna be our model for the first part of this. So the cool thing about these backdrops is they are big. This is ten feet wide and so imagine that you've got maybe two people in here, you've got three or four people, you've got a family. You've got the width to cover all of that, all of that that's necessary, cool? Now it's 12 feet long, so when you buy a Muslin what I want you to think about is how long do you need this floor runner to be. Right now you can see that we've got the backdrop up pretty high. It's about, I'm gonna say, well it's about 9 feet tall. The taller your person is, and the farther away they are from the backdrop, the higher that backdrop needs to go. So typically that top bar, I like to have that top bar around 10 feet high. Especially if you have a big group of people, you need a little bit more head space, 'cause your lens is gonna be wider and all that good stuff. Well if your backdrop, your bar is 10 feet high, and then your Muslin's only 12 feet long. You don't have a lot of space here on the floor to do like a full length portrait. So if you have the money, I recommend buying like a 20 foot long Muslin, because that allows you to have this nice runner out here. You've kind of got this infinity look going floor to ceiling, or head to toe in this case. So for this Muslin we're only gonna be able to do kind of this torso shots, or maybe kind of mid thigh. Beyond that, we're out of luck. So I say that we take our first photo, and that's one of things that I wanna do today, is I wanna take photos, show you in realtime what these look like. And we'll do a variety of shots just to give you a bunch of different looks. But even though she's very pretty, she's stunning. The focus today is not on you my friend. It's on the backdrop. (laughter) Alright so we're gonna start setting up here, and we'll take our first picture with the backdrop. So just to shout out to some of the products that we're using today. I'm using a Nikon D and I'll be shooting with an 85 millimeter lens, traditional portrait lens. And that will require me to zoom with my feet, so you'll see me getting pretty close to her and walking back. The next thing I've got is I've got a Spider Holder System here to hold my camera, which is great. Great for working in the studio and then Tether Tools, we've got this things tethered to my laptop, I'm using Lightroom. This is a traditional studio setup. For the lights here I'm using a variety of modifiers, and we don't need to talk about the details here but I've got a Phottix Raja 65. I've got some pro photo gear, and in the background I've got some Photoflex Umbrellas. And we'll just be moving, have lots of moving parts today. So if you have gear questions you can always ask those kind of more towards the end. Alright I'm gonna have you move forward a little bit Abby, right there. Typically when we're working with backdrops, it's good to have the model about six feet away from the backdrop. And my body is six feet tall, that means my wingspan is about six feet so a lot of times what I do, is I just stand behind the model and put my arms out to get that spacing. It's a good kind of tip to use in the studio. Why do we do it six feet away from the backdrop? Well because we wanna manage the shadows, right? If she's right up against that backdrop we're gonna get hard shadows right on that Muslin. Alright one more shout out, this Muslin is made by, I lost my little, Seamless Back... I'm sorry what's the... Seamless Photo Backdrops. Seamless Photo Backdrops, and this is a Sue Bryce, and it's called the Gold. So Sue Bryce designed this, and it's here Gold Muslin. It's a fantastic. Yeah should I show... Let me show that real quick. Just 'cause I wanted to show you how this kind of also folds down. It's pretty heavy, it fits into this back so you gotta fold it. Oh and there's one more thing to know about these Muslins. You have to steam them, and so someone was in here this morning before we started for about an hour, steaming the backdrop. They take a lot of care to make them look good. This is the seam... Sue Bryce Seamless Gold 10 by 12. Alright we're gonna just do a quick test shot. Would you get the tether session started? Make sure we're good to go there, just let me know that it's connected. Alright I just turned the camera on and I'm shooting at F8 at about a 200th of a second. And ISO 400, here's our first test shot. One, two, three. (camera shutter) (beeping) Make sure that comes through. Okay go ahead and hit F for a whole frame, and we'll just leave it there for now. Alright cool! Nice! Almost like we planned it that way, ay? Alright so I'm gonna have you turn this shoulder towards me. Go ahead and put one hand in a pocket, yeah sweet. And the other hand bring up just a tiny bit, yeah. Turn the shoulder towards me a little more. Love it, yeah. (crowd laughing) Little sass, it's sweet. And we're not doing anything too sophisticated with the lights here. One, two, three. (camera shutter) (beeping) Super! Let's cross your arms for the next one. Alright yeah cool, hand behind I like it. (camera shutter) (beeping) Oh my gosh your smile is fantastic. (laughter) Oh, I'm gonna bring you back in, in the future. Super so simple, you can see that background is pretty well lit and I don't necessarily mean that as a good thing, it's a little too bright. So let's drop those lights in the background. Let's cut em', we'll turn em' off. And this, I just wanna show you how important background lights can be too. Even though this class is about backdrops, it's about lighting as well. Ready. Alright so the lights are off in the background. And same scenario, let's have you turn the other way. And hand in a pocket, cool. Nice, lovely. (camera shutter) And one more. (beeping) (camera shutter) Now you can see how when you turn the lights off in the background, the background really kind of gets much darker. So even though that background is gold, you can see the colors have shifted because we don't have lights on that. Cool. The Sue Bryce Gold Muslin. One other thing on Muslins, is the, you can buy these in all different textures, shapes, colors, you can get patterns on them. They're durable, they last for ever. So you're gonna spend anywhere from $ for an inexpensive Muslin up to multiple hundreds of dollars for stuff like this, that's really well designed. For those of you who bought the course, I've got a lot of stuff here on set and everyone's always asking me, "Hey, where can I buy this?" So I've got just purchase links for you, basically call that one I'm using today and where to buy it, what I recommend. Some of these, I do wanna fully disclose what's going on, sometimes a sponsor will say, "Hey, we're happy to send you some gear." but I'm not showing you anything on set that I wouldn't use myself. So everything is Mike Hagen approved, trust me on that. And then, the other thing is, if you wanna build some of this stuff, like this next one I'm gonna show you. I've got schematics and building instructions for how to do this step by step. I always got plug my own books of course, and this next one is from one of my DIY books. It's that Enthusiast Guidebook that just came out. So this is taken right from that book. There you go.
Class Materials
Guide To Simple Backdrops - Shopping Guide
Ratings and Reviews
This class is pretty basic for the most part, but I definitely got some good ideas from it.
The thumbnail on this video is very disbelieving. The video is very basic, where the thumbnail shows sort of an advanced type of backdrop. Dissapointed.
Student Work