Collapsible Backdrop
Mike Hagen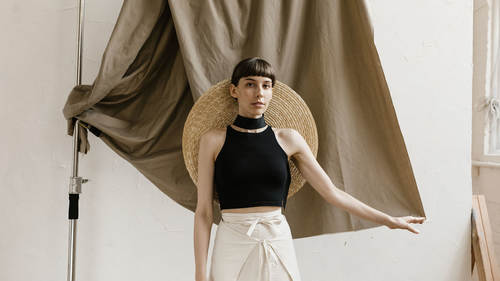 Collapsible Backdrop
Mike Hagen
Lesson Info
3. Collapsible Backdrop
Lesson Info
Collapsible Backdrop
Collapsible backdrop. These are great! I love collapsible backdrops. One of my favorites, again, Lastolite, I told you I use a lot of their gear. Sometimes with these collapsible backdrops, you can use them for multiple purposes. So this is a translucent, collapsible backdrop. And there, I just opened it up on camera. You can see they fold down relatively small, so that means they're really portable. Right? You can bring them just about anywhere you wanna go. This, I'm six feet tall, so you can see that this is about a six foot backdrop, maybe a little bit less than that. You can buy these in a variety of different colors. So this is translucent. I use this as a backdrop. I use it as a reflector in the sun. I also use it as a scrim. I don't know if you've heard of that term before. A scrim, basically, allows you to go over the persons head, like that, and then shield out, block out the sun. And so on a bright, sunny day, which we have all the time here in Seattle, it's super useful. Ri...
ght? And then when you fold them up, you basically, it's a little bit of a skill set to do so. But they just fold up nice and tight, nice and small and they go right in the bag. My recommendation, if you are buying these types of products, get a white translucent one like this. You'll find it so useful. In fact, you can use this for your wall of light. You just put flashes behind it and it shines onto the back of this, and because it's translucent it'll do exactly what we did there with that bed-frame example. Another recommendation that I have, here's another company called Botero. I bought them from one of the big online camera stores that you all know and love. So this one is gray and black. Black on one side, gray on the other. Super useful. Man, I cannot tell you how many photos I've taken, how many portraits I've taken with this backdrop over the years. So it's kind of beat up now. It's water stained from one day it was out shooting in the rain so I gotta replace it. Still super useful, especially the black side. What size is this? There's basically a four- He asked the question, what size is it? It's basically a four foot by six foot backdrop. Okay. Now, let's go look at the one we have set up in the studio. And let's go ahead and move it a little more to- Yeah. Right there. Right on. So this one is made by (finger snapping) I forget. Is this Savage? This is a Savage. Yeah. So this is Savage, Savage backdrop company. They make all kinds of backdrops. This one here is a mottled. M-O-T-T-L-E-D, mottled backdrop. Thank you, Vannah. (laughing) She's modeling it too. And this is actually has two colors. There's a darker color, which we've got shown here, and then on the back side of that is a lighter color overall. We notice, you notice the length of this. So it's approximately six feet tall. How tall are you? Five? Five seven. Five seven, so she can stand in front of this. And if it's not high enough or tall enough, you just basically stand up, move the stand up in the background. You know what? I'm gonna pull this out just to show the camera the back of this real quick. So let's do that. My tether is good? Tether is good. Okay. Here we go for camera. See? I've got that connected. It's just a standard light stand. Okay? And then, here on the top, if we can get a tight camera shot of that? You can, I can find these on Amazon. And I have that as a link in that shopping guide. I wasn't able to find this at some of other camera stores. I don't know if they sell them or they just have them named differently. But it's basically a light stand backdrop clamp. Search for that. But I found it on Amazon and they're pretty cheap. They're like 10 to 12 bucks. And all it is is a little clamp here to hold that backdrop in place. And then if I need it to go higher, I just raise the stand, you know, the arms of the stand up higher. This stand is only a six foot high stand, so I can't get it any higher than it currently is. Okay. So let's have some fun with this backdrop. Let's have you sit on an apple box. We'll pull over an apple box. Got it. Okay. And we'll pull over that Phottix. Right on. Come forward a bit. Always back to that six foot distance thing. Move that way a tiny bit. Right there. And for this, we'll just do a variety of sitting positions. We may even mix it up a little just to have some fun. Yeah? (laughing) You're smile is so contagious. I love it. Okay. I'm gonna move this one a little bit more in front. And I'm just looking at alignment here, making sure she's kind of centered in the backdrop. You look good. Nice tall. Even though that your hands won't be on camera, what I'd like you to do is kind of put them both one on top of each other. Yep. Super. Super. Okay. Are those background lights on? Yes. Okay. Great. Here we go. One, two, three. (camera shutter clicks) And another one. One, two, three. (camera shutter clicks) Nice. Let's see what we got here on screen. Oh. Love it. (laughing) Looks great. Let's talk through the lighting here real quick. Just because I'm a, like, geek like most people are. You notice as we're looking at, let's see, it would be our right, her left shoulder, we've got some light there on her shoulder. That light is coming from my background lights. Okay? And so you may or may not want that spill-over from your background lights. So let's rotate those umbrellas so that they don't actually impact her. Yeah. Perfect. That looks good. And we'll shoot again. And just to keep things simple today, I am using umbrellas in the background. A lot of times we'll use flags or something like that to block out light coming onto the subject, but for now we are good. So same hand position. Cool. And actually just to show it's a different shot, let's have you actually rotate your knees that way. Perfect. And do the same thing with the hands. Love it. Pull them back a little bit. Yeah. Nice. One, two, three. (camera shutter clicks) Super. And one more. One, two, three. (camera shutter clicks) Love it. Cool. So you can see now on her shoulder, we've reduced the amount of light coming onto her shoulder. As you're setting up your backdrops, one thing to think about from a lighting perspective is you're gonna need at least, well, I say four lights. Four lights in your studio. Two lights for the background. Two lights on the subject. And a lot of photographers will say you need five lights in the studio. Two background lights, one rim light, so that it can shine on the back of the model, and then two lights in the foreground. So that's kind of the ideal state, having five lights. Today, we're just keeping things a little bit simpler and going with four. Let's take another shot, and let's turn off those background lights. And make sure I'm on task here. So the same scenario, now the background lights are off. Just showing you all the different options you can do with these collapsible backdrops. Alright. Cool. Nice. (camera shutter clicks) And I'm gonna shoot a horizontal photo. So these other previous shots have been vertical. I'm gonna shoot horizontal just to show some of the limitations with these smaller backdrops. (camera shutter clicks.) And I put her dead-center on purpose. I wouldn't normally compose this way. But you can see kind of the working space that you've got to deal with. There's no reason, there's no law that says that you can't rotate that backdrop 90 degrees. Right? So if you're just doing head shots and you want to do horizontal, well then rotate it 90 degrees and I think you'll be happy with those results. I always wanna show the limitations of these tools, so we're gonna do another standing photo. Cool. So let's go ahead and pull that apple box out. Have you stand right where you're at there. That's great. And let's do kind of a little more serious shot, cause you're so bubbly, happy. Let's mix things up a little. Go that way a tiny, tiny bit. Move your feet that way three inches. Whole body that way three inches. Okay. Cool. Serious shot. (clears throat) Deep breath. (heavy breathing) Nice. Okay. (camera shutter clicks) Again, I wanna show some of the limitations here. That background is a little bit too low. I've got her standing. So would you just lift up the background? Just, literally, just lift it up about a foot. Yep. (laughing) Yeah. Human-powered light stands. I love them. (laughing) All right. (clears throat) Stop laughing. Right. I'm laughing. Quit it. (laughing) We've gotta get that smile. (laughing) Oh, you know what? (laughing) I love that picture. (laughing) Sometimes what you want and what you get are two different things, and what you get is better than what you want. That's my philosophy for the day. (laughing) Since she's standing up, I also need to raise the foreground lights so I get the catch light kind of in the upper position of her eyeball. All right. Here we go. One, two, three. (camera shutter clicks) Ooh. Love it. (camera shutter clicks) Yeah. That background looks really nice. I'm pretty pleased with that look. And you can see in the upper right hand corner, oops, I got the edge of the backdrop. Nothing a little Photoshop or cropping can't fix. And that's what I love about digital photography these days is there's a lot of options for fixing your in-studio mistakes.
Class Materials
Guide To Simple Backdrops - Shopping Guide
Ratings and Reviews
This class is pretty basic for the most part, but I definitely got some good ideas from it.
The thumbnail on this video is very disbelieving. The video is very basic, where the thumbnail shows sort of an advanced type of backdrop. Dissapointed.
Student Work