DIY - PVC Frame Wall of Light
Mike Hagen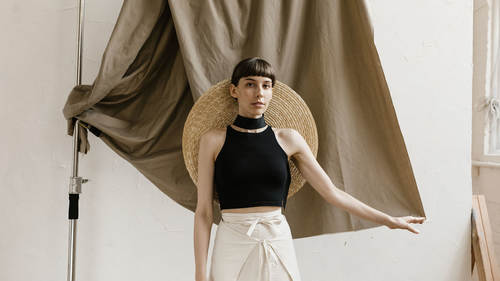 DIY - PVC Frame Wall of Light
Mike Hagen
Lesson Info
2. DIY - PVC Frame Wall of Light
Lesson Info
DIY - PVC Frame Wall of Light
This one's called the DIY PVC frame wall of light. (laughs) Well, what do I mean by that? Well here on the left side of the screen, you can see that I've made a PVC frame here and I just literally, PVC pipe, the stuff you use in your sprinkler systems for your yard and I made a box frame. The one that I'm showing today is about the same size as a twin bed that you would have a home. Well, why did I size it as a twin bed? Well because then you can use bed sheets to form the covering on this wall of light. Why is it a wall of light? Well, this company called Lastolite makes this really cool product and it's called the Lastolite highlight and you can see down there in the lower right how much these things cost. They're $350 to $700. Are they worth it? Well, yes. But they're also $350 to $ and so you think about, what can I buy for $350 or $700. Depending on the size, you can get a nice lens, you can get a bunch of flashes. There's a lot of other stuff so I love the Lastolite products, I o...
wn a ton of Lastolite products. In fact, I have some here on set today. They make very good, good gear, but I'm a recovering engineer and I wrote a book on DIY, so maybe there's a way I can do this less expensively and so went to the hardware store, sized all this stuff, and I've got all the instructions in that bonus material. So what do we do with this wall of light? Well, the idea is is that we put lights inside of this thick wall of light here and that illuminates the background. So it's an easy way to create a white, seamless effect or a white, bright background. It's just a super easy way to do that and so the bigger you make this frame, the more space you have to move the model around and as we'll see here in a moment, I made this one about a twin sized bed and she's gonna be a little bit, not that she's big, but she fills up most of the frame and that would be for any human, any size human and so the larger you make that frame, the more space you have to move the model around. And we'll see how that works here in just a second, so I say, I think I got all of this, oh. The cool thing about my DIY solution. It's low cost, I think the overall cost of this was probably maybe 20 bucks and then it stows small. In other words, I can take it all down and put it in a little bag about this big and I can take it anywhere and then but it together on location, so that's pretty cool. And it's not $750, $700, which is good as far as I'm concerned. So let's just talk you through this. I'm gonna set my camera down here for a second. My tether's not long enough to walk over there. Let me show you how this works. So I've got two bed sheets, two white bed sheets, that's important, and you can see the frame just like this. Cool. And it's, I built it, I think it's like 65 inches or something like that tall. What I would recommend if you're building your own, I would recommend making it like a queen size or even a king size frame. That will give you a lot more space. Just from my personal experience here, don't build it too thick, otherwise your bedsheets won't wrap all the way around it. The first one I built was way too thick and I couldn't get those bed sheets and I'm like. So build it about eight and a half inches deep, eight and half or nine inches deep. Now, what we do is you take your lights and you put your lights inside the frame and you shine them towards the back just like I've done here. Shine them towards the back and then we put the front over the, got it? Alright cool, I think that'll work. Actually, oh, is that the inside one? Okay, let's do that one first. Yeah, little better. Thank you. And then one of the lights because all of my lights today, I'm using speed lights, I just wanna make this as accessible for everybody as possible, so I'm not using big strobe lights. So my speed lights here, they're all being triggered just as what we call traditional slave light, so there's no technology. It just sees a pulse of light and it goes. So one of these flashes has to be out so that it can see the pulse of light and then once that little flash inside there pops then everything else will pop. Alright, I think we're ready. We're good? Now notice I've got her pretty close to the background and I do that because now that background's gonna be shining a lot of a light foreword to get a nice, white backdrop, so I might have to put some key lights on the front but before I take it, actually, I'm gonna take it with the key, with the lights in the front. I was, what I was gonna say was maybe I take a picture without them but I don't think that's value added for this scenario. Alright, so this will be our key, our key light. This will cause the effect in her eye. Get this about the right height, cool, and why don't I have you pull that one a little bit over to the left. First test shot. We practiced this morning. Hopefully it still works. Alright, here we go, one two three. Let's see what that looks like. Oh hey, it's almost like we planned it that way. Lovely. Yeah, I heard a wow from the audience, which is neat. (laughs) Now, making that background white is a little bit of art and a little bit of science. Typically you want your background light whatever it is, whether it's just like a white seamless or in this case a wall of light, you want that to be about a stop and a half brighter than the light on the subject and you can use a handheld light meter to do this or you can just kind of like, it's close enough. In this case, if we look at that photo, you can see the background's a little bit too bright. Can you kind of see it's not like, there's not a lot of contrast on there? It's almost a little bit washed out, so let's drop down the power of those background lights, maybe drop them down each by 2/3 of a stop and just to speed it up, I'll hop over to this side as well. So they're each at, let's go 2/3, so let's go like eight, 1/8 minus 2/3. Okay. This is way down here. Alright cool, so we're dropping everything down by 2/ and subtle adjustments are often all you need to make to get it looking just so. Alright, here we go, one two three. Nice, and one more pretty close. Nice smile, love it. Yeah, that's better. More contrast. Still might be a little bit bright, but you get the idea, you get the concept here. Next thing I wanna do is I wanna use the same setup but I'm gonna have you stand up and I'm gonna have you come foreword and then let's move the key lights or the front lights foreword about, well too far. Go back about three feet, yeah, and then just move all the main lights the same distance foreword that she moved. And what I wanna do here is show you the importance of the background size and I think you all, especially in the studio on us you're gonna go oh yeah, it's just not gonna work for this scenario. So if you wanna do a full length portrait, you gotta have a king size product for the background. Okay, my friend, here we go. Back up a little further. One two three. Yeah. It's still kind of a cool looking shot. It's not bad. Actually, I really like that picture. (laughing) I really do like that, but you can, the point I'm making is this. The background size is important, so make it much larger and then that allows you to do full length portraits. One other thing, one other point I wanna make here and I'll walk, I'm gonna walk over this way. Let's say that we did want, go ahead and stay where you're at. Let's say that we did want a full sweep from the background in front of her, so how do we pull that off? Well the idea generally is is that you have maybe a seamless paper or you have another bed sheet that you kind of pull out here into the foreground. Now that's what the Lastolite product that I was talking about, that's what that does. They have these kind of translucent floor trains that come out from that and they allow you to do full length shots. So you know as always, DIY, sometimes you have to put a lot more thought into the DIY product versus the commercial product. They've already thought everything out.
Class Materials
Guide To Simple Backdrops - Shopping Guide
Ratings and Reviews
This class is pretty basic for the most part, but I definitely got some good ideas from it.
The thumbnail on this video is very disbelieving. The video is very basic, where the thumbnail shows sort of an advanced type of backdrop. Dissapointed.
Student Work