DIY - Reflective Floor
Mike Hagen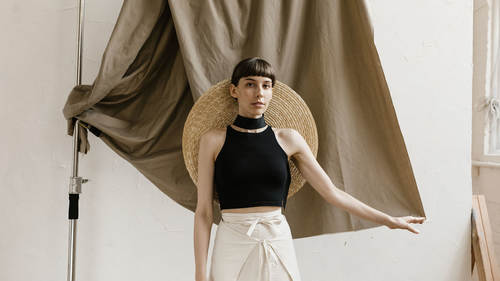 DIY - Reflective Floor
Mike Hagen
Lesson Info
6. DIY - Reflective Floor
Lesson Info
DIY - Reflective Floor
DIY project number three. This one I love. This is called a DIY reflective floor. Now, some of you have done reflective portraiture before, where you have the model and you kind of reflect the model from the floor or something like that. To do that, there's a lot of different ways, I mean, you could try mirrors but mirrors are crunchy and they break and kind of expensive. You could do like a Lexan type product. You can use basically any type of bright, shiny product, but it all costs a lot of money, and a lot of times it's very expensive. So this solution is the least expensive way to do a reflective floor that I have found. And It's called Thrifty White panel board. You'll find this at your local big box hardware store and you just ask for Thrifty White, it's back in the, kind of in the plywood section, or even in the wall paneling section. The same place I bought that brick, I bought this Thrifty White. This Thrifty White is thrifty, it cheap, it's like 20 bucks per sheet and you'll ...
see, when I get over there, you'll see it's got a nice kinda shiny reflective surface. It's not like mirror reflective, but it's enough to reflect the model. It's not very portable. So this is not the type of thing you're gonna take to the school for doing kid portraits, we'll I don't know, maybe you'll take it to the dance studio if you set up a studio for those little kids, but it generally takes about two people to set something like this up. Let me talk through this set design and then we'll take a few photos. Okay, so while I'm talking through this, why don't you come over, and I'm just gonna have you stand on it, okay? Go ahead and stand on it here. Oh, one other cool thing about this, see she's wearing heels, it stands up to heel usage. Whereas some other products she'd poke right through it. So I'm gonna have you actually move forward a little bit so I can get here in the background. Alright, so look at how I set this up. Let me pull this off for cameras. Okay, White Seamless. I wanna make a point about the White Seamless, I forgot to make earlier, this Seamless here is about, what is that? Four feet wide, and it's easy 'cause it's lighter weight, but four foot wide Seamless doesn't give you a lot of flexibility side to side. So if you're trying to do this shot, I recommend that your Seamless is at least eight feet wide. Six to eight feet at least, okay? So you want some additional width. Now, I bring the white Seamless down here like this. I bring it out about three feet in the foreground, and then I drop the back side of the Thrifty White, I just put it over top of the Seamless. Now if I have an eight foot wide Seamless, obviously I want eight feet wide of Thrifty White in front of it, okay? So what I do is I turn these Thrifty Whites sideways, and then the one in the front, this is important, the Thrifty White panel in the front goes over the top of the back one. 'Cause you think of it, if it went this way, you're gonna see that seam right there. But if it goes over the top like this, it kind of disappears in the photograph. So that's the pro tip of the day. If you're going full with, and I actually brought two Thrifty White panels today, but we don't have a super wide backdrop for this class. So we're just doing the single one. Next, I had her wear heels. I had her wear heels on purpose. Because I want that reflection to be very evident. And when she's standing here, I'm gonna have her stand in a way that the light is kinds gonna shine through her heels, so you can see that reflection moving out in front of her. Obviously for these scenarios, in this scenario is a full length portrait. But you can also, we're not gonna shoot this one today, but you can also do athletic portraits, I'm gonna get down on the ground here real quick cameramen and women, so a lot of times you could do these athletic portraits where the model is down here with a basketball, or maybe they're doing push-ups or something like that. It's a really cool shot to get that reflection down on the Thrifty White. So, you ready? I'm ready. Okay, alright let's go ahead a pull this light in, I'll move this one into position. You know what, since we're going full length, let's move that one up this way a bit more, yeah. Cool, and ideally for these scenarios, I'd have larger modifier for both of the front lights, but we're gonna work with the small ones now. Now notice what he's doing in the background. We still have to light that background. Now we actually have more space on that background to light. So, maybe bigger umbrellas would be worth your while. I do want to point out that you want the light to be evenly lit from the top all the way down to the floor, and even to where the Thrifty White panel impacts, 'cause all of this is gonna need to be white. You might have to use four lights on the background to pulL this off well. Okay, so positioning is gonna be critical here 'cause we don't have a lot of width to work with. So I'm gonna, do you mind if I tough your hips? No, fine, Cool, let's do this, great. Hand up on the hip, nice. And let's take that back hand and let's do something with the hair or the face, yeah. Like that, it's great. Okay, we'll start with that. I'm lookin' for feet separation, but we're gonna start with that 'cause that's a natural pose, and then I might have you actually do something where the front foot's out. We'll just get a feel. Okay, I need you to very carefully walk that way about one inch, yes, right on. Okay, tethering good? Mmhmm. Background lights are on? Mmhmm. Okay, here we go. 85 millimeter lens, long lens. And I'm getting low to show the reflection on the floor, one, two, three. (camera clicks) Nice. Okay, let's look at the result here. So we can see the reflection down there, pretty awesome. More reflection in front of her, you're gonna need that Thrifty White to come out even farther. We've got decent lighting down here, you can see how the background is reflecting onto that floor, so we have to deal with that. Maybe work on not having a bright background like this muslin. There's just a lot of things to think about here. A wider Seamless, like an eight foot wide Seamless would prevent this spillover. So that's gonna take some Photoshop work. Alright, let's go ahead and take that back foot, and let's do something so we can see more of that heel. Yeah, perfect, that was a yup perfect, that's a cool pose, I like it. Let's take it. (camera clicks) And I'm gonna back up even farther so we can get full reflection there. (camera clicks) Alright, cool. Alright, let's zoom in on that. Go ahead and click on her face and zoom in, that's a little bit to much. Can we go to 50% zoom. Hit escape, there we go. And then right up there, let's go to one to two, alright. That's one two. Alright, alright, so looks good. I think I need a little more brightness on her, don't you think? She needs to be a little brighter. So let's go ahead, you grab that one, bring that one up a stop. I'll bring this one up a stop. One eighth, one eighth? A fourth. Okay, you're a quarter on that one? Yeah. Cool. Notice I've moved all the lights pretty farther away from her, so because the lights are farther away, I have to up the brightness of the output on each of those. That's a great pose right there, I like it. One, two, three. (camera clicks) Nice, and bring your nose towards me, tilt your head that way tiny bit. Yeah, nose down, towards me, perfect. (camera clicks) Okay, better brightness? Little better brightness. Again, in the studio you have time to work on these things so you get the idea? This floor is cheap, 25 bucks. The Seamless, I forgot to talk about the cost of the Seamless. Typically a roll of Seamless, you can buy online shopping sites, anywhere from 30 to 60 dollars for a roll of Seamless. So for around a hundred-ish dollars, you can have this nice reflective floor studio.
Class Materials
Guide To Simple Backdrops - Shopping Guide
Ratings and Reviews
This class is pretty basic for the most part, but I definitely got some good ideas from it.
The thumbnail on this video is very disbelieving. The video is very basic, where the thumbnail shows sort of an advanced type of backdrop. Dissapointed.
Student Work