Introduction to Mixed Media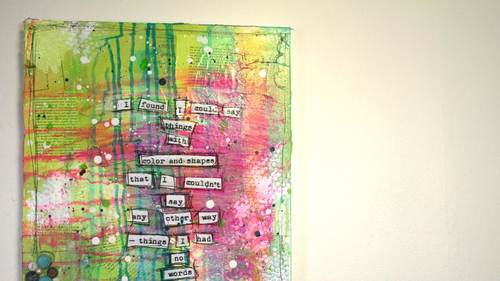 Introduction to Mixed Media
Class Description
Mixed media is such a broad, all-encompassing topic that it is easy to become overwhelmed before you even start experimenting. During Introduction to Mixed Media, Stephenie Hamen will take the mystery out of mixed media and help you get started making art.
In this class, Stephenie will cover all the basics and teach you how to lay out a mixed media art piece, step-by-step and item-by-item. You'll learn about common materials and how each media within the piece works and interacts with the others. 
You'll learn how to:
Create a collage base on canvas
Affix crayon wax and beeswax to a piece
Use stencils to add texture and/or imagery
Add texture with gesso
Stephenie will discuss the different types of acrylic paints, how they work, and how they react when water is added. You will learn which materials work well together and get lots of tips you can use when creating pieces in the future.
Even the most inexperienced beginner will develop a new appreciation for the art form and learn skills they can use to start making their own mixed media art.
Reviews
I really enjoyed this class. Stephanie was fun and relaxed which made the learning fun and relaxed. I can't wait to get my hands dirty and give it a try!
Great class. Stephenie is a fun teacher. I really enjoyed it and loved the idea of using melted crayons.
I absolutely loved this class! It gave me some great ideas and like another reviewer jogged loose some creative fears and opened up some new possibilities for creating art in a fun and authentic way. I can't wait to get started!!