Manners @ The Table: A Modern Guide to Dining Etiquette
Course Introduction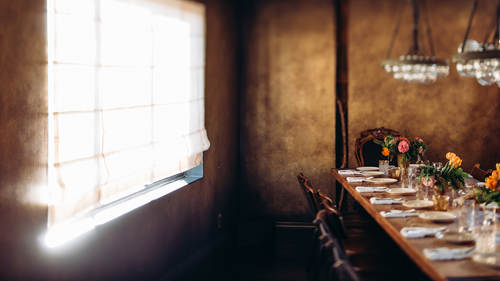 Manners @ The Table: A Modern Guide to Dining Etiquette
Course Introduction
Lesson Info
Course Introduction
my name's Daniel Post sending and I'm here today to talk about dining etiquette. I'm an author and spokesperson for the Emily Post Institute and Emily Post was my great great grandmother. I think when many people think about etiquette or even about Emily Post, they think about table manners. They think about which worked to use or how to set the table. And this is definitely part of the dining tradition, a dining tradition that we all enjoy at the same time. There's so much more to it than that. Sharing food with other people is a really important experience that provides us a way to connect with others. It's important we enjoy our food. Definitely eating is something that we all enjoy, but really eating as a social experience. Sharing food with other people is something that's really significant. It's a meaningful, an important part of all of our lives. It's a really fundamentally important social ritual. So how do you share food with other people and enjoy it? Well, there are some pa...
rticular expectations that are useful to know and knowing those expectations, feeling confident and it ease with how you manage and navigate the table, particularly when you're eating out is a good way to feel confident and enjoy that experience. So today we're gonna talk about table manners. We're gonna talk about how to hold utensils and how to navigate the place setting even how to set a table. We're gonna look at manners for particular courses, for bread, for suit, for salads, for main course, and even for how to share a dessert. So join me. Hopefully, we're gonna enjoy the experience and the process of learning about table manners. And that's gonna give all of us the confidence to enjoy our next experience eating out and sharing food with other people all the more.
Class Description
The place where our manners are really put to the test is at the table. Eating a meal with others is a veritable minefield of potential blunders and gaffes, so if you're planning to dine with work colleagues, superiors or clients, it's wise for you to be fully versed in dining etiquette.
This course covers the fundamentals of table manners, addressing everything from place settings to holding utensils, good posture to appropriate conversation. Business dinners and power lunches are where so many key decisions are made and relationships are formed. So it's imperative that you go in ready to impress and avoid unforced errors.
In this class, you'll learn how to:
Navigate a menu and wine list and order the right thing.
Hold utensils properly and understand the differences between American and Continental styles.
Deal with specific courses in the meal, from bread and butter to soup and salad.
Have good posture, eye contact and appropriate gesturing.
Handle it if you don't like what you've ordered.
Toast your host or guest of honor.
End a meal properly and know when you can leave the table.
Reviews
Daniel's course provides an excellent overview of the essentials of dining etiquette. The content is contemporary and reflects the more relaxed atmosphere that prevails in most dining situations today. I would definitely recommend this course to a friend looking to review the basics of dining etiquette.
This class is such a simple and refreshing course. I really enjoyed what he had to say, and he gives easy to use tips and tricks through out.
Daniel Post Senning offers a succinct and easy to follow course. I highly recommend!