Manners @ The Table: A Modern Guide to Dining Etiquette
Dessert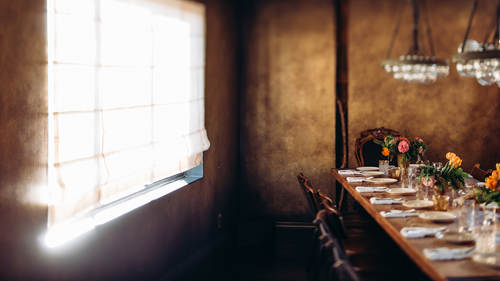 Manners @ The Table: A Modern Guide to Dining Etiquette
Dessert
Lesson Info
Dessert
Let's not forget about dessert. This is some people's favorite part of the meal. I think the most commonly asked question about dessert is, Is it okay to share desserts? Well, I like to say for a first date, Absolutely, by all means share dessert. If you're talking about an important business meal or more formal dining situation, go ahead and let everyone get their own. Now, how you share food all basically breaks down to a couple of simple rules. You don't wanna make a mess of the food that anyone else is going to be eating. And to the greatest extent possible. You want to keep your utensil out of the part of the dish that other people are likely to be eating as well. So just take the bite that you're gonna take and eat it yourself. Sharing deserts is a great way to build rapport and share a little treat together again. You want to be careful about how you do it and more formal or business situations...
Class Description
The place where our manners are really put to the test is at the table. Eating a meal with others is a veritable minefield of potential blunders and gaffes, so if you're planning to dine with work colleagues, superiors or clients, it's wise for you to be fully versed in dining etiquette.
This course covers the fundamentals of table manners, addressing everything from place settings to holding utensils, good posture to appropriate conversation. Business dinners and power lunches are where so many key decisions are made and relationships are formed. So it's imperative that you go in ready to impress and avoid unforced errors.
In this class, you'll learn how to:
Navigate a menu and wine list and order the right thing.
Hold utensils properly and understand the differences between American and Continental styles.
Deal with specific courses in the meal, from bread and butter to soup and salad.
Have good posture, eye contact and appropriate gesturing.
Handle it if you don't like what you've ordered.
Toast your host or guest of honor.
End a meal properly and know when you can leave the table.
Reviews
Daniel's course provides an excellent overview of the essentials of dining etiquette. The content is contemporary and reflects the more relaxed atmosphere that prevails in most dining situations today. I would definitely recommend this course to a friend looking to review the basics of dining etiquette.
This class is such a simple and refreshing course. I really enjoyed what he had to say, and he gives easy to use tips and tricks through out.
Daniel Post Senning offers a succinct and easy to follow course. I highly recommend!