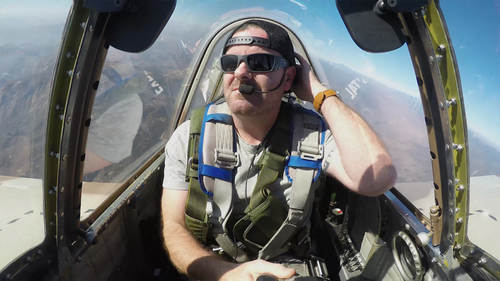 Have you ever had a hard time reaching your career goals? Sometimes we come up short because we don't know how to prioritize, stay composed amidst the chaos and make the right choices under pressure.
But what if you could do your job or run your business with the laser focus, precision and decisiveness of a Navy SEAL?
Brandon Webb, former Navy SEAL, successful entrepreneur and New York Times best-selling author of "Total Focus: Make Better Decisions Under Pressure," believes that the same qualities that allowed him to stare down terrorists have helped him create a multimillion dollar company.
In this course, you'll learn how to:
Avoid distractions that take you away from your goal.
Pursue the right opportunity and see it through to completion.
Build an action plan to achieve your objectives.
Increase your self-esteem and get rid of self-doubt.
Overcome hesitancy and indecisiveness by moving forward with an imperfect plan.
Embrace the suck and refuse to quit.
Recognize that unexpected challenges may reveal your best shot at success.
Reviews
I had the pleasure of being in the live audience for this course, SO much content, I actually got the book as well and took lots of notes. With Brandon there is no fluff, it's all real actionable steps and strategies to get you focused in very specific ways. we talked about goal setting, team work, vision statement, and that's just a taste, there are so many different categories that we got into. I'll have to go and study my copious notes.. I'm glad CreativeLive added a course on FOCUS! Man I need it as a small business owner it's so helpful to have an expert help me Focus! Brandon was a high level Navy Seal but he's really down to earth, funny, smart and packed this course with massive content. Thanks Brandon
So disappointed in this class! Brandon comes with a wealth of experience and great many stories, but these assets did not translate into teaching, which is unfortunate. Besides broad topics and general ideas to have in mind, there were no actionable items to walk away with, no steps to implement. The class did not deliver on its promise. It did not really teach a strategy or method to clearing distractions, staying focused, determining your goals, redefining priorities, etc. Storytelling is a great way to bring a point to life, but if that is all you get for 3+ hours, it gets tiresome and ineffective. So many great classes on CreativeLive -- this is not one of them.
The speaker was really interesting and potentially had great stories but his energy level was low. I couldn't believe this guy had been a Navy Seal. His voice and body language came across as if he was slightly depressed and/ or tired. He also wandered off topic or didn't explain how his stories related to the course objectives. I sense he had really useful stuff but it just didn't come over apart from one or two phrases. I watched this live and so wasn't able to watch the entire course. Maybe it got better later but the first half I watched was kind of disappointing.