Secret 2: Think Like a Magazine, Not a Salesman
Jon Youshaei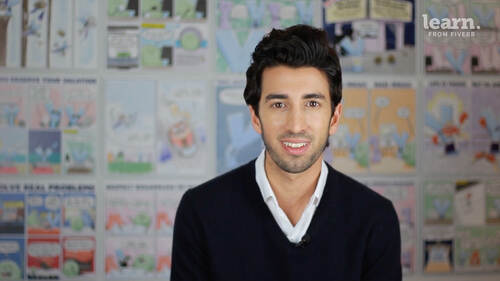 Secret 2: Think Like a Magazine, Not a Salesman
Jon Youshaei
Lesson Info
4. Secret 2: Think Like a Magazine, Not a Salesman
Lesson Info
Secret 2: Think Like a Magazine, Not a Salesman
The second secret of viral marketing is to think like a magazine, not a salesman. Too many brands make the mistake of using social media to shout at potential customers. They make posts like this. 20% off by now. Get free shipping. Check out our revolutionary new product. But in reality the brands that make these kind of posts are totally forgetting while people use social media in the first place, the whole point is to connect and consume awesome content. So as a brand, your first duty isn't to sell on social media, it's to earn trust. Imagine it like this. If a close friend recommends a new app to you, you're much more likely to download it than if you had heard about it from a stranger. Right? That's because you trust your friend, You've learned from them, you've laughed with them and your relationship extends well beyond business. So as a brand, you need to develop that same relationship with your customers and what's the best way to do that? Well, it's to think like a magazine is ...
to think like an editor in chief, not just a salesperson, because content is really just another word for having many conversations at once. In fact, research shows that consumers are 131% more likely to buy from a brand that posts interesting or educational content. So let's pause and take a quick quiz here, here's the situation, let's say you're marketing a clothing company that caters to petite women. How would you go about creating their social media content. Would you a post weekly discount codes for 50% off their entire site, be launching behind the scenes series to show how hard the founders are working on creating the startup or see create a weekly interview series where you post about inspiring petite women. The correct answer is c to illustrate why I want to share my work with a startup called Petite, which is a fashion company that curates clothing for petite women. Initially, their posts on social media were all about promoting their business with 10% off here, free shipping there. But we sat down and we changed our content strategy in two ways. First we launched a series called women crush Wednesday which is all about interviewing inspiring petite women. We immediately saw an increase in traffic because their posts were more engaging than the sales post from before and because people were already searching for the popular women crush Wednesday hashtag on social media. But most importantly, many of the women we interviewed started to re share the post with their following. So we were able to build petite AVS audience by borrowing from the audiences of these micro influencers. The second thing we did with Petite as content strategy is that we created a series called Petite Pro tips to help women understand how to buy and style their wardrobes based on their body type and fit and so between the helpfulness of these petite pro tips and the inspiration of the women crush Wednesdays. We were able to increase petite AVS customer base by 54% because we were able to get them to trust us before they bought from us. In terms of tools we use. This awesome site called Buzz Sumo that lets you look up popular articles based on keywords and topics. So all you have to do is go to buzz sumo dot com and type in a keyword related to your startup for petite ave we ran a search on petite women fashion in buzz sumo and looked at the most popular articles on that topic. We then used those already popular articles to inform what we should post about in the future for petite Ave we knew what got traffic so you went where the eyeballs already were. And Buzz sumo also has this awesome feature where they show you who exactly shared the past articles on facebook, twitter or linkedin so you can look them up, find their contact information and send them a direct message and that's exactly what we did. In fact we used this template which I recommend you use as well. We said, hey first name I saw you shared an article about x, y and z. We wrote an article about a similar topic but did a lot more research to improve and update it. Would you be interested in checking it out sincerely and we signed off with our name if they respond yes, which are strong percentage of them will that you apply with the following template? Glad to hear. Here's a link to the article. If you find it helpful, it would mean the world if you could also share it. Thanks again. Yeah. By using this template, you'll reach a highly vetted audience of taste makers who have already shown interest in your niche and can promote your startup even further. With that, I want to say congrats for finishing the second of the seven Secrets in this series, You're doing awesome. We've got five more secrets to go, so I'll see you in the next video.
Ratings and Reviews
Amazing! I learned a lot. You made complex topics more exciting and easy to follow through real-world case studies.
well, superb! I learned a lot of new marketing strategies. That is very well explained.
Student Work