10x Your Marketing Efforts with ChatGPT, Midjourney, and More
Mark Hinkle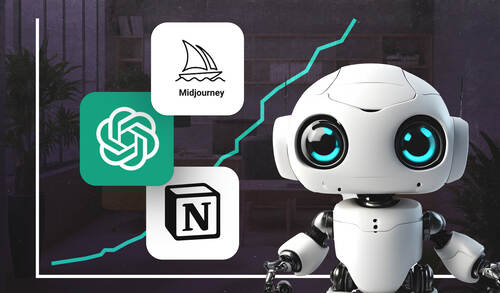 10x Your Marketing Efforts with ChatGPT, Midjourney, and More
Mark Hinkle
Class Description
AFTER THIS CLASS YOU'LL BE ABLE TO:

Leverage Generative AI tools like ChatGPT to create high-quality, SEO-optimized content for marketing campaigns.

Craft effective prompts for AI chatbots, ensuring precise and relevant responses tailored to specific business needs.

Navigate and integrate third-party plugins with ChatGPT to extend its capabilities and enhance business operations.

Create images for blogs, social media and web using Midjourney.

Compare and differentiate between various AI chatbot platforms, making informed decisions about which tools best suit specific business scenarios.
ABOUT MARK'S CLASS:
In the rapidly evolving landscape of digital marketing, 10x Your Marketing Efforts with Artificial Intelligence offers a deep dive into the transformative power of Generative AI. Drawing from his extensive experience in executive leadership and his passion for emerging technologies, Mark introduces students to the world of Artificial Intelligence, specifically focusing on its applications in modern business and marketing strategies.
The class addresses the challenges many businesses face today: the need for high-quality content, the intricacies of engaging with AI tools, and the ethical considerations surrounding them. 
Through a blend of conceptual understanding and hands-on exercises, students will learn how to craft effective prompts for AI chatbots, integrate third-party plugins, and navigate the complexities of various AI platforms. Beyond the practical, Mark also delves into the broader implications of AI, ensuring that students not only walk away with tangible skills but also a holistic understanding of where AI fits in the broader business ecosystem.
For professionals feeling overwhelmed by the pace of technological change or those simply looking to harness the potential of AI in their marketing efforts, Mark's class offers a comprehensive guide to becoming more efficient, innovative, and forward-thinking in the digital age.
WHO THIS CLASS IS FOR:
Intermediate to advanced digital marketers and business professionals looking to integrate AI tools into their strategies and operations.

Tech enthusiasts and professionals keen on understanding the practical applications of Generative AI in the business realm.

Business leaders and decision-makers aiming to stay ahead of the curve by leveraging the latest in AI-driven marketing techniques.

Content creators and writers seeking to optimize their content creation processes with AI assistance.

Anyone with a broad interest in the intersection of technology, business, and marketing, eager to explore the transformative potential of AI.
SOFTWARE USED:  
ABOUT YOUR INSTRUCTOR:
Mark R. Hinkle is a seasoned professional with over 25 years of executive leadership in the tech industry. Passionate about emerging technologies, Mark has held various roles, from Director of Tech Support to CEO and the founder of AI-assisted marketing ventures. He's authored the book Marketing Machines on AI and regularly shares insights through his newsletter, The Artificially Intelligent Enterprise - theaienterprise.io
Ratings and Reviews
Student Work