Your 4 Step Social Media Marketing Plan to Turn Followers Into Customers with Jasmine Star
Jasmine Star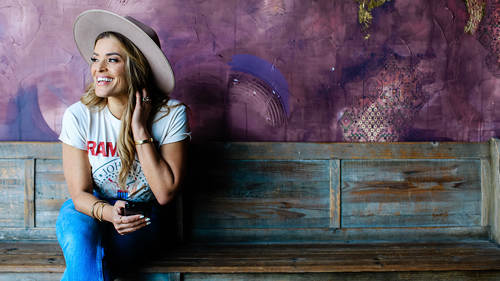 Your 4 Step Social Media Marketing Plan to Turn Followers Into Customers with Jasmine Star
Jasmine Star
Lesson Info
1. Your 4 Step Social Media Marketing Plan to Turn Followers Into Customers with Jasmine Star
This training will empower you to create a social media marketing plan so you finally know what to say to get followers talking back to you, effortlessly post engaging content, and get more followers who are ready to become customers.
Lesson Info
Your 4 Step Social Media Marketing Plan to Turn Followers Into Customers with Jasmine Star
Your four steps social media marketing plan to turn followers into customers. What if I told you today, you can get more instagram followers and with those followers you can get more raving fans and with those raving fans you can get more customers. And as if that wasn't enough, I'm gonna be the Q. V. C. Of creative life by saying, but wait, there's more because what if I told you you could get more followers, turn them into fans and then turn them into customers and it would be free the best part. It wouldn't take forever. And you don't need a lot of followers to begin with. Okay, Can I hear it? Yes or yes. Okay. Because that's my promise to you. My promise to you, is that today? You will get a step by step framework on how to do this very thing. Before we get to that I want to do a little bit of a mindset check to make sure we're all in the same place to avoid the comparison game. Okay, so often times in life we create a totem pole of success. People who have more do more, have a sma...
ller waist, a bigger hair, nicer car, private jet, top floor penthouse. Well sometimes we look at them on this totem pole and they're way up here and then we have people who are down here, single parents side hustlers barely making ends meet, just getting started or simply struggling. Covid 19 may be impacted your business in one way or another and that might make you feel like you've hit rock bottom that you are at the bottom of the totem pole trying to climb back up to the top. But that mountain and this totem pole, it just seems too high to clients. And the crazy thing I notice is that we do this in life and we do this in business and we also do this on social media, thinking things like they have more followers, more engagement, more confidence. Their video went viral. So before we get started, I want you to get rid of that totem pole of success that's in your head right now and know that we're working all in the same place together. And before you go writing the off saying like this girl sounds a little crazy, Let me just tell you that I was born and raised in California. And what they say about us Californians is true. Where wo were full of crunchy. We like to talk about our feelings. So thank you for sticking with your crazy Latina home girl. I promise you it's gonna be worth it. I can tell you that the biggest thing stopping your business success isn't social media or how much revenue you're making or even your how cute you are because let's be real. You're probably real cute. It's here like right here in your mind if you don't get your mind right will never be able to grow the business of our dreams. I might joke about my upbringing but knowing where I come from allows me to share my story with you with utter and complete humility for those of you who are not familiar with who I am. My name is Jasmine Star and I am a photographer and business strategist. My story starts back in 2005 as a tired, stressed and overwhelmed law school student. I was the first generation college student. First generation Latina, daughter of an immigrant who got a scholarship to U. C. L. A. Law school. But then I got a phone call from my dad telling me that my mom had a relapse with brain cancer. So in addition to being tired, stressed and overwhelmed, I had it coming to, I had to recommend my mom was 50 years old and I was 25. Her relapse made me realize that enough is enough. Life is short. I refused to live a half life anymore. I refuse to have my past dictate my future. So I dropped out of law school. It was then that my brand new husband asked to be, if you could do one thing for the rest of your life and be happy, what would it be? Nice ad I want to be a photographer to which he replied, okay, but you don't have a camera. So on January one, I interrupt a gift for my husband and it was a camera and I started taking pictures and let me tell you something. I was terrible. I mean I was bad. My dad is a pastor in East los Angeles California and members of his congregation wouldn't even let me take their pictures for free. Like Where is the Love Y'all in church? So I did what anybody who has no money, no experience and no credentials would I went to Google. I taught myself how to become a photographer. And lo and behold. In 2009, I was voted one of the top wedding photographers in the world. By 2010, voted top 10 influential photographers And by 2012 voted the top 10 most socially influential photographers. Okay, so it was about that time that I started teaching other people how to grow their business using social media the way I did. Now, I know some of you were watching this right now are like, wait, what? How did you go from a person who had just gotten a camera and you didn't know which way was up? And then all of a sudden you're teaching other people how to grow businesses. People will say jasmine you aren't really qualified to which I respond and say no, I didn't have an education, I didn't have money, I didn't have resources, I didn't have connections. I'm the daughter of an immigrant. And because of this, my family didn't know a single person ever who had started a business in my life. So when people say I was unqualified to build this business, I respond by saying you know I just wasn't unqualified, I was unfunded, I was uneducated and I was under connected. I was all those things. So if you are one or all those things as well and you begin to dealt yourself and you begin to doubt your efforts. I want you to do it anyway because I had no business starting a business. But I did it anyway. And that's why I am so proud to be talking to you now and being able to stand in my purpose, I empower people to believe that the impossible is possible. So, let's hear this very straight and clear. I believe in your crazy idea. Even on days when you doubt it. That's why I am a passionate ceo. I'm the co founder of social curator, a company that helps business owners like you learn how to build a brand and market it on social media. I am here to tell you that even though people doubt your dreams that you have it in you to proven wrong, I am here to tell you that in spite of the things that are going on in the world around us, that you are not alone, I am here to tell you that although Covid might have wreaked havoc on your personal and professional life this past year. And even if your business has hit an all time low and even if the odds feel like they're stacked against you every single day, it is possible to rebuild. Yes, we just went through a global pandemic. And yes, many of us are struggling with fear and doubt and uncertainty. So please don't think or tell yourself that you must endure by yourself because you're in a room like sure, it's a virtual room, but it's a room nonetheless, you're in a room with your people, you are not alone. And I believe you will go farther when we are open and transparent about the singular point of this conversation together. Okay, let's pause. I'm gonna take a deep breath. Oh, I needed that. Maybe you do too. Let's do another one. You think I'm joking? I'm pulling out my California Latina. Let's breathe together. Mhm. Here we go today. If you would give me the honor and privilege, I am going to talk straight out about our common struggles is entrepreneurs. Now. I know that these struggles focus on desire or the things that you want. But our desires can be anchored held back by limiting beliefs. So what are your limiting beliefs, limiting beliefs? Our subconscious thoughts that keep you stuck. These are thoughts that you are thinking and sometimes you don't even realize that you're thinking until you stop and say, am I really saying this to myself? These are subconscious thoughts that keep you stuck. Things like I'm starting too late, I'm too boring. Somebody else is already doing it. I don't know how who cares what I post, Somebody's just doing it better and I want you to pause and have you ask yourself, do I share in this same struggle or limiting belief? Because once we identify the gap, we know how to fill that gap. And the thing that I have noticed with a lot of business owners, especially in the social media world is that there are three main desires. Yes. It doesn't matter what business or industry, there are three main desires that many business owners really want. # one more customers. Number two, aesthetically pleasing photos like you want your feed to look good and number three engagement with your followers. So my question to you is do you identify with these desires? Yes. Yes and Yes. How then do you change this? So you get what you desire? Because sometimes our desires are held back by our struggles, What you want is held back by something you struggle with. Do you know that there are three main struggles that I've heard again and again? Yeah, three. Number one consistency. People have a hard time showing up with consistency. Number two time, I don't have enough time, they say in three, yo, jasmine, I just don't know what to say. Do you identify with any of these struggles? Yeah, I thought you might now. It's time for some real talk. You've got to work past your struggles to get your desires. Let me say that again, You've got to work past your struggles to get your desires. You desire more customers, You desire a better looking feed, you want more engagement. Well guess what? Boom? You've got to work past, not having time, you've got to work to be consistent, You've got to work to find things to say on social media. I have found that the most effective way to work past the struggles for having a plan. In 2016, I began using social media with a strategy and it is this very strategy that has gotten me to where I am today and it is this very strategy that I want to teach you today so you can grow your following and increase your sales now, just as a reminder along with this class, we've included a digitally filling out book, it's a workbook to make it helpful for you to follow along and take notes so you can work through and implement these strategies for your own business. So be sure to have that printed out or you can have it pulled up right about now. Ready. Here we go. Step number one, determine how many posts you're going to post for the month. The more you post with consistency, the faster you'll see results. Now. Please note that I said consistency. I did not say post three times in a day and then let your account sit quiet for another three days. Mm I often say that when you post, it's very similar to going to the gym. If you and I want to lose £10 and you go to the gym and you apply yourself every single day, maybe lose £10 in a month. But if I go to the gym maybe once or twice in that month, it's going to take me longer to lose the £10. It's the same principle for social media. You can choose however many times you wanna post, that's your number. But if you're asking me, I suggest posting once a day and once you have chosen the amount of times you're going to post in a month, I want you to stick to it. I cannot emphasize this enough consistency is key throughout this class. I'll give you examples of product base and service based business to help contextualize what you're learning for your business. So let's say you have a product based business, let's say you have you own a graphic t designer company, right? You design graphic t shirts and you decide you're going to post three times per week. Great. You just did step number one. Now let's say you're a service based business as a maternity photographer and you want to challenge yourself to get out of your comfort zone and you want to post every weekday. So five times per week. Amazing. That's all you need to do for this step. Just decide on the number of posts you'll be consistent with on your account and commit to it. Now we're gonna get to step number two, I want you to focus on planning date specific posts. These are going to be post that happen on a specific date, like a holiday, but they can also be specific post that are related to your business. You're having a sale. Are you releasing a new product? Are you hosting an event? These are date specific posts. You can also have date specific posts that are personal. Like maybe you want to celebrate a team members work anniversary or your child's birthday, whatever it is, that's still date specific. So let's break this down by way of an example. Maybe our example of the product based business. The graphic designer has some date specific holidays to look forward to this month. Like maybe it's Mother's Day, her daughter's birthday, memorial day or maybe the maternity photographer is looking at her calendar and sees that Halloween. Her work anniversary at an upcoming vacation is something she wants to document okay with these dates specific post in mind. Consider how you can join the social conversation or you can tie your business into them. Maybe it's posts reminding people to buy graphic t shirt for their mom on Mother's Day or maybe it's planning stories around booking a Halloween inspired maternity photo shoot. Think about how your content can highlight your business naturally on social media. All right, so let's move right along to step number three. Plan your photo topics. Photo topics are photos that you want to visually represent your business with social media. A lot of platforms like facebook and instagram are visually focused. So your goal is that when somebody is scrolling through their feed, you want your photos to trigger something in their mind to recognize, oh, hey, this is one of your posts. and you want to stop their scroll, the more you post using your photo topics, People become more accustomed to seeing your account and become more likely to engage with you because they feel like they know you. So perhaps our product based business. Remember the graphic design T shirt maker? Maybe this graphic design t shirt maker decides a few photo topics to represent his or her business, their family t shirts. They design sketches of their products behind the scenes of creating their T shirts. Okay. On the flip side, maybe our service based business, the maternity photographer, maybe she might have Fota topics such as her camera, her morning coffee and items that speak directly to her ideal client like baby books or toys. Kids seeing these types photos shared consistently from an account, gets followers more familiar and more likely to engage with that account. Now For the fourth and final step, which is my personal favorite, choose your caption categories. I am not lying when I say this step was a total game changer caption categories. Empower you to talk about your business without having to sell your business. I encourage business owners to come up with seven caption categories. Now, these are topics that are going to get your followers to talk back to you before you freak out thinking oh my gosh, jasmine! This sounds like too much work. I can't do this. I'm going to share with you the seven social curator caption categories that have empowered over 25,000 business owners to market their business and get likes and comments that their post deserve. Okay, These seven caption categories are number one. Behind the scenes. Yes. Your followers want to know what your business looks like behind the scenes. Number two my why. This is explaining why you started your business and the reasons you're passionate about what you do. Number three personal insight. This is your chance to share helpful advice with your audience. This is what sets you apart from your competitors because it's coming directly from you. Let's bring in number four and this is encouragement, inspirational quotes and motivational posts. I'm telling you all their surefire ways to get people talking back to you. Number five about me now, this is how you bring a personal side to your business by sharing things about you or your employees that draw your followers in. # six is benefits. This is your chance not to sell your product or service, but to talk about the benefits of what you sell. Followers love getting educated and learning things in new ways. And lastly lucky number seven, this is to showcase your product or service. This is your chance to show off what makes your business special and connect followers to your business in a real deep way. So let's break this down by way of example, I want to make sure that you're really grasping this and getting ready to do it on your own. Okay, so let's go back to the example for our graphic designer. Some of his caption categories might be behind the scenes to talk about how he creates his designs, personal insight to make a connection with his audience and the benefits of his product and you're like, wait a minute, what are the benefits of a T shirt designer? Well, people benefits could be what people get from purchasing his t shirts, like confidence in their wardrobe, a defined fashion statement. Or perhaps they could support a cause by buying a T shirt. These are all just examples now for our service based business. For the maternity photographer. Her caption categories might include about me to show her followers who was behind the lens, my why to explain why she got involved with photography to begin with. And maybe even tutorials like how she organizes photos and at home photography tips. Y'all. This is the content ecosystem that moves the needle in your business caption categories, empower you to talk about your business without having to sell your business. Now, let's have a moment and realize the gravity of what we just did. In a matter of minutes, we walked through a four step process that will help you stay consistent, save time and know exactly what to say, which means you're closer to achieving your desires of getting more customers, having a nice looking feed and getting more engagement from your followers. But in order to do that, remember what it takes to get what you want? Yeah, that's right. You have to work past your struggles to get your desires. That being said now it's time to work. Or as I like to call it Lark W E R K, I have already told you before that you and I like we're in this together, right? So I'm gonna give you everything you need and then some more to show up on social media so that even during difficult times, like in this crazy world, You're showing up and connecting with your audience. Like last year in 2020, there were tons of business owners and social curator who were affected by this world wide shutdown. You want to know what happened to those curators who had a strategy and a plan, y'all they grew. That's right against odds on the most difficult business year imaginable curator still grew their business like Jenelle, who during Covid 19 had her first coaching session and then she gained four new clients, or Kimberly, whose sales were up 58% in the first quarter of 2020 than in the first quarter of 2019. And y'all even Hangem Hangem owns a couple of pizza parlors in san Antonio texas. And during the pandemic, when her restaurants were closed, she experienced a 45% growth between both of her locations by using social media and changing what she did. And I cannot talk about growth by having a strategy without telling you about Anastasia. During Covid 19 made $1000 in two days due to a live video and one post. All thanks to what she said. Social curator y'all in the best news is that we're giving you a sampling of these exact resources they use in a free jumpstart kit. So tell me right now, are you going to show up? We're giving you the tools. Will you stop making excuses of why it won't work? And instead of coming up with reasons why it will, if you'd like to make the commitment to strategically market your business on social media, y'all this is your invite to download the social curator jumpstart kit at social curator dot com forward slash kit. Within this jumpstart kit. You're going to get an action plan that will help you plan out your weeks. You're going to get 10 caption templates in 10 lifestyle photos and not to sound like you see again, but wait, there's more. If you want to show up on stories and you want to uplevel your business, y'all? We have five customizable instagram story templates for you to start using and connecting with your followers friend, I am telling you right now. The only thing I want you to do is take action. We've we've given you all the resources you need to make this happen. Times are hard, the world is unpredictable. We see people losing their jobs, we see people closing their doors permanent. We see people fight every single day to recover their business after the effects of Covid. Like I get it when everything around us is uncertain, it's easy to become paralyzed. But the only thing I am asking you to do is please take action. Please show up. If not for you then please show up for your Children and show up for your parents. Show up for your teachers. Show up for your leaders show up for the people who fought for you to have the luxury to sit at this very moment and watch you and I have a conversation. So I am asking you to take action, messy action, scary action in perfect action. Sloppy, action, exciting action, uncertain action. Y'all just do something, do anything because the only way you're gonna move the needle in your business is if you actually do and stop wishing for things to change, I'm going to invite you to stand confidently in your purpose. There is a reason why you signed up for this class. There is a reason why you found this spot in the community. There is a reason for the first time, maybe ever in your life, you decided to bet on you. You decided to believe that the impossible was actually possible for you because you're here taking time to invest in yourself, friend, keep that momentum moving forward and ensure you are taking action. You can download the social curator jumpstart kit at social curator dot com forward slash kit, y'All All we want you to do is take action and get started so you can work past your struggles and get your desires. I want your followers to see how you hustle, how you show up and how you build the life of your dreams. I believe in you and now I want you to believe in you. I am honored to connect with you on instagram. So tag me in your story at Jasmine Star and I will do my best to personally respond to you.
Ratings and Reviews
Love her energy, Jasmine always delivers. Many greats things to implement :)
It was a wake-up call. This was a great reminder to work past my struggles, to stop making excuses, and to work on my social media curation. Thank you so much, Jasmine!
Student Work