Abstract Drawing: Getting Started with 7 Abstract Art Ideas
Amy Wynne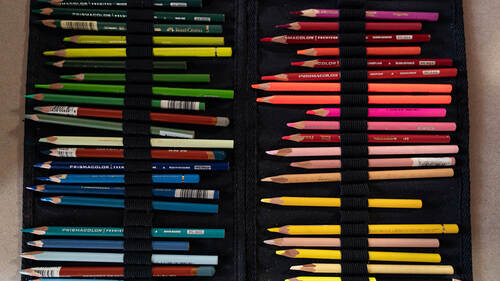 Abstract Drawing: Getting Started with 7 Abstract Art Ideas
Amy Wynne
Class Description
AFTER THIS CLASS YOU'LL BE ABLE TO:
Build unique artistic skills as a creator
Break through creative block with abstract art freedom
Introduce your talents to the metaphysical side of art
Rediscover inspiration using the principles of abstract art
Embrace the freedom that comes with adding abstract art to your natural style
ABOUT AMY'S CLASS:
Your art could use more freedom.
Freedom to flow, build, and evolve as you create. Lay the foundation for this artistic freedom using abstract art basics from Amy Wynne.
By learning the liberating strategies behind abstract art, you will be inspired to explore beyond habitual image making and gain that extra boost to create in new ways. You'll also build confidence in your artistic skills by removing the doubt and rules that keep you from freely and fearlessly expressing your true craft.
As makers, we need the freedom to not only be our unique selves, but to also to push ourselves to be the best we can be. Unlock your full artistic potential, imagination, and let the impressionistic inspiration flow – no matter what your preferred medium happens to be.
WHO THIS CLASS IS FOR:
Skilled creatives looking to unlock more of their potential on the page
Meticulous artists who need more freedom in their art
Passionate sketchers that want to give their art more technique and professionalism
ABOUT YOUR INSTRUCTOR:
Amy Wynne received her MFA in Painting and Drawing from the New York Academy of Art in Manhattan and her BA from Smith College in Art History and Cultural Anthropology. She has been teaching painting and drawing for over 25 years. For 10 years, she taught full time at the School of the Museum of Fine Arts Boston.
Class Materials
Abstract Drawing Materials
Abstract Drawing Surfaces
Ratings and Reviews
I recently became interested in abstract drawing and painting. This is a great course for beginners. I filled my art journal with several new creative and thought provoking techniques. The "drawing to music" with eyes closed was just the first of several cool ideas. The course will jumpstart your own creativity! Thank you for your experience and knowledge, Amy.
Student Work