Adjustment Layers in Adobe Photoshop
Adjusting Levels with a Histogram
Ben Willmore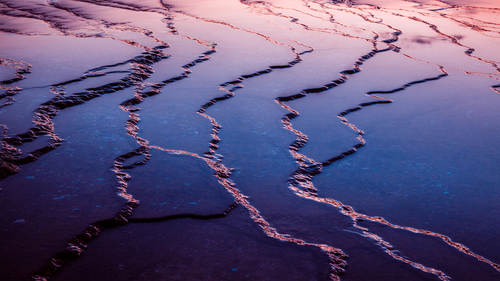 Adjustment Layers in Adobe Photoshop
Ben Willmore
Get access to this class +2000 more taught by the world's top experts
24/7 access via desktop, mobile, or TV

New classes added every month

Download lessons for offline viewing

Exclusive content for subscribers
Lesson Info
3. Adjusting Levels with a Histogram
Lesson Info
Adjusting Levels with a Histogram
Let's say this is a scanned photograph. You have an old photo of you, you put it on a flatbed scanner, hit the scan button, and here it is in Photoshop. Well if I come in here and choose levels, you should be aware of the bar chart that's in there. That bar chart is called a histogram. And all a histogram does is it tells you which brightness levels are found in your picture, and which ones are not. So if I zoom up on this, if you compare that bar chart to the bar that's down below, that has those brightness levels in it, if you were to pick any shade from that bar and go straight up until you hit the bar chart, if there's a bar in the bar chart, then that shade is found somewhere within your picture. If, on the other hand, you choose a shade, you go straight up and there's nothing in the bar chart at all, then that is not found in your picture. Not even a single speck of it is in your picture. So what that tells me with this particular histogram is it's empty over here on the left sid...
e and that means the darkest shade in the entire picture is right here, and if I go straight down from it, it's exactly that bright. Well doesn't this slider here force areas to black? And if I pull it over, let's say, just by chance to right there, wouldn't that force the shade that is found directly below to black? That's what it does. And if that happened to be the darkest shade in our photo, now the darkest shade is black. On the opposite side of the histogram, you notice a gap over here, which indicates these shades down here are nowhere to be found in the image. There's nothing near white in this photograph. But if I pull this slider in until it touches the histogram, then that's gonna force whatever's directly below this to white, and now the brightest area of our picture is white. And therefore, if I were to click okay and open levels again, I'd see an updated histogram. And the updated one would span the entire width, because I forced the darkest area to black and the brightest area to white. If I zoom out and look at our picture, there's a preview checkbox here, if I turn it off, you'll see before. Turn it back on and you'll see after. Then after doing that, if the image is a little too dark or too bright, I can grab the middle slider and brighten it up or darken it up. Then if I had that printer I described earlier, where I'm printing on really cheap paper using ink, and I find that the darkest part of the image, I lose the detail. And the lightest I can get, or I should say, the darkest I can get, where I can still see detail, let's just say was 90% brightness. Well, I could pull this in until it points at 90%. And therefore, the darkest part of my picture is not gonna be black, it's gonna be what this point's at. And you can use the numbers that are in here to figure out exactly what setting you're using. It spans from zero, which means no light whatsoever, to 255, which is as much light as you could possibly get. And that's because a normal image has 256 brightness levels, and if you count zero as a number, that's 256. So you could figure out if this is 100% of the light, 255, then what would be 1% of this number? Well 10% of it would be 25.5, 1% would be 2.55. So if you wanna convert, you can take whatever percentage you want and multiply it by 2.55 to figure out what it would be in this numbering system.
Class Description
AFTER THIS CLASS YOU'LL BE ABLE TO:
See how Adjustment Layers differ from direct adjustments
Optimize black & white images with Levels
Apply the Shadow/Highlight adjustment to reveal detail
Brighten and darken areas by painting on a Dodge & Burn layer
Utilize Histograms to help you determine if you're over adjusting an image
Apply Blending Modes to prevent brightness or color shifts
WHO THIS CLASS IS FOR:
Beginner, intermediate, and advanced users of Adobe Photoshop.
Those who want to gain confidence in Adobe Photoshop and learn new features to help edit photos.
Students who'd like to take ordinary images and make them look extraordinary with some image editing or Photoshop fixes.
SOFTWARE USED:
Adobe Photoshop 2020 (V21)