The Etsy Sales Process
Lauren Venell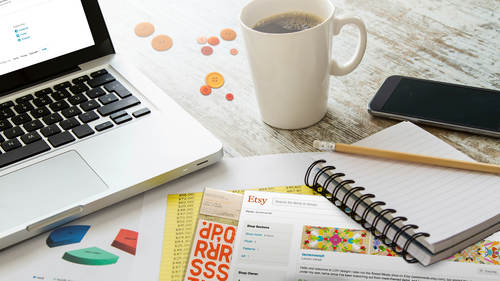 The Etsy Sales Process
Lauren Venell
Lesson Info
2. The Etsy Sales Process
Lesson Info
The Etsy Sales Process
So here is a simplified version that I made just for the screen because the downloadable pdf has a lot more parts and a lot more illustrations all laid out but for the purposes of on screen this is the process as as a flow so when you list tonight um the first thing that gets added to your bill is a twenty cent listing fee then when you actually sell that item and you get paid for it uh you've got etc takes their cut right off the top right there commission which is three and a half percent typically this piece is what you get to to keep this is your product sale um the shipping and handling is another piece and then sales tax if it's taxable and we'll talk about which sales or taxable a little bit later um then when you process the payment um either through etc direct check out or paypal and I've also seen that now uh the ceo chad dickerson just a couple months ago um revealed in an interview that apparently ninety percent plus of etc transactions now are happening through that direct...
check out so a lot of people have moved away from paying with paypal on etc to this etc direct check out they take their cut of that too for offering the merchant service um and then they will automatically deposit that in your bank account it's currently set up I believe to deposit every monday but you can change those settings. You could do a manual deposit whenever you want. We'll look at that a little more closely later. On, um, at the same time, you need to ship that good out to your customer so you would ship that item through, etc that cost of that shipping label would end up on your etc bill as well. So some of the pieces that s e is taking end up on your etc, bill, which you will get once a month. And then you pay for it. Um, some of it like the etc shipping label there, negotiating their cut of that with the postal service like we're not involved in this at all. And then other pieces like the merchant service, they're just sort of quietly taking, and they don't even really tell you about it. You just get less in your bank account, then you made here, right? So, um, those are the reasons why, when they ah, introduce the direct check out why they when they started the shipping label when they, uh, what was the other thing on here? When they made all of these changes, I suddenly had a lot of confusion around my own bookkeeping because I was using a totally different and separate system, all of these things I was tracking at different times, uh, you know, if I go to a crafts fair, for example, I'm paying my booth, feed my listing feed, basically right up front, right? And then I go, and I sell things there's, no shipping and handling. Of course, I take care of the tax there's, no commission that I'm worried about, um, and then to process the payment, you know, if I used a service like square or something similar, um, again, that's, that's, something where they you'll get, like, just a statement with everything that shows how much they've taken out. Where is in this case, it's? Just depositing, and you have no clue where that extra money went. Unless you go look it up, you don't really know what the percentage was. You've got to come back out into it. So this is. This is the flow, as it stands right now.
Class Materials
Product Profit Calculator
Simple Ledger for Creatives
Crafters Sample Chart of Accounts
Etsy® Bookkeeping Resources
Sample Etsy® Shop Policies
The Etsy® Sales Chain - A Comparison.pdf
Ratings and Reviews
This is a meaty course that has you at a run from the moment it opens. If you are like me and you have been wanting to start a handmade business using Etsy, this will be a great course for you! What I like best about this course is the information that is given is not from a sterile corporate perspective. She has been down in the handmade trenches from the very beginning of Etsy so she has seen all the changes. Lauren also shares the realities of business and shows you how to calculate the actual costs that go into your products. She gives you the knowledge and resources to know how to set up your book keeping as it relates to Etsy. The only negative about the course is that there is literally not enough time to cover EVERYTHING that you might run into for your personal situation concerning Etsy, but she does give you enough information and resources through her Extras that gets you in the right direction. I would sincerely recommend this class!
This was so helpful! I have been wondering about so many things the last few months since I opened my shop on Etsy and have found some information, but often it is encrypted in such technical terms that it feels so unclear. I felt like Lauren answered so many of my questions (as well as questions I didn't know that I had) with such clear, easy-to-understand ways! I can't recommend this course enough! Thank you Lauren for making complex processes of bookkeeping seem reasonable and doable. Thank you for sharing experiences to back-up the information that you shared. This was wonderful!
This course has a lot of helpful information, but I do caution that there isn't really enough time to get it all down if you are watching the livestream. Also, quite a bit of time is spent talking about VAT rules which are out of date, and much easier to deal with now.
Student Work