Communicate On Purpose
Communicating With Your Purpose Platform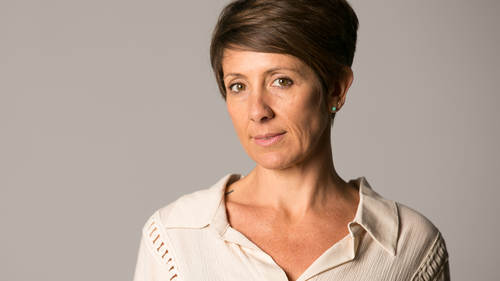 Communicate On Purpose
Communicating With Your Purpose Platform
Lesson Info
Communicating With Your Purpose Platform
What are you noticing as you speak out loud, or write down, or attempt to write down a purpose platform, anybody? It might not quite be right. Sure. Yeah. Yeah and what's that like for you? It's interesting, a little confusing. Like, I wanna unravel it more. Sure and how do you know it's not quite right, curious? Because I don't feel that like lit up feeling, quite yet. Great, that's great. That lit up feeling. That's a great way to describe resonance. Earlier on when I said, you know, your purpose platform has to be what? It has to be true and it has to be resonant. So, that's a great clue. It's also a great place to start. Then, if you find that you're sort of hammering away, trying to incrementally look at your purpose platform and it's still not right, you might want to just completely let it go and sorta start over, or partner with a friend, or a colleague to get to it. That could be really useful. Sometimes, being alone with this stuff is harder, so. Really good, ...
thank you. Anybody else, anything you're noticing? Anything you wanna share back in? There's no wrong answer to this question. I think that it's helpful in anchoring the quality within myself. It's also just like kind of on the edge of, like you said, the edge of my own personal courage to like claim the statement. I love that you noticed that. It is very true and that's sort of my clue when I'm coaching people that it's, that it's in the right direction or in the right territory, when my client goes, oh. (giggling) Oh, you know, it's like, oh, that hurts but it's fun and it's kind of like, can I really, do I get to say that about myself? And sometimes that dramatic demonstration just shows up in a simple smile or a step backwards, or, you know, casting down of the eyes, like a little bit of almost a... I'm gonna say the word like almost a shame around it. Like, oh, do I get to actually claim that? And when you do and you sort of commit to it, it can be wildly freeing because then we can just stand in it, you know? We can own it but yes, that's a great observation and that gives me a clue that you're like in the right direction. That's great, that's great. Anybody else? Yeah, back here. I guess I'm sort of questioning like the practical applications of like how could this manifest in the world? It's gonna depend on your role, I think. Remember, this is a communications focused class and I'll go back to what I've been saying so far. Again, just really around knowing what it is, then how might, if you stand in it, how might that inform how you design your content? How might that inform how you can make a logical connection between what your audience or producer has invited you to speak about and the reason for your existing in the world? It might even work as a lens for you to say yes or no to particular invitations. To say like, I'd love to talk about that. I can't talk about it from that perspective because this is the purpose that I live in. So, it can work as a filter, as well, if you want it to. I hope that helps and the answer is gonna be your own. How do you use this? Where do you find that it's useful for you? For me, every time I'm asked to do something I've not done before, I almost have to, when I have a conversation with a new or potential client, I almost have to walk away from the conversation before I say yes to doing the work, to say like, okay, is this actually in line with what I wanna, can I do this and stay in line with who I am? Is this request gonna demand of me that I compromise my purpose a little bit in a way that I don't feel right about, or is the ask, can the ask coexist with my purpose platform in a way that I can make sense of? Also, it can work as almost an internal compass, for me. When I have to go give a talk, teach a class, when I get requests to come do a facilitated learning experience for leaders, I can use that as a filter about whether I do the gig and also, whether I'm gonna be successful or not. And more importantly, here's an example. Here's an example. For those of you who may be like independent professionals. Maybe you're in the coaching, and teaching, or professional development territory, or maybe you have an opportunity, you know, you're doing gig work. Not necessarily being a leader inside of an organization with a structure, that have matrix teams, etc. I got a call from an old colleague who I really love and this was for a large technology company that does like backup, and storage, and sync, and those kinds of things, and it was for an IT group in the organization, a group of leaders that need to start shifting how the organization perceives them. From being sort of service providers to the organization, to actual strategic partners, and how do we shift how we talk about our team, how do we reposition our team, how do we, when we show up in meetings, at all-hands events, at new project kickoffs so that we're set up in that way as strategic partners, and not just service providers? And I got the call, and I thought, yes, I wanna do this because I love working with this person. I'm sure her team is awesome. They're just all new and they really didn't even have a strong cohesion in the team, yet. I wanted to say yes to it. But I had to think, I had to go back to like okay, the ask, though, is partially the place that I live in, that I can really, I can meet the need and say yes, I can help you with that, and still stay grounded in my own purpose. But I also recognize where my purpose was gonna, I was gonna start being off-purpose, and instead of saying no to it, I could say, I wanna do this work and I wanna bring in a partner who can really help with this other aspect where I can't speak from the strongest place from, right? So, for those of us who do gig work, you can think of being on purpose and not necessarily saying yes or no to stuff but how do you shape your engagements that allow you to stay on purpose, and also get help? Is that helpful to you? Yeah. When I think about maybe you're a VP of product. I'm gonna say that. Maybe you're a VP of product and you, the role that you play in the organization is so much to do with design, and maybe less to do with marketing. So, instead of spending your 45 minutes onstage having to speak about all things to do with your product, maybe you're a great champion for your own purpose platform, and you say, I'm gonna be a host. I'm gonna redesign this. So, instead of giving me those 45 minutes, I'm gonna host all the other talent that helped bring this product to life and I'm gonna speak from the perspective of the importance of design when we think about product but I'm gonna invite my marketing leads onstage with me. I'm gonna invite, right, other people to bolster my, it's still my story. It's my 45 minutes but I'm recognizing, how do I dance with the organization so that I don't have to be all things in that moment, and be half off-purpose and awkward, but to be more inclusive, in that way. To support my role in all of the work and product. Yeah? Or you can make the decision, that feels off-purpose to me but I think with help, I can figure out how to integrate that ask or that part of what I need to talk about into what I'm doing. So, I'm gonna call my executive communications, you know, program manager and say, hey, I gotta work this story out before we hand it over to the folks that are gonna be doing all the graphics for it. I gotta outline this with you so I make sure that I know who I am onstage and I stay close to what I came here to do but also that I know that you get what you need from a communications perspective. See that? Him or her, as an executive communications program manager, I'm just gonna play this all the way out, is like super familiar then, with who you are as a lead, as a leader in product. They understand what you're sort of, maybe you've debriefed a little bit about what your purpose platform is, maybe you don't call it that but he or she gets a really clear sense of like, oh, this is where the main attention is. Here's the part where he or she feels out of depth. Here's where I can collaborate with that leader on how to bolster that part of their story, and then, how does that get fed back into the folks that create content for you, and then, when it all ends up coming together in those moments onstage, everybody gets to be successful. Yeah? Am I talking crazy? Yeah, okay good. Jess, you're like yeah. But yes. Also, yes. Great. Did any of you find a purpose platform that you're workshopping yourself, a little bit? Did you find one that yeah, I think that's it. That's what I'm gonna take on. The purpose platform that I landed on was I introduce and welcome change so we can grow. Say it again. I introduce and welcome change so that we can grow. That's great, fantastic and how did you know that felt right for you? It just felt like a recurring theme with any role that I landed in, whether it's personal or professional. That's great, a recurring theme is a fantastic way to think about whether, not just that it's resonant and true but it seems like it's been true for a long time. That's a way you can kinda test, you know, whether it feels right. If there's a through-line for you. Great and how did you land on it? Did you do it quietly by yourself or did you get some collaboration with it? A little bit of collaboration during the partner exercise earlier today and it felt like an ah-ha moment but also like duh. (audience laughing) That's so interesting that it does feel like, duh. It's so resonant but also so obvious. But again, this is the power of collaborating with fellow travelers, maybe with, if you have a great manager that would wanna thought partner with you on this as you continue to grow your visibility in the organization because being alone with this is tough. We're too close. We can't see it. That's great, so how will you imagine you might use it going forward? Do you have any thoughts about that? Or how might this serve you, I guess. I think how this might serve me is to be a better champion for organizational change within the organization where I work. That maybe answers your question about where does the rubber hit the road, here, right? Great. Yeah. I feel like there's a lot of change going on right now and it feels chaotic but I think that with my experience, I can bring a little bit of clarity, and a little bit of purpose. Right, like we don't have to be afraid of this. We can bring clarity and purpose in the midst of all this transformation. Really good, thank you Celeste, for sharing. That's major. So, that's a great example of a really clean, clear purpose platform and one that she didn't have to build on her own but feels resonant, and true, and is actually useful to you. That's, to me, also a big piece of it. It's gotta feel useful to you. If it's resonant and true but doesn't feel useful, that's okay, let's keep working on it until it does feel useful, great. So, we just asked this question, like what are you noticing, and the things that you're bringing up here are all completely relevant. There is no real wrong way to do this. It's really more about when I write it down, when I say it out loud, do I have a sense that it is true, resonant, and useful to me? That's your guidepost. So great. So, we talked about your purpose platform. We've developed one, now. We talked a little bit about leadership through a communications lens and I think that Celeste's example that she just gave now, that how she might use this, going forward, recognizing the context of her work is so chockfull of change, and organizational change is almost constant, isn't it? That if she can invite and, what is the phrase again? Invite and welcome. I'm the one that's here to say I'm inviting and welcoming change so that you can? Grow. So that you can grow. Like, it's okay. We're not in an emergency. Let me show you, and help you invite and welcome this change. Nothing to be scared of, here. That is a very useful and leaderly approach to how to apply this purpose platform.
Class Description
Good communications skills are important for everyone to have, but for leaders, they're mission critical. When you're at the executive level, every time you speak and every moment you're on stage you have the opportunity to either catalyze or erode your organization's culture.
Dia Bondi has helped executives and leaders across the globe use their crucial communications moments to strengthen their voices, increase their impact and make their audience believe. This course will help you hone your communication skills so that you can amplify your message, push your mission forward, and set you and your organization up for success.
In this class, you'll learn how to:
Figure out your personal story and link it to your company vision, mission and strategy.
Develop and infect your organization with language, lessons and mythology.
Stop explaining to your audience and start getting them to believe in themselves and what they're doing.
Get truthful feedback so you can improve your message.
Find mentors, coaches and trusted partners.