Communicate On Purpose
Strategies For A Long Term Development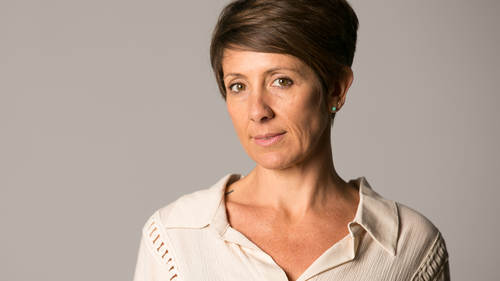 Communicate On Purpose
Strategies For A Long Term Development
Lesson Info
Strategies For A Long Term Development
In your role, you may find different moments where people on your teams, cross-functionally, or people that directly report to you, may respond to you different because of your title. I have a good friend who lived at sort of a director level role, and was just hired this last year into, a friend and colleague, who just got hired into a new organization with a very big remit in an executive role. And he, we were in a meeting together at his organization, and when it was over, because we're friends, you know, outside of this, when it was over he said, It was so weird, throughout the entire meeting, there were me and a few other VPs in the room. No matter who, a few of the people in the room that were technically lower level, no matter who they were talking to, they only looked at me. And I said, of course, you're the executive now. That comes with an implicit power and influence, or power and authority, maybe not necessarily influence, that somehow others will start to, you'll start to ...
notice that others treat you differently. And this is okay, it's nothing to judge. It's just that it happens, so as you grow in your leadership in an organization, or in a movement, or in a community, I believe it's very important for you to maintain a set of trusted partners that are either directly in your, you know, in your territory of work or from across the organization or across the industry, that can help you keep a current version of how your purpose platform is working for you and the organization in a way that is useful to you and very honest and unvarnished. It's not surprising that the people who support you, are gonna feel less free maybe, to be honest with you because you kind of hold the, you know, there's some part of the work where you hold the keys a little bit. I mean, it's just a thing that, it's just a thing I've observed over my career. So I would like to talk a little bit now about as you use this purpose platform, as you continue to think of yourselves as not just communicators, but as leaders who are deploying your purpose platform in meaningful ways across crucial communications moments, how do you surround yourself, and recruit people that are part of your inside team, that will help you stay very current about how things are working? So, when I think about being good, the only way that I know whether I'm-- Well, there's lots of ways I know that something I'm doing is working or not. It's what happening in the room, you know, how do I feel, do I get tripped up? You know, there's my own senses, but there's also over and over moments where I think something was terrible, and my stakeholders are like, no, you nailed it. On the flip side, I could think something went really well, and it sort of is like, meh, it's right in the middle. So I need help calibrating that all the time. Ugh, so I think I mentioned in one of my other classes here at Creative Live, I Think and Communicate Like a Boss, that one of my hobby gigs is to do live auctioneering for women-led non-profits and non-profits that benefit women and girls. I did an auction last year that hurt my body. The entire hour and a half on stage, it was tough. I had a quiet room, I felt like I was just extracting paddles from the room. It was really, I couldn't tell if I was being bossy or funny, you know? It was just, it was really a tough go. In our debrief, I went in almost going like, hey sorry, that was so tough and, you know, I'm sure that we could have done a little bit better, and they were like, it was 10 times better than last year. (laughing) And of course I had to ask what specifically was better than last year? Because I was working really hard up there, and maybe, maybe the fact that I was working so hard was, it felt hard to me, but was an indicator that I was actually, how hard I was working was working for the room, you know? So we always need, and it can go the other way too, obviously, when you're off your game as well. So we want to have empowered voices around us, helping us know how we're doing, and how our purpose platform might be showing up in service of the organization, in service of our own leadership. And this is particularly, and you're gonna do this through feedback. This is particularly important, it's particularly important to shape the feedback questions that you might be eliciting from these trusted advisors in a way that helps those trusted advisors feel empowered to give you the feedback that is useful and that isn't risky for them to give. You know, it doesn't feel good to give corrective feedback, especially if they're people who are champions and supportive of you. Now, some folks are fearless in doing that, but I find most often that it's easy to pull punches if we don't frame the request for feedback in a way that makes people feel like they have a place to go that is going to be accurate for you, it's gonna be useful for you, and also not damaging to you. It's that idea of balancing, what's this phrase? It's to tell the truth and do no harm. So how do you shape a feedback request that allows people to tell you the truth and do no harm? So, I like to offer you these two feedback questions. So, as you start to play with this, so maybe Celeste, your example out in the world, maybe you have a kickoff for a new project coming up at work where you're gonna step in as the project lead and kick off that project, fully embodying your purpose platform of welcoming change so that others can grow, and you're gonna ask for feedback later. Hey, I kinda tried something new this time. How did it go? I'd like some feedback from you. You're gonna ask these two questions: what was it that I did that worked? What worked about what I did? And that means, in a 20 minute management project kickoff, maybe there were only two minutes where you were just killing it. But that lets me, as your feedback giver, say, well, you know, all that was okay, there was this one moment where I was like, yes, you really did a courageous thing, or you put everyone at ease and here's how you did it. That was fantastic. That'll give you a clue into what you can repeat, what you can do that's tied to this next question, which is what would you like to see more of? Now, this is the kind of feedback I love to give as well as receive. It doesn't hurt to receive this kind of feedback. This is fun to get, more fun to get, and then also to give it is really wonderful because I get to help you focus on what you're doing really well and then expand that so it eclipses the things that aren't working so well. What I've found over and over again in my coaching with leaders is that I can't ask my clients to stop something without a replacement behavior. I can't tell somebody stop speaking so fast, but I can say to them, take your time. You can't tell a kid running across the kitchen don't drop that, don't drop that glass, 'cause what are they gonna do? They're gonna drop that glass. But if you say two hands, hold onto it with two hands, they'll probably make it to the table. So, we wanna be focusing on what to do, not necessarily what not to do. Yes, this is a really powerful, this is a powerful feedback framework for that very thing. I also love giving this kind of feedback because I notice my clients don't flinch as bad. Right, they flinch before it comes, and then when I say something, it's like, here's what I really liked about what you just did. Here's what I saw as powerful with what you just did. And then, every piece of feedback coming after that is not flinch-worthy really at all. So, I'm offering these two to you because I think that, if you want to support your continued growth as a strong communicator, asking for feedback, not just in this way, but from a select group of people who you actually ordain as your folks that will help you grow in this area, you can get a lot of value from that. Now, I know I say peers. Now, if you're inside an organization, your peers across teams would be great. If you feel like you have a strong relationship with your direct support, you can ask from your direct support as well and get them accustomed to giving you direct and honest feedback so that that can be useful to you over the time that you grow together as a team. But the other thing about really identifying, naming, and recruiting folks into your network here is that you can also ask up. If you're inside an organization and you're looking to expand your influence, and your exposure, and your visibility, finding mentors inside your organization that are in a position above you is a great way to grow those mentoring relationships, to help define those mentoring relationships, and to grow your network considerably. It also gives you a reason to call them. Somebody that you respect, somebody you admire, somebody that you know the feedback that you get from them would be valuable and you really take to heart. Now, at the same time, if you have somebody much more junior than you, either in terms of rank or in terms of career stage, but you recognize them as a strong communicator, whether you know it or not, those can also be great target relationships to reach across the organization and make, 'cause there can be some mutual mentorship that happens there as well, even if it's somebody you'd like to eventually fold into your team, yeah? So, I think, you know, really being intentional about reaching into our networks, expanding our networks up, out, and down, and all around, and using this feedback framework as a way to make that relationship useful to you in your pursuit of being a strong communicator is such a great thing to do. We don't need to be alone with it. We don't need to be alone with this. So, I'd like you to take a second here and just think of, you know, one to three, I'd love three, people in your network or people just on the outside edge of your network that you might reach to and invite in as somebody to give you this kind of feedback. It's not gonna be all the time, but they're people that you're gonna say, hey, I'm gonna give a talk, would you mind watching as it streams, like right now, for example. Would you, if I record myself and send it to you, watch three minutes of it twice a year for me? Could we, I have a big gig coming up, and I would love to rehearse with somebody. Would you be that person? Right, it doesn't have to be 40 hours a week, but really crucial little moments where you can touch in with them for this kind of feedback. So, think about like one to three people. I'd like you to write down both their names for yourself, 'cause I wanna hold you accountable the best I can for preaching to these people. But also, their role in your life and why you might be choosing them. And for those of you who are watching the live stream, to just take this moment beyond like, oh, that's a good idea to actually having the discipline to haul these folks up on your LinkedIn profile, to write them on your whiteboard in your office, to make a note in your phone, to set yourself up a reminder with those names to reach out and recruit them into your powerful communications aspiration practice. So, if you have one or two, I'd like to hear some of these. Somebody raise their hand and tell me if you have one. I see a few people writing them down. Jess, would you start? I have one mentor I've had for five years. He was my director of account services back in the agency world, and he's stuck with me through to today. That's amazing. Now we're great friends and he still serves the career question purpose, all that type of thing. And I have a new mentor at work who's heading up product marketing. And then I've identified some allies that are actually kind of two girlfriends that work in the same field outside of my organization. Oh, that's great. And a colleague at work that's kind of at the same level. Okay, so you're an overachiever. She's got five, fantastic. No, that's great. Those are all fantastic, and what I love about that mix, and somebody else grab a mic and you can go next while I make some comments about this. What's lovely about this is that you have people in, people who've known you from an earlier part of your career so they can maybe even note progress you've made, they have a bigger context for you, some folks that are inside the organization that you're impacting every day, and then some folks from outside to continue to give you sort of feedback that might be about how you show up in the broader world. That, I can imagine if you're gonna step into an industry conference versus an all-hands meeting for your own company, you know? Really good, nice range there. Anybody else have a few they'd like to say out loud? Or somebody you've named? How about you, Ruby, you have somebody? Sure, sure. So, I have a couple of friends or colleagues I met at functional medicine conferences that are local here in the Bay. One is Dr. Tiffany Lester, who's the medical director at Parsley Health, and another one-- And tell me about why her. Yeah, so she, in Parsley Health, kind of represents new technology model of bringing functional medicine into the mainstream, making it more accessible. Right, so I'm just gonna put a button on that one. So, naming that person that is associated with an organization that you really respect is also lovely because you end up sort of getting feedback from somebody who lives in a context of thought leadership that you respect and are interested in, so that can help both with content insights, as well as delivery insights when you think about how you show up and what stories you tell in the world. That's great, helpful. And another one is my friend Claire, who's a nurse practitioner in functional medicine. And why Claire? So, we're actually talking about partnering up, and she's even, I mean, not that a nurse practitioner is lower than a doctor, but I mean, status-wise in the medical world, she would be viewed as lesser, but her knowledge, like, she just knows so much. I learn so much from her when I'm around her that I find her to be such an incredible asset in my growth in this field. Great, perfect, perfect. One more? Maybe just one more set of examples. Anybody have any that are, is anybody, well, you're self-employed. That's a great example of people inside your field. Anybody reaching across? Anybody reaching across industries, maybe? Folks you'd wanna get feedback from? Perfectly okay, by the way, to name people that aren't necessarily familiar with your business. That is even more valuable, often. You know, my job as a coach, when I work with folks, even when we're, you know, even when we're past identifying their purpose platform, the less I know about their business, somehow the better listener I am, because I'm not bringing my own, I'm not arguing with them about content, and I also get to be a champion for, like, you know what, your performance is great, but I don't understand a word you're saying, you know? To not be steeped in the nomenclature of your own business will maybe give you feedback around the content clarity, your delivery of how clear your content really is. So, finding people that know nothing about your business can be very useful to bring into that bench of folks to give you feedback. So, my challenge to you in this moment is to be forward about reaching out to these folks in your network. Tell them if you know you're going to be investing in putting intention into growing yourself as a compelling communicator, and enrolling them in your growth by asking them if they would commit to giving you feedback over a period of time and at certain moments, and let them know what kind of feedback you'll be looking for so that you get something that is really useful, starting with those two questions I mentioned before: what is it about what I'm doing that's working, and what would you like to see more of? So, I think we're just about come to the completion of Communicate on Purpose. Today we talked a little bit about your purpose platform, and you all got a version or close to a version that you're gonna test and see if it's useful for you. We talked a little bit about leadership through a communications lens, what does it mean for me to actually deploy this out into my workplace, and to my professional pursuits. And lastly, strategies for long term development really rooted in reaching out to your network, the existing one, and maybe even outside the confines of your existing one to enroll folks to help you grow using those feedback prompts that I mentioned before. You and the folks at home can always find me in these few places. I've got a website. I do have a web presence. It's small, but it's there. My social is @diabondia, and if you want to get on my list, my new newsletter, you can just simply text the word "impact" to 66-866, and I'll be publishing a newsletter that'll have some reflections, more strategies for growing your impact as a communicator, and let you know where I'll be in the universe so that if there's a chance for us to meet again, we can do that. Question asking about any tips or, you know, recommendations to speak with purpose during job interviews in particular. That's something that this person has struggled with, and I'm sure many others do struggle with still. Yeah, that's tough, and I'll just give the disclaimer that I'm not a recruiter, I've never been a recruiter, and I've not done interview prep courses for recruitment. In fact, in the 20 years that I've been sort of a working adult, I've only ever spent four of them in a job job on a payroll somewhere. That didn't start till I was 35 years old. And also, so there's that disclaimer. Now, inside of that, I would straight up say that, of the two purpose platform prompts, or the sort of final version of it, I gave you two choices. One is I am here to, so that. And the second one is I am the or I am a as a metaphor, so that. I would work hard to get the first one, I'm here to. And when you think about going for a job interview, I would ask the question of yourself, what are you gonna be there to do? Why would you, for this role, imagine you get it, imagine you end up onboarding into that organization. If you walked around, do you have a phrase that has here's what I'm here to do. And so, if you can kind of pre-imagine that and take your purpose platform and future paste it into the context of your everyday work at that organization, does it line up for you? And if it doesn't perfectly or you can't see the connection but you're super motivated to do well in that interview, you might wanna spend some time unpacking how does what I do in the world really align to this role? Am I wanting or do I have a desire for this role because it has the fancy title, because they asked me? Or is it something that really is on purpose for me? And also, work with, I think there's plenty of courses on CreativeLive around career, growing your career and living and working on purpose. I would also do a little work around how do I think about what am I really after in each of my roles and does it align to my purpose as sort of a starting point. [Woman Off Camera] Let's give a big round of applause. Thank you, Dia, for today's class. Thanks for having me, loved it. Thank you so much, thank you so much.
Class Description
Good communications skills are important for everyone to have, but for leaders, they're mission critical. When you're at the executive level, every time you speak and every moment you're on stage you have the opportunity to either catalyze or erode your organization's culture.
Dia Bondi has helped executives and leaders across the globe use their crucial communications moments to strengthen their voices, increase their impact and make their audience believe. This course will help you hone your communication skills so that you can amplify your message, push your mission forward, and set you and your organization up for success.
In this class, you'll learn how to:
Figure out your personal story and link it to your company vision, mission and strategy.
Develop and infect your organization with language, lessons and mythology.
Stop explaining to your audience and start getting them to believe in themselves and what they're doing.
Get truthful feedback so you can improve your message.
Find mentors, coaches and trusted partners.