Class Introduction
Morgan Sutton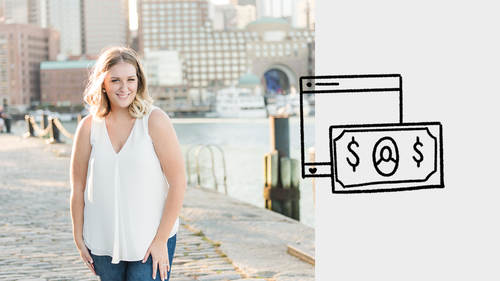 Class Introduction
Morgan Sutton
Lesson Info
1. Class Introduction
Lesson Info
Class Introduction
You wanna stick around, right, but I have a couple reasons why you should. So if you're ready to try Instagram advertising for the first time and you have no idea where to start, you're in the perfect place, because that is what we're going to talk through, kind of go through a basic framework here today. If you've run ads before but with little success, again, let's check back at the beginning, right, and see what you've been doing wrong and get you going in the right direction. As well as if you're looking for a clear system to organize your ads successfully, because that is what I'm about. When I tell you a little bit more about me, it will make sense. Today I'm gonna cover the framework we use to organize a paid ads promotion, the basics you have to know to get started with Instagram ads, how to develop a quality ad for Instagram, how to publish the ad on Ads Manager as well as inside of Instagram mobile app. If you didn't know that was an option, we're gonna do that today. And we'...
re also going to give a little bit about how you can analyze those results and you can know what you can do for next time. Just so you can learn a little bit about me, besides the fact that I have fabulous hair, is that my background is actually pre-technical. I have a bachelor's in systems engineering and a master's in engineering management. I went to the George Washington University. And so systems, processes, organization framework, kind of the name of the game here. I've been with Sue B. Zimmerman Enterprise for five years. We have a couple courses on CreativeLive, as well as we teach online about Instagram marketing and small business operations. From my time with Sue B. Zimmerman, I've coined, I've gotten the nickname Morganize It. So if you see me tell you that I will Morganize you, that is because Rachel over at the SBZ team gave me my name that I'm very proud of. I'm also an Ontraport Certified Consultant. So all of the automation that goes into small business is what I do over at Sue B. Zimmerman Enterprise. It all kind of comes together here today because we have a framework and a process for how to do paid advertising and how it can feed your business.
Ratings and Reviews
Personally I appreciate her speech and her knowledge. I like the way she constructs the creative from Single Picture, to Carousel and make it clear which platform can be used for each creative. There is one thing I concern is the screenshot from Ads Manager or IG Report is kinda old version. Hope it more updated to make it familiar with the current version
I had never looked at making an Instagram ad before this class, and now I can confidently say that I feel more than prepared for the task! Morgan demystified the process of setting up ads on this platform and showed us different styles of effective advertising from key brands. Very informative!
I thought Morgan's information was really good and helpful. She talks rather fast and it is complicated information. I was trying to take notes, but that was challenging. I highly recommend this class but you will have to watch it more than once to get all the info. The thing I didn't like was the person who videotaped it. Not good!!! He or she didn't spend enough time showing the whiteboard so it was difficult to keep up. He needs to focus the camera to a place where we can see her talking but still see the notes and not just a 'flash' of the board. That is my only issue.
Student Work