Creative Insights: Behind The Scenes of Street Dreams Radio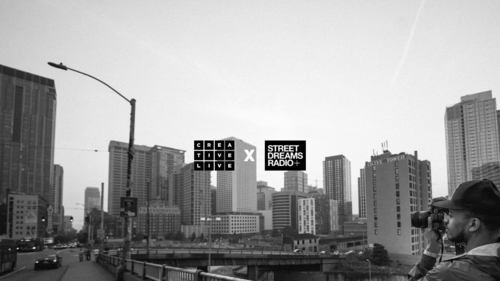 Creative Insights: Behind The Scenes of Street Dreams Radio
Class Description
ABOUT THE SHOW:
Through casual interviews with our various hosts, DJs, and artists, we seek to corral everyone's experiences and perspectives, hi-and-lo-fidelity processes, creative missions, collaborations, and how it all comes together in a fully-bloomed audio-visual radio show. From the audiophile to the casual listener, our goal is to expand the audience's palate by inspiring a different approach to infusing ideas, genres, and applications into everyday creative life.
ABOUT STREET DREAMS RADIO:
Street Dreams Radio is a music channel and podcast network designed for the creative community and available to the world. A natural extension of Street Dreams' online and publishing universe, SD Radio expands the global platform to radio-style mixshows, podcasts, merchandise, and live events from an international network of world-class creators.
Listen to Street Dreams Radio's latest episode: https://www.mixcloud.com/streetdreamsradio
Follow Street Dreams Radio: https://www.instagram.com/streetdreams.radio
ABOUT THE HOST:
Maachew Bentley is an evolving creative born & raised in Queens, New York. His pursuits interweave photography, private curation, and music production into a hybrid of expressions on and offline. Having earned his stripes in the latter, from the festival circuit in Europe to the nightclubs of Southeast Asia, Maachew has developed one of the most pliable sets of his peers. Bringing breaks through UKG, drum n bass, house, reggae, and techno, he's exercised BPM for every palate. For 2020, he's launched the radio extension of Street Dreams Magazine as Music Director.
Lessons
Episode 2: Martina McFlyy aka Hello McFlyy

Going behind the scenes of Hello McFlyy with Martina McFlyy. Through her creative and entrepreneurial endeavors she constructs the stories of our time through music, fashion, and lifestyle under Hello McFlyy.

Episode 1: Steve Irby aka Steve Sweatpants

Steven John Irby (a.k.a. Steve Sweatpants) is the co-founder & director of Street Dreams magazine. Born in Brooklyn and raised in Queens, Irby is a photographer, creative consultant, aspiring director, and more. Irby's work insists on the divinity of everyday moments. His inspirations include his family, the streets, and the music of Marvel vs. Capcom 2.
Explore More Free Classes
THE
CREATOR

PASS
Enjoy the free classes? Get 2000+ more Classes and watch it anytime, anywhere.
Get The Pass