Sourcing Local Flowers & Foliage
Fullosophie, Christina Stembel, Rhiannon Smith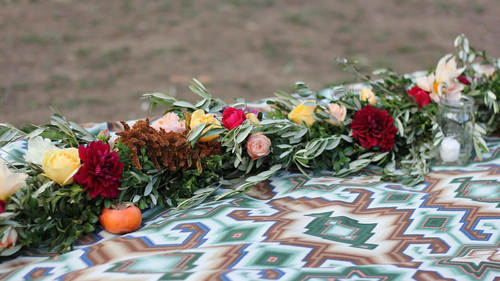 Sourcing Local Flowers & Foliage
Fullosophie, Christina Stembel, Rhiannon Smith
Lesson Info
1. Sourcing Local Flowers & Foliage
Lesson Info
Sourcing Local Flowers & Foliage
Hi, everyone, I'm christina stumble and the founder of our moral flowers, and I'm really in smith, I'm the manager of farm girl flowers were really excited to be here today with philosophy and creative live to teach you about how to make a garland. So first, we're gonna talk about sourcing materials for garland, so I actually believe that garland is like the best kept secret ever, because you can use it for almost everything you could make it way in advance of an event. It's really cost efficient for events, and we're going to show you a lot of different ways to use it, but you can also source a lot of materials from your own backyard, which is really amazing because it's cheap, right? So today we're going to be using a lot of olive and magnolia, we can show you some of these materials from talking about it, but really any foliage works for this, and it doesn't even have to be all the same. So unless you want a really consistent look, which we're going to use the same material today, b...
ut you can be as creative as you want and use. You know, if you have a mme, you know, a piss forum tree in the backyard hacked that thing up and use that for your garland, so, um I'm gonna show you how like if you get something from back here, it's gonna look like something like this, which is a little overwhelming, right? So you actually are going to cut it down, and you can get a lot of cuts out of one of these, which really is going to go into more detail about but, um, I am going tio tell you a little bit more about how you're gonna process thes as you go, so you're going to want it, make sure you're cutting in bunches so and taking all of the foliage off that you're not going to use. I think I'm getting into your your thing here, though. So do you want to talk a little bit about how we pick local and why that's so important to us? Yeah, well, if you're getting it from your backyard, it's obvious, we're going to be very little if you don't have a say, you're in an apartment and russian hell like I is to be. We did have one tree, but it probably should have been cutting from it, but you can also buy this. This, uh, these materials you combine from grocery store, even we use a lot of herbs, you could buy rosemary and things like that from the grocery store. Or if you're lucky enough to live in san francisco or a city like los angeles or seattle, they have really great flower markets there so you can go there and you'll see tons of different greenery and flowers that you could buy there you can also go to smaller stores on dh just go to their produce area and you can find a lot of things there is well, a lot of the sitters you feed and smaller stories that really specialize in local they'll have citrus that are still in the buying you can use that as well we have from our flowers always use local it's a lot easier to use local when you're you're buying greenery because most of the wholesalers and things that you may buy from usually get their greenery from local when you're buying flowers which we're going to do next that's a little bit more difficult so eighty percent of the flower sold in the u s are imported mostly from south america. So you really have to ask when you go to the grocery store they may have it marked whole foods is a great example that they'll even put you know, these air from half moon bay or from petaluma if they aren't marked it's probably eighty or ninety percent chance that it's not from here so you can ask the person the floral department um ask if you go to the the wholesale flower market you can ask them the usually be really honest with you and tell you where it's from if they know but we always choose local it's really important to us. Most people don't know this, but over half of the local flower farmers in the u s have gone out of business since the early nineties. S so it's really sad to us so we want to support we want to support the local growers also another thing not so much with greens, but with the flowers, the chemicals that they're shipped in to the u s and are really bad for us, twenty percent of them are carcinogens that we don't even allow come into the country in anything other than flowers. So a lot of florists will even break out with rashes and things like that. So we don't like that, so we don't use use imported for that reason. Also, local growers pay a living wage and like I said it here to the regulations on chemicals as well. So that's what we choose local. We hope you will as well. When in doubt ask on people will tell you if it's important local
Class Materials
Farmgirl Flowers -- Garland Supply List.docx
Ratings and Reviews
This was a great class, and worth every penny! I learned how to make a beautiful garland for a styled shoot, and there will be may more garlands in my future. I really loved how informative and easy-to-follow the steps were. I would love more videos from these talented ladies!
Wonderful class. Short, sweet and to the point. I even learned how to prevent my garlands from falling apart.
I just purchased this class and the Supply List won't open after the file is downloaded onto my Mac. Is there another way to get the list? Thanks
Student Work