PROTOTYPE/TEST: New ways to solve old problems
John K. Coyle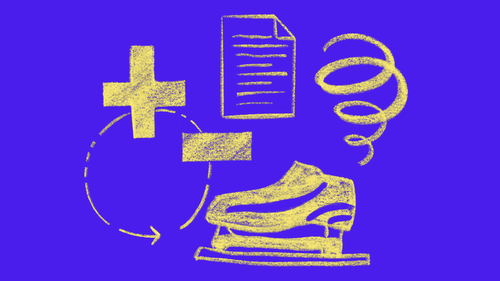 PROTOTYPE/TEST: New ways to solve old problems
John K. Coyle
Lesson Info
7. PROTOTYPE/TEST: New ways to solve old problems
Lesson Info
PROTOTYPE/TEST: New ways to solve old problems
The other thing about the sport is the physics are quite astonishing. So, I'm gonna teach you all to speed skate, but I'll give you a couple stats first. You enter a corner going 35 miles an hour going this way and two seconds later your vector changes to exactly the opposite degree and you're going the opposite direction at 35 miles an hour. That's zero to 70 in two seconds, which no car on the planet can do, not even the new Tesla. All right, so let's get you all up and we'll teach you to speed skate in three simple lessons. I will need two volunteers for step three, but for now we'll do steps one and two. So, stand up. Feet shoulder width. Weight on your heels. Arms behind your back. No women in short skirts, okay this is good, and then quads parallel to the floor like this and lower and then much lower and then lower and then on one leg, and then we'll just hold this for a couple minutes. (laughing) All right, nicely done. Very very good. All right. Good job. Give yourselves a hand...
. (clapping) All right, step two we won't make you do cause there's not enough room in here, but you have to do that same thing while leaned over at 68 degrees. Okay, so now we need two volunteers for step three. So, the first part was the easy part, by the way. The medium part is leaning over at 68 degrees while traveling 35 miles and hour around a corner. All right, so now step three is the hard part. This is the physics. So, who's gonna volunteer? All right Daniel, come on up. And one more. Come on up, Teresa. All right, so Daniel, actually Teresa we're gonna have you, no, we're gonna have Daniel do it. You're gonna stand next to me, Teresa. Okay. Danny, you stand in front of us, right here. Now, you're gonna face the group and in a second, not yet, I'm gonna get you back in position one. Okay. Just hands behind your back, feet shoulder width, and then down on one leg, but not yet, cause I have to describe the physics. So, you enter the corner 35 miles an hour this way, exit 35 miles an hour that way. There's an eight meter radius when you do the math to get the G-forces V squared over R, you find that it's actually 3 Gs. So, you're pulling 3 Gs in the corner every four and a half seconds for the duration of the race. So, that means it's triple your body weight. Okay, so we're gonna get you back in position one, and then when your ready and balanced, good, good, look how good he's doin', then we're both gonna climb on your back and your gonna lift us up. Yes. (audience laughing) Okay, we won't do that. All right, you can stand up. (Teresa laughs) That's what we would do. So, we bring it all the way down for you to see, to understand, how hard it is. So, for 166 pound skater triple your body weight, that's equal to a 500 pound, one-legged squat, from deeper than 90 degrees, while leaned over at 68 degrees, while traveling 35 miles an hour on an 18 inch long, one millimeter wide blade on ice headed directly at a wall. It's hard. Do we agree? Yeah. All right. Next job. (clap) Thank you. (clap) So, because of these physics, we adjusted by skating a track much like NASCAR drivers race cars. We set up wide going into the corner, keeping tight at the apex set up wide going out, going roughly about 10 percent farther than strictly necessary, and I thought, well, what if I could do this? What if I could dive in to every corner right on the first block, stay super close, and stay tight coming out, if I can go 10% less far, I can go nine percent less fast and still win. This would require, by the way, a huge pulse of power for about two and a half seconds with a four second rest every lap. The only thing in the world I'm good at. So, I started training this way. All by myself in Milwaukee. I had no team. I had no coaches. I had no one stop-watching me. I just did this every day and I started getting into the flow state. I started sort of zoning into this. I really love the feeling of weightlessness, and then weightedness, and that arc in the corner, and just feeling the incredible pressure, and the power required with the short rest that basically didn't even skate the straightaways, so I coasted.
Class Materials
Innovate Your Life Worksheet
Design a Strengths Focused Life Summary
Ratings and Reviews
This is a life changing class/event To not follow conventional wisdom but rather find your path focusing on your strengths and passion. LOVE IT. Following his principles are a reminder of what I once did to achieve great success. John's stories inspire possibility and passion. The perfect reminder that ALL IS POSSIBLE. Thank you for all that you do. It is because of people like John and CREATIVE LIVE that make our world a better place. Mark Juarez CEO THE HAPPY COMPANY
Great insight on how to view your (and your teammates') strengths and weaknesses. He uses clear, precise examples and gives fresh perspective, providing new ways to train yourself think. Loved it!
wonderful , new insights, life changing thoughts
Student Work