PROTOTYPE/TEST: New ways to solve old problems
John K. Coyle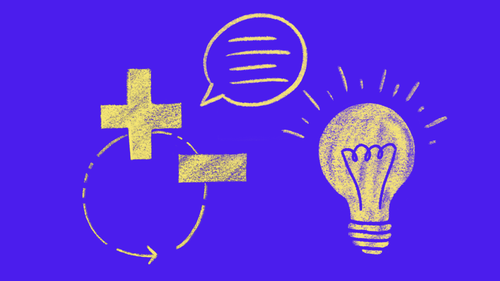 PROTOTYPE/TEST: New ways to solve old problems
John K. Coyle
Lesson Info
8. PROTOTYPE/TEST: New ways to solve old problems
Lesson Info
PROTOTYPE/TEST: New ways to solve old problems
So I decided to quit the team, not the sport. Now they decided their approach wasn't working for me, and I kept hearing Mike Waldon's voice in my head, "Race your strengths", and I'm like, "why am I racing my weaknesses, why am I designing for my weaknesses?" Maybe what I need to do is design a program that features my strengths, and so I quit the team, not the sport; nobody wanted this to happen, everybody came out of the woodwork, coaches, parents, calling me, and telling me what are you doing, why are you the wild child, why are you the rebel, why you gotta do it your own way, why you the non-team player. But that really hurt. But I did it anyway, and I moved to Milwaukee, and I began training on my own, they gave me ice time in the morning, and from seven to nine every day I started practicing, and I started using design thinking to analyze, "what can I do differently "that's gonna leverage my strengths?" So began to design for my strengths, and instead of trying to skate farther f...
aster, I thought, "What if I can skate less far less fast?" Now how is that possible? Well, I'll show you in a minute, but first, I gotta give you a couple statistics about the sport. Here are the Olympic finals from the winter Olympic games, I show it to you for two reasons, not my games, but look at the margin of difference between the gold and silver medal after a lifetime of practice. Two one-hundredths of a second. Take a look at first to tenth place. So, the difference between the gold medal and a hero's welcome, and being sent back to Siberia for four more years because you got tenth place at the Olympic games, is the difference between these two claps. (claps twice) Ten people in that space. After a lifetime. So, really small margins in the sport, which also means that small improvements can lead to great things. And the other thing about it is that the physics of it are quite amazing. So, I'm gonna teach you guys to speed skate in three simple steps; we'll do the easy part, the medium part, and then the hard part. And I'll need two volunteers for the hard part, but not yet. So first we'll just get you up, get relaxed, and, ladies in the short skirts shouldn't do this. But, we're gonna get up, and we're gonna get feet shoulder width, hands behind your back, and weight on your heels, toes pointed forward, and then quads parallel to the floor like this. And then once you're down, down lower and lower, and then lower, and then on one leg. (all laughing) So then we hold that for a few minutes, okay. So that's the easy part. Okay, good job, Phil. Oh, okay. (laughs) You were gonna go for it. So, we won't make you do the medium part, but the medium part is you have to do that while traveling 31 miles an hour on an 18-inch long blade that's one millimeter wide, while turning left heading directly at a wall. So, leaning over at 68 degrees. So, the hard part is this, and I'll need two volunteers, who can volunteer? Come on up, and come on up. So we'll have you stand here, and Daniel will stand behind you so you can stand right there. Stand kind of like obliquely sideways like that. Okay, good, and I'm gonna get you back into position one, not yet. Balance on one foot with your hands behind your back, okay, but not yet. So, here's, uh, here's the hard part about this sport. So the hard part is you're traveling, you're traveling 35 miles an hour into a corner, and two seconds later you travel 35 miles an hour out of the corner. That's zero to 70 in two seconds, which no car on the planet can do. If you do the g-force analysis of that, it's v squared over r gets you three g's. So it's triple your body weight in the corners. Okay, so we're leaning back, hands behind the back, legs, uh, feet shoulder width. I feel like you at the training camp. (laughs) And then, uh, down and then on one leg and when you're ready, get you good and balanced, good, yep, and then both Daniel and I are gonna climb on your back and you lift us up, okay. (scattered laughter) I'm just kidding, okay, okay, you can stand up. But that's what it would be. Okay, so, I'll just, I'll break it all the way down for you. Because of the g-forces, it's triple your body weight, so it's like having two people on your back in the middle of a corner. So you break it all the way down, it is for a 166 pound skater, there's a 500 pound, one-legged squat from deeper than 90 degrees while leaned over at 68 degrees while traveling 35 miles an hour on an 18-inch long, one millimeter-wide blade on ice, headed directly at a wall. It's hard, do we agree? Alright, nice job. Good job. So, because of this g-force equation, we had all, in the sport, adapted and adopted a change in our technique, much like NASCAR, to set up wide for a corner and go tight in the middle and instead of wide coming out, skating approximately 10% farther than strictly necessary, by the construct of the track. And I thought to myself, "Well, wait, "what if I could do this, what if I could "skate less far and less fast, what if "I could dive into each corner "and then kinda coast the straightaways", it would take a huge pulse of power for about every two to three seconds, every five seconds, to be able to do this. The only thing in the world I'm good at. So, I started trying it. So I'm all on my own in Milwaukee, starting to skate this way, and I manage to get through a few months of this and then I heard the rumblings from the team that people were unhappy, and why does he get to do his own thing, and so I decided to drive to a training camp in Lake Placid to join the team for a week just to sort of smooth things over, and I got there after driving 18 hours, got on the ice, did a two hour workout. As I was getting off the ice, the coach skated over, and he was like, "I'm sorry, John, but the team and coaches have voted and you have to go home." My own team voted me off the island. And this is the thing, is when you go your own way, in any kind of system or organization, there's the tendency for that organism to reject you. And the same can happen if you're trying to innovate at work. The antibodies will come out of the system and it will find a way to reject this new change. But that's why you have to have the resiliency piece to be ready to face that down. I took the hit, I drove home, I was really upset, but it was probably one of the best things that happened to me, 'cause training on your own is pretty hard, and, but everyday after that I would get up and give Lake Placid the single finger salute and get on the ice, and I didn't miss a workout after that for the rest of the year.
Ratings and Reviews
This class was fantastic. I appreciate John's insights and his discussion of design thinking, a process that now that I have learned it, makes so much sense! This has been an amazing course that will impact my decisions in life and work for the rest of my career. Thank you John!
Student Work