Pulling it together - Five Steps of Design Thinking Revisited
John K. Coyle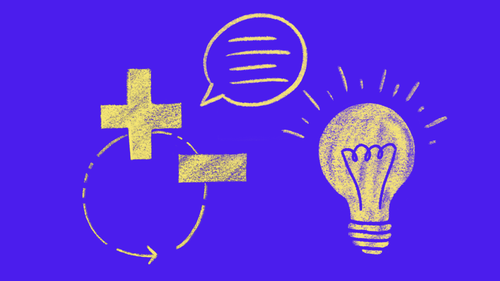 Pulling it together - Five Steps of Design Thinking Revisited
John K. Coyle
Lesson Info
11. Pulling it together - Five Steps of Design Thinking Revisited
Lesson Info
Pulling it together - Five Steps of Design Thinking Revisited
How do we pull this together? How do we apply applying design thinking, the strengths and weaknesses? We got the five steps. Let's move through each one. First you have to accept, know and accept your weaknesses. We all have them, have to finally admit it and move on. And then looking at your strengths, what is the specific nature of them? Do you know what you are best at? You've got these tests, you can take Myers-Briggs, I like Kolbe, I like StrengthsFinder, or you can simply ask 10 people that know you well, what are you best at and what are my weaknesses? You will like the first list and you won't like the second, but they're probably gonna be facets of the same thing and that's just fine. Nobody's perfect. Then you have to actually finally have empathy for yourself. The day you can finally let go of, oh, like I did one point in my career, I'm not a detail-oriented perfectionist. The day I let go of that was the day life got a lot better and my, it's like a 200-pound weight off my ...
shoulders. When you can sort of finally get rid of the stuff you're not good at and focus on what you're best at, life just keeps getting better and better and better. And then finally, you generate ideas of what you can do differently now that you know your superpowers. How do you put on the cape, where should you fly? Generate lots of ideas, ask other people. Sometimes it's really hard to see possibility when it's right in front of you, and so you can ask other people, 'cause they can often see something that's right in front of you. I couldn't see that I couldn't go up. Somehow I couldn't see that for 11 years of not being able to go up, and I still couldn't see that because I thought I was fast. I didn't realize I was only fast at certain things. So ask people, LinkedIn's a great resource for this. If you need expertise from somebody in the world that's awesome at something, just LinkedIn them, ask specifically within their niche of expertise and they'll almost always answer, 'cause people love to talk about what they're great at. They don't want to answer anything else, but they'll definitely answer that one. I have about 60% hit rate. And then finally, you want to prototype and test. How do you know if you're in your area of strengths? Well, if you get into the flow, the zone, the peak performance zone, there's a harbinger of that, which is time tends to shut down. You can't measure time anymore, you'll say things like, "Time flew by," or, "Time stopped," or both. Whenever that happens, make a note of it. It's at work, it's in hobbies, in a conversation, whatever that thing is, make a note of it and do more of it, because that is a hallmark of a strength. And if you can weave together a thread through all of those things and do more of it, amazing things will happen. But how do you know when to quit? It's a tough question. You know, you can Google anything but you won't find this T-shirt, it was mentioned. But sometimes quitting is the right thing to do. How to know? I think there's roughly a two-year rule. If you've worked at something for two years and you're not seeing breakthrough or success, it's probably time to quit, design around, design differently, or make it a hobby. That's what golf is for. And this is for enterprise as well. And that sounds easy, but altering your life and trajectory is no small thing. But the people that quit for the right reasons, be this individuals or teams or businesses that move away from things they're not successful at, always say the right thing, "That was the best thing we ever did. "'Cause we're no longer playing whack-a-mole "with weaknesses, we've got so much more energy "to pour into the things we're good at. "We can delegate that, we can buy it, we can get it "from somewhere else, we can have somebody else do it." And voila, life keeps getting better. So I didn't know the end of this quote 'til recently, but most men live lives of quiet desperation and go to the grave with the song still in them. I just pray that not be any of you. Any questions from the field or in the room. Go ahead, please. Yeah, I'd ask you, which do you think of those strength assessment tests would be, or I mean, are they all on the same playing field? Do you prefer one versus the other? I like StrengthsFinder when it comes to, 'cause it has more categories, more specificity, so you've got 34. But one of the ones that's really simple and good is Kolbe. What Kolbe measures is actually something we talked about earlier today. Kolbe is actually a really great predictor of operator versus creator/visionary. They have something called Quick Start, which maps perfectly to creator/visionary or idea monkey. And they have something called Follow Thru, which maps perfectly to operator. And so if you have a team like I did in my old work, where our average Follow Thru score was two out of nine and our average Quick Start was eight and a half. Guess what got done? Not a lot. We had tons of ideas, but the follow-through was so low that it was sort of like, every time there was an idea, it was like casting about for somebody to go do it, because nobody actually wanted to do the doing. And so that's a really useful one for getting to some of these core things that are related to innovation. So great question, thank you. Discovering your weaknesses and your strengths. Just a personal thing: I'm a graphic designer, visual artist and a novelist and, you know, as a kid, you know, I just was painfully shy. I mean, the one thing I knew I was not good at was getting up, talking, I was terrified of getting up and reading in class, I went through therapy for a year trying to read. The one thing I excelled at was my imagination and would go off and come up with all these ideas. And so over a period of time, I started having kids and my daughter and I, we were in the dads and daughters YMCA and so I find out that every year or two times we have to put on a play. And I'm going, "Oh, crap". It sounds terrifying. I'm just, yeah, terrified by that. So what I did is I decided that I'm gonna take control, I'll create the play, then I know what I'm gonna be doing, what everybody else is gonna be doing, and that's kind of how started. Where you start controlling the situation, just as with design, you know, it's coming up with, whether it's a novel or idea, but it's designing it so if I have to get up, I know what I'm gonna do. Preparation. Exactly. So it's kinda the. But it's a weakness and I still have it, but it's. But you designed around it, that's exactly it. Yeah, you design around it. That's a great example, that's a perfect example. If you want to get more information on this particular topic and get a summary sheet or join our mailing list, you can text the word strengths to this number. Design for Strengths is available on Amazon and also in Barnes and Noble? Yes. So check that out, have a read. A lot of the information of, see, the expertise that John's bringing to the classes is in his book, but of course, as always, there's a lot of extra content and a lot of extra hard work that John has put in to creating these classes with us here at CreativeLive. It's a part of a conference bundle. We've had five amazing classes today, so I want to say thank you and a round of applause now for that. Thank you, thank you. (audience applause)
Ratings and Reviews
This class was fantastic. I appreciate John's insights and his discussion of design thinking, a process that now that I have learned it, makes so much sense! This has been an amazing course that will impact my decisions in life and work for the rest of my career. Thank you John!
Student Work