Design Your Business Blueprint
Melissa Galt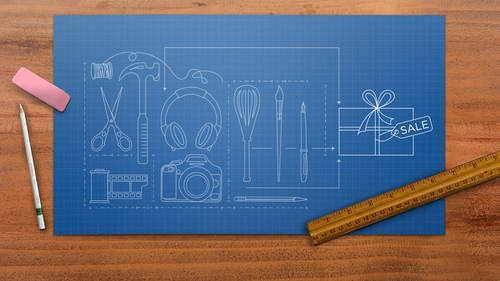 Design Your Business Blueprint
Melissa Galt
Class Description
Earn money by expressing your unique creative vision. Melissa Galt will help you zero in on the talents you already have to successfully build a thriving base of enthusiastic customers for your work.
Building a business around your strongest creative talents brings ease and abundance to your life as you spend more and more of your time on your work instead of on a day job. In Design Your Business Blueprint, you'll identify your strongest and most monetizable creative skills and develop a plan for turning those skills into a profitable business. Melissa will help you identify potential clients and coach you through the the process of packaging and presenting your products and services to them. You'll learn tips for communicating the value of your work and pricing strategies that will help you escape the grind of an hourly rate. Melissa will also help you develop a consistent system for generating essential referrals so your business continues to grow and thrive for the rest of your life.
Take Aways You'll Get:
Clarity on your creative business purpose and life passion.
How to make more money with better clients.
Know exactly where to find your ideal client online and offline.
Establish your unique value and overcome price objections with confidence.
You never have to sell, learn to educate your client into doing business with you.
Learn the nuances of each social network quickly, make the right one work for you
Create a client questionnaire that allows you to get the inside scoop on your clients.
The right tasks to delegate so you don't risk burn out by doing it all yourself.
Never forget to ask for a referral again, it's part of your foolproof follow up system.
If you want to take your creative career to the next level and earn more money doing what you love, join Melissa and learn how to Design Your Business Blueprint.
Class Materials
Melissa Galt - Design Your Business Blueprint Workbook.pdf
Melissa Galt - Defining Your Target Ideal Market.pdf
Ratings and Reviews
The wealth of knowledge I gained from Melissa's class is immeasurable and will continue to pay dividends for years to come. Her insights together with her actionable techniques create an easy to follow road map for immediate business growth and success. Melissa's lessons address the most difficult obstacles faced by small businesses and provide the tools necessary to overcome them. She clearly explains how to promote your products and services to your ideal clients for maximum profit and value, how to take advantage of the power of social media without becoming overwhelmed, how to build a strong network of relationships that will provide a continual stream of clients and referrals, and how to maintain focus and poise through adversity and challenges. Melissa teaches with enthusiasm and purpose and connects with her audience on a personal level. Her lessons are not only clear and concise, but they are also motivating, inspiring, relevant, and meaningful. Thank you Melissa for an awesome class and for sharing your knowledge and expertise with us!
I have watched several of the segments on Creative Live, but I have to say that Melissa Galt's class was the best one I've viewed to date. There was so much confirmation, revelation and transformational teaching in this 3 day course. I am grateful that I own the course and can take the time to dig in and pull out the tools I need to grow my business. I love the fact that she was so transparent about the mistakes she made along the way and how she overcame them. She is one of the best teachers and the information she shared is priceless. I am so glad I was able to catch this broadcast...her message definitely resonates with me and I am ready to uplevel my business because of her instructions. Kudos to Ms. Galt for setting a standard of excellence.
I was in studio for this class, and have to say the time just flew by! (and that's quite an accomplishment for a three day course). Melissa really cares -- that's what I really enjoyed about spending time with her in class, as well as after class time. Even now in her Facebook group, as well as LinkedIn, she is still engaged with the students in this course (me being one of them), asking questions, wondering what type of progress we are making...that's really cool. The course is worth the time spent, and if you follow her advice, you will make great progress with your business! I highly recommend it!
Student Work