Develop Good Communication Skills
Social Media Communications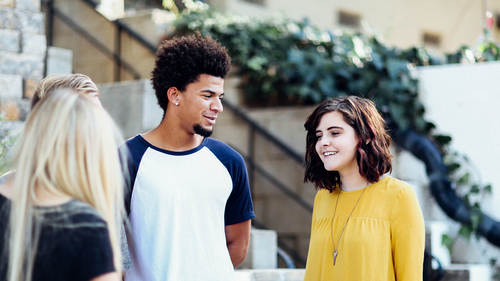 Develop Good Communication Skills
Social Media Communications
Lesson Info
Social Media Communications
Let's talk a little bit more about social media. This is an idea that is worth returning to because its a place where people get in trouble. The big picture core concepts, have to do with the fact that it does matter. People will build and form an opinion about you based on what they see you do in these spaces and because your participation's not obligatory, your responsible. Most people aren't being told to participate on social media which means, they have control, the onus is on them. It matters and your responsible so take care. Things to think about in terms of how you show that care. In professional context, do you really wanna be sure that the story you're telling about your personal life and your professional life mix and play well together. That congruency is what establishes trust. Now, there's some particular tips that are gonna help. Those are the core concepts, those are the big picture ideas. These are some particular things that you can think about that are gonna be help...
ful. One think before you post. Stop, breathe, ask yourself a question, is this really what you wanna say? However strongly you feel about that thing you're about to comment on, how connected you feel to that particular person, is there someone else who might see it? Stop and think. Speak to your entire audience. I'd mentioned this at the start of our course today. It's both, everybody that you're connected to right now but also potentially everybody who might participate or see or be aware of this at some point in the future. Think about that privacy. Don't just think about what you're willing to share yourself, also think about what makes other people comfortable. You might be comfortable talking about you paid for something, it might tell me things about your discretion, your sense of privacy. Avoid negative posts. Easy to build rapport around sharing negative news or negative gossip. It's true in our interpersonal interactions and conversation, it's particularly true online. Be careful with complaining, griping, venting. And finally, don't social-not-work. I'm just gonna fire off this little post, I'm just gonna take a quick look at my Facebook page, even if the place that you work doesn't track your internet usage. If I come home at the end of the day and then I see that you've been posting on some of the, I know you've been doing that in the middle of the workday. Be careful about the social-not-working. Let's very briefly look at three networks that impact people's professional lives in particular. I wanna start with Linked In. You can think of this as an online business card or an online resume. More and more people are doing searches using Linked In. More and more people are finding work via Linked In. Here's a etiquette situation. You're at home after a long day at work. You notice a friend request from an old colleague. They want you to write a recommendation for someone you didn't particularly like. Part of the reason you even left that job in the first place. What do you do? You don't have to write a recommendation for anyone and the same way, you might not write a recommendation for a student that didn't perform particularly well or for someone who reported to you who wasn't a particularly good employee. You need to be accountable to your word. Remember your participation's not obligatory. You don't have to do it. Don't feel pressured our compelled to. You don't to get into all your reasons for not doing it. You might just say, it'd be better if you found someone else to do this. Generally speaking I try not to ignore a request, that's a one to one request. If you think its just a perfunctory request, that went out to everybody in their network, then you can just ignore it. Some particular tips for Linked In. Be honest about your skills and experience. Don't embellish, exaggerate or overdo it. The truth will out. Use a professional photo. Something that's relatively current, a basic headshot is enough. I love your pets, probably not as much as you do, we don't need the pictures of the pets in the Linked In profile. Think about who you connect with, there's no correct answer for how you do this. You might want to build as broad a network as possible. You might accept and send Link request to as many people as possible. That's one way to approach your networking online. Another way is to build a really concentrated network of people who you've worked with or have skills related to yours or have professional contacts that are worth investing in. Either is correct but be intentional about how you do it. Make choices that are gonna help this network work for you. And when do you do it? Timing is important, if you've been to a conference, if you had an opportunity to interact with and meet people, that's a great time to follow up with Linked In requests. In many ways, this is the contemporary version of the exchange of a business card. It makes it easy for someone to find you later on. When might be too much? If haven't responded and you keep sending it again and again and again and again and again. Let's talk a little bit about Facebook. The 800 pound gorilla in the social media world. Here's a business situation. You open your Facebook account and see that a new client has sent you a friend request. You feel uncomfortable accepting it. But you don't wanna offend him or her. Sometimes this is the colleague, the new colleague in the office, sometimes it's the old colleague who's just discovered a social network and now they wanna connect on it. Participation's not obligatory, no one sets the rules. I think of this a little bit like I do the wedding list, the wedding guest list. You don't have to invite everybody to your wedding. You don't have to go around and tell everyone that you didn't invite, why you didn't invite them. People have to make all kinds of choices about who they invite to their wedding. Often times, those are based on things that have nothing to do with personal relationships, I love this person, I treasure them, we had a great relationship, I can only invite 45 people, that's my half of the guest list and a certain number of cousins, aunts and uncles chewed up 43 of those people I got, you just don't know all of the decisions that factor in to making a choice like this. So in the same way, I say you're not responsible for explaining. The person who is not invited is responsible for not feeling aggrieved. Don't they care about me? I invited them to my wedding and I'm not invited to theirs. I'm aggrieved. I wanted to connect them, I sent a request, don't they wanna connect with me. You just don't know. Maybe I stopped using Facebook a little while ago. Maybe I've decided I'm gonna take a social media pause or hiatus. You don't need to respond. Your responsible for maintaining consistency and fulfilling expectations that build within a relationship. So if you interact with someone everyday, on a particular platform and their just disappear and that would cause them alarm or concern or worry, then offer them a little bit of an explanation. But if you're talking about a first meeting, your not responsible for explaining yourself. Some basic tips for Facebook. You don't have to accept those friend requests. The privacy settings do change so keep abreast of how those changes happen. And it is okay to untag yourself from photos that other people are posting. You can't always take things down but you do have some control about whether or not you're labeled or tagged in them. We tell people if they're really uncomfortable with something they see online that represents them, you can always contact someone and ask them to take it down. You might draw more attention to it, they might decide to pursue and persist and try to get you but usually, that isn't the case. We're gonna concluded with a couple of basic tips for Twitter. The first example is one of the classic Twitter mistakes. A Ketchum PR Vice President tweeted about the town of Memphis where he was landing to meet with his client, Fedex. True confession in one of those towns where I'd scratch my head and say I'd rather die than live here, was met with representatives from the company when he walked through the door. PR disaster. This is a professional PR person. Basic common sense mistakes. What do you do? How does the damage control happen? You apologize, take responsibility for the mistakes you made. Don't repeat them in the future. Sometimes it takes your company offering to put someone else on the case. Some tips for Twitter, come from mistakes that were made. Beware of tone. New media account, media account rep tweeted, I find it ironic that Detroit is know as motor city, yet no one here knows how to redacted drive. Think about tone, be careful. Be careful with how you represent yourself. It is hard to write funny. The people in Chrysler didn't get the joke. Be extra careful with how you represent yourself. Manager product planning at Honda tweeted essentially the written and scripted description for why someone might purchase that vehicle. Hold yourself accountable to standards of honesty. The sock puppet, the imaginary person that's you is a type of deception. Be careful with how you represent yourself. Be ruthlessly and scrupulously accountable to a standard of truth and honesty and you're gonna be in good shape whatever the next social media platform, probably Instagram that's gonna make deck is. I wanna conclude our communication segment by saying thank you. I think its one of the most important communications I can offer. I appreciate your time and attention today. Thank you for being here.
Class Description
Written and verbal communication skills are a big part of good manners. Every email you send, voice message you leave and conference call you attend provides you with an opportunity to shine or stumble.
This course addresses classic business communication etiquette as well as new rules and customs for the digital age, including best practices for email, smartphone use, and voice and video calls.
In this class, you'll learn how to:
Avoid the most common writing mistakes in both content and character.
Make your communications polished without seeming too stiff or formal.
Write a great thank-you note.
Choose between public and private communication.
Use email and smartphones effectively and courteously.
Host and participate in conference and video calls.