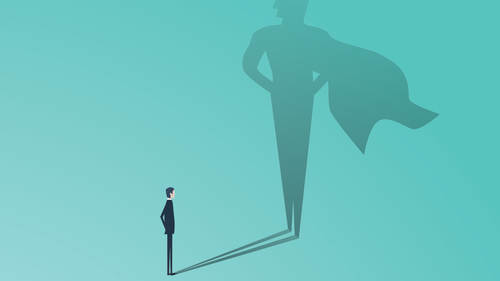 Lesson Info
Doing Shy
I haven't given you any definitions yet, I know. We kind of, we went in that direction a little bit, but there's a reason I'm gonna do it now. But I also don't want you to grab onto these definitions, because I think that there's a problem with labels. Because if we give ourself a label, which a lot us already have so many different labels, then we are limited by what those labels mean to us, or to other people. So I'll define them now, but them I'm gonna encourage you to go beyond the labels as much as possible and focus just on the behaviors that go along with what you need and what you need at work. Introvert and extrovert. Shy or outgoing. I really think it depends on the situation. It doesn't matter which words you use, it is all about the behaviors. But shy, for example, means, according to Webster, easily frightened, or disposed to avoid a person or thing. So if you're avoiding or if you're fearful, or if you're habitually saying I'm afraid of this, or I'm afraid of that, that i...
s characteristic of a shy person. But when do you do shy? And can you control when you do or do not do shy? We'll talk a little bit about that. Another person said shy people are slow to warm up, and they have a limited comfort zone, and avoid approaching strangers. A lot of people said they were not confident when there were strangers around. So maybe you're shy, but introvert and extrovert is completely different. Introvert means you derive your energy from inside and from being quiet. Like Kenna, she likes being with a lot of people, but she has to go be by herself to get re-energized. Do you want to say anymore about that? No, I just think it's an interesting thing. This is like that differentiation between a lot of people think that introverted means just shy, whereas and once I learned that it's really just about how you get energized, like you said. I like to be around people and I can be outgoing, but then I have to go home and just crash by myself, get that alone time. That's right. A lot of people at home are saying that too. Yes, and a lot of shy people are homebodies, or introverts are homebodies. I was thinking about this before we started because where was I half an hour before we started this? I was sitting quietly in the green room just doing nothing. Because that is what I need to prepare. So you need to know what you need for yourselves to do your best work no matter where you are, especially at work. I don't want to focus on the labels, because they're like boxes. And as soon as you say I am a blank, then you're in the box and it's very hard to get out. How do you keep yourself out of the box, and therefore freer to try new things? First you have to know that you're in the box. And then you have to find behaviors and strategies for yourself to get out. That's the experiment. When do you do shy? Let's go back to the whiteboard and see if we can come up with some other situations and let's have this in the chat room also. Doing shy, and I'm not talking about being shy. There are certain situations where you decide somehow I'm gonna do shy, and then there might be an alternative. Anyone in the room want to share another example of when you do shy? Ivana? At a party or such I'll stick with a group of people I know even though I could easily go hang out with someone I don't know and introduce myself, and create connections. At a party, and I want to bring it to the workplace also. At a networking event where you either don't know anyone, or you know people and then you stay with them and you don't meet anyone new. That happens a lot. What would it take for you, Ivana, do you think, to go meet someone new? Have you done that recently? I have. It's usually a topic or two that we can start talking about. But then once that topic dies down, it's like what's next? You freeze up. Those awkward silences. How do you handle those awkward silences? My suggestion is just let it be, because something else will come up, and maybe you'll have a little moment, or when in doubt talk about the food. Anyone else want to say when they do shy? Mike? Sometimes it's valuable to be shy on purpose. And just get the lay of the land and see what's happening in the room, and see if something interesting's gonna happen, and address that. To me, that would be being quiet, first, and observing, because shy is maybe a little bit more withholding. Yes, correct. Good, thank you. James? I tend to be shy when I lack the information that's being brought up as if I don't want to talk on anything because I don't have the knowledge to talk on it. I think, again, there's a difference between knowing you don't know, or pretending you do know, and making something up, which is not the right thing to do. But even just admitting you know what, I don't know in this situation, so I'm gonna keep quiet. Tiffany? I agree with James that that's my issue too, is if I'm with people who I perceive to know more than I do I will be quiet and I will withhold because I don't want to be exposed to know less than they do or to not be able to have a competent conversation about it. What's interesting to me about that is that the assumption seems to be that you have to say something profound, or say something smart as opposed to ask a question of the people who do in fact know more than you. And why not? Because asking questions, and I will talk a lot about this, is a very effective communication strategy, and people love to answer questions. So that just gets them talking more. But I still think that even if the other person is doing all the talking you don't have to do shy. You can be active. You can be participating. You can be engaged in the conversation, even if you're not saying smart things. Great, that's a perfect example. Thank you. The other things to think about in terms of when you do shy is it when you're talking to a person in authority, or someone who is considering hiring you? Is that when you're shy? Tiffany said before when people come to her she's not shy, but when she goes to someone else and she's not sure how they're going to respond then that creates a little bit more shyness. Or when you asked a question directly and you feel pressured that you have to answer, does that suddenly start this kind of freezing? Anything from the online chat? Yeah, we've have some answers that were similar. Tom talks about doing shy at conferences, but he did say that he changed that at the last conference that he attended. So good for you. That's great. I'm curious, Tom, as to what did shift for you that you were able to do that. Then Shawn says in a work meeting where I need to just be a fly on the wall, and listening to the information situation to navigate and process that information. So actively doing shy for the similar reasons. I wanted to throw one in that was doing shy based on my own mood or if I'm exhausted, or tired, or whatever. And then just saying okay, I'm just gonna do shy right now. Again, I think that it's the language that we use that can be very powerful. In that situation that sounds more quiet to me, and listening and learning. So if you shift the language, that might shift the way you think about yourself. That's all.
Class Materials
Exercise files for Introverts
Ilise Benun Sample Chapter
Ratings and Reviews
It was interesting to learn from your program what experiences other people have in certain situations and how similar or different they are to mine. And that's it's ok to "own" your inner introvert, and to work with it instead of against it. The good thing is, the more self-aware we become, the more aware and sensitive we can be towards others, thanks to shared knowledge and programs like yours. So thank you Ilise, for an enlightening program. I look forward to going back over it sometime.
Was a great overall course with lots of tips and ways to frame in your mind what may be happening rather than making assumptions. I would have liked a deeper dive into dealing with conflict, people who just don't think and operate the same way, and getting what you need in situations where usual methods aren't working. Perhaps an additional course on that. Thanks
Was a great overall course with lots of tips and ways to frame in your mind what may be happening rather than making assumptions. I would have liked a deeper dive into dealing with conflict, people who just don't think and operate the same way, and getting what you need in situations where usual methods aren't working. Perhaps an additional course on that. Thanks
Student Work