Communication in the Customer Journey
Ari Meisel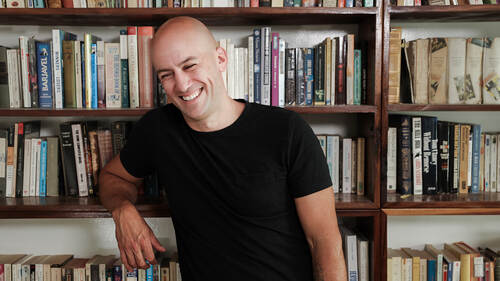 Communication in the Customer Journey
Ari Meisel
Lesson Info
9. Communication in the Customer Journey
Learn what it means to respect your customers by communicating effectively.
Lesson Info
Communication in the Customer Journey
So one of the biggest areas of external communication that's gonna really have a huge effect in terms of differentiating your business from other businesses is the customer journey. Now, the customer journey is not sort of an obvious concept and a lot of people have never even heard of that as an idea. We all know about the customer experience, but really the customer journey is taking somebody from not knowing who you are at all to becoming a lead, then a prospect, then a customer. And if you do it right, they may become a raving fan. A lot of things change in somebody's life, in their interaction with your business and everything in between on that customer journey, and there are different touch points throughout that journey that you have a lot of control over. Now, the one thing I'll say right up front is that leaving people in the dark is generally a bad idea. Most people will fill that darkness with bad ideas and assumptions about things that you're not doing. That's why if anybo...
dy's had a really good customer experience, especially when it's one where you are experiencing a long period of time between purchase and receipt of the good or service, you'll remember the times where in between, in that space between, you were getting regular communication and regular updates, even if it wasn't based in reality. We've all seen the progress bar on kayak.com that says, "We're searching 5,000 websites to find you the best price." They're not doing that, but we like it. We feel like they're doing something for us. We feel like there is a million little nanobots behind there, like actively searching the websites. They're not doing that. But not only do we feel like they're doing something, and we know this from research by the way, but it also makes us stick around until it's done. Right? All that's happening is there's just some program loading in the background, basically, and pulling in that information. They're not doing anything special for you, but in that brief moment, they're able to make you feel that way. And that is usually, we're talking maybe a 10 or 15 second delay. Think about what that looks like when you have to wait a week to get your product. Think about what it looks like with the pandemic where you have to wait many, many, many weeks or months to get your product. Good example, too, is we are waiting for a chicken coop to come. We're getting chickens. We used to have chickens. We're getting more chickens. Chickens are awesome. If you're able to have chickens in your property I highly recommend it. They're fun, they eat things, they're great. The company that makes the chicken coop has been sending us emails almost every three days. Basically like, "Oh, we're building it. "This is the part that we're building right now. "We just got this part in. "Your chickens are gonna love this thing that we're now putting into your," and again, it may not be real at all, but it feels like it. It feels like there's a connection and it dispels in the back of my mind where it's like my order's just sitting on a desk somewhere, not getting anything done. What's almost worse than leaving people in the dark is being extremely vague with the way that you communicate. Like when people say, "We're working on it." What does that mean? "We're working on it." No, you're not. You're on another call dealing with something completely, entirely different. You're not working on it. I'm on the bottom of your pile. When customers feel like they're not the only customer that your business has, and we know we're not, but you should feel like it. We should never be hearing about all the other customers that you're dealing with right now and how you're slammed because everybody needs your help with this. That's not my problem. It becomes my problem because you're making it my problem. And this isn't me being some finicky consumer. This is really a matter of efficiency and ultimately, again, the thing that will differentiate you from the 5 million other businesses that do exactly what you do. If you're a wedding photographer, for example, I promise there are probably 20 other wedding photographers that live on your block. The thing that's gonna make you different is your communication, your touchpoints. Are you calling people to follow up? Are you thanking them for signing up with your service? Are you following up with them after the wedding to make sure that everything was great? If they have any feedback, you want to hear it and can they recommend you to five of their friends who are having weddings next weekend? Now there are all sorts of ways to automate this and make sure that it happens seamlessly, but we have to start by actually planning it out. So I want you to do this. I want you to map out what your customer journey looks like. It's a timeline, and we think about every event that happens on that list. So we have the purchase. We have the receipt of it. We have the, maybe the use of it. We recently bought a barbecue from a company called Sparq, with a Q. It's an excellent customer experience. The purchase was smooth on the website. They followed up immediately with emails to say that they were assembling it, it was shipping. When it had arrived, of course, you get the UPS notifications. But the thing about getting an email from a company, it's so simple and you know it's automated, but it's still nice to get that extra email saying like, "Hey, your grill just arrived on your doorstep. "Here's a video of how you set it up." Right? Couldn't have been easier. Five days after the grill arrived, the head of customer service called me and left me a voicemail that was not, I mean, it might have been automated but it was a person with a name that I could call back. And he just wanted to make sure that everything was great, that I got a chance to make something on it, all of that. And it makes me feel really good about it, to the point that when we had a party this weekend and I was barbecuing, I was raving about the barbecue to everybody and telling all of our friends that they should buy this barbecue. There are a million barbecues on the market. The way that I felt about this purchase is what's most important. And I think that this is a really important thing that everybody has to keep aware of. Ultimately, most people are not remembered for the things that they do, save for maybe some of the greatest inventors of our time. But for the most part, a lot of people are not remembered for those things. In fact, a lot of people can't even name the thing that was done by the person at some point. At the end of the day, the things that we remember are the ways that people make us feel, and that extends to companies as well. You will remember anger a lot longer than you'll remember the taste of the burger that you made on the barbecue. And you will remember a great experience, whether it's with a company or with an individual in a relationship. An extreme example, we all know stories of people who have had traumatic relationships. Those are the things you remember. You don't remember the dinners that you had together. So when you're trying to craft a world-class customer journey, you have to think about how you are making people feel throughout that journey. So again, we map that out, now we start to think about what those events are. And we look for the blank spots. Now we don't have to be communicating with people every single minute of every day of their lives, but if we have purchase and then receipt is a week later, what can we do right in the middle? Can we send a voicemail thanking them for the purchase, checking in? Can we send a text? Can we send a postcard? If it's months, can we send a gift, whatever might be appropriate in that case? But you actually start to mark this stuff out and fill in the blanks as much as ultimately is appropriate. And keep in mind, we have a lot of ways to communicate with clients and customers. We have letters, postcards, gifts, voicemails, text messages, emails. How can we fill those things in so that we stay top of mind, we continue to create the opportunity for feedback and communication and we make people feel like we care? Everything that I teach about efficiency, optimizing, automating, outsourcing, sometimes gets miscategorized as something that will remove the human element but it is exactly the opposite, because the human element is what gets removed when people get busy. They either stop doing it entirely or they do it in a rushed and sometimes irritable way. When we make everything else in the business more efficient, the human element gets to rise to the top and you have an opportunity to do it in a way that will cement you in the minds of your clients, your vendors and your team as a world-class provider. In terms of enhancing that human connection, so here's a great example, I've worked with a lot of different medical professions and for whatever reason, this particular thing I'm about to share seems to be a very common among dentists. And you may have experienced this yourself. It's very common now for dentists, the actual dentist themselves, to call all of the patients that they saw that day, just to see how they're feeling, make sure everything was good. It's a really nice touch, but extremely inefficient. So I was speaking to a group of dentists several years ago and I knew about this practice. So I asked everybody, "How many of you do this?" And about 80% of the room raised their hand. So then I said, "Okay, how many of you do it every day of the week?" And only a few raised their hands. I said, "How many of you do it three days a week?" And a lot of them raised their hands for that. It's like, okay, great. "How many of you average more than eight calls a night?" And most of them raised their hand. So at least three nights a week, a majority of these people are making eight plus phone calls at the end of the day. Now, don't forget about the logistical effort of the administrative staff at the office who has to prepare that, key that up basically, and get all the numbers together and everything for the doctor. But a lot of this is happening at seven, eight o'clock at night. Either they have left the office late or they're skipping dinner with their family. It's not generally gonna be a good situation. Or they get busy and they don't do it. So then I asked, "Of all the calls that you make, "how many of you "actually get to talk to one or more people?" Nobody raised their hands. Nobody usually answers that call. Fine, they leave a voicemail. "How many of you ever get a call back "from one of those voicemails?" Nobody raised their hands. Now I'm not saying that to say they shouldn't do it. What I'm saying is they shouldn't do it. There are services called ringless voicemails, RVM, which is where you get, everyone's experienced this, usually it's with spam or telemarketers, but it has good uses. You get a popup on your phone and there's a voicemail. The phone didn't ring; that's ringless voicemail. So now what they can do is they can prerecord a message. They can prerecord a dozen messages and then their team can just key it up whenever it needs to go out and they can, in one push of a button, and again, they don't have to do this, their team can do this, or we can automate it, all of those voicemails can go out at the same time to all of these people. And the patient gets the exact same experience they were getting before, because they weren't answering and they weren't calling back. The doctor can deliver the same experience they had before, which was that genuine ability to connect, communicate that, you know, there's concern, make them feel good about the experience without any effort at all. It never sleeps. It never has to stop when you're busy and you can scale it indefinitely. That's what I'm talking about in terms of enhancing that human connection. Now it's a real treat, rather than a chore. But let's look at the sort of expanded customer journey that we talked about before with the lead, prospect, customer, raving fan. So what might that look like for a solo practitioner? Let's say somebody who makes custom cakes, a baker. Again, lots of businesses that do that and lots of businesses around you that do that. So how do people find out about you? That's very individual for us, right? But maybe you're doing radio ads, maybe they're ads in local paper, maybe it's Facebook Ads, whatever it might be. What is it that is gonna be unique? What is gonna be the pain point? What is that person gonna be experiencing when they see that? I think, and I'm not in that business, but I might guess that somebody who is looking for a cake might have an event coming up. They're looking for a custom cake of some sort. It's probably not somebody who just saw the show, like "Is It Cake?" and said, "Hey, I need to get a really realistic cake made "for no reason at all." They're probably in a situation where there is a need, right? And what's gonna make them choose that over just going to Costco and getting a cake off the shelf? Something that makes it unique, something that makes it special. Something that provides the opportunity to make somebody feel special. And that's what needs to be conveyed. Now they become a prospect, meaning that they've now expressed interest. Now, how do we nurture that prospect through that journey? 'Cause maybe they're not ready for a cake right now. Maybe their birthday is not coming up for two months. Maybe nobody's graduating anytime soon. But how do they remember that you're the one that can make the special cakes and provide that special experience? Well, we wanna get them on some sort of a newsletter or something. We wanna get them involved in the content that you might be producing. And for a lot of people in that kind of business, it's gonna be Instagram because it's a very visual thing, right? Everybody might make really cool cakes, but maybe you make the cakes that have the zombie themes, right, and you do that better than anybody else. So you need to be able to express that and show that. So "Hey, join our Instagram or follow us on Instagram." Right? Watch those things. And then that's still part of the experience because you're gonna see people now that are finding entertainment in what you're doing. And then, of course, when the opportunity comes up for a cake for them or for somebody else in their community, their friends, their family, you gotta check out this person, this company that does this. But now it's time for them actually to become a customer. What does that process look like? Are they calling a number where somebody picks up and says, "So and so cakes, hold on, please. "We're busy." You know, come back like or put 'em on hold for five minutes and then they hang up and they don't do it. Or do they have to go on one of those order forms that people love to have on websites that aren't actually order forms, they're just like the generic contact form that you can't actually buy anything with? That creates a bad experience as well. Doesn't mean that people have to invest in like really heavy eCommerce stuff or things like that. There's a lot of really simple out the box solutions to do this to make for a great shopping experience. Honestly, Shopify plugs into so many different websites now. And if anybody has used Shopify anywhere, they just have to put in their phone number and now all of their information is suddenly there. And it's worth it to provide those kinds of experiences because now you have somebody's email address, you have their phone number. It's not just a Post-It note on the side of the cake counter that says "So and so called, wants a cake. "Here's the number," with no other information. It doesn't make people feel special. It doesn't make them feel like it's an experience. It also doesn't make them feel like you care or you're doing anything about it. And even if you have a really long wait list to do it, great, you can get them on that process and make the experience of waiting better than any other experience of waiting than they've ever had. Then, of course, to make them a raving fan, obviously the product itself has to be great, but the delivery, the experience of it, how it's brought in, don't tell them that they have to come in between a six hour window to pick it up. Get specific, make it really clear that it's just about them and this is something that's really unique. And everything that I'm sharing right now, this is very, very basic, And I don't run a bakery, but I guarantee you that these are things that you have not thought about. Whether it's a bakery, a photography business or a woodworker that makes custom cutting boards, all of these things are things where there are lots and lots of other people. And the way that you differentiate yourself is the way that you make people feel. And you have to think about how are they feeling in that moment? And you know, one example, I'm not gonna go through the whole thing again, but between purchase and receipt, there's usually some doubt that comes up for people. And maybe that's because it's an expensive thing and they weren't really sure about it and then they start to question themselves. That's a perfect opportunity to jump in and be like, "Hey, I know you're probably feeling like "that was a big move for you and that was a big investment, "but I just wanna remind you why you did that "and why it's gonna really be the thing that you needed "and provide all the things that you wanted." It's not hard to put yourself in the people's shoes when they're going through that experience and then try to address concerns before they come up. One of the things that I always used to say with the businesses that I ran with clients was, "I can't promise you that I'm always gonna get it right. "But I promise you that I will always make it right." And when people experience that and believe that, they're with you for life.
Class Materials
Ari_Meisel_-_Effective_Communication_Bonus_Material.pdf
Ratings and Reviews
Student Work