Facebook Ads Targeting
Blitz Metrics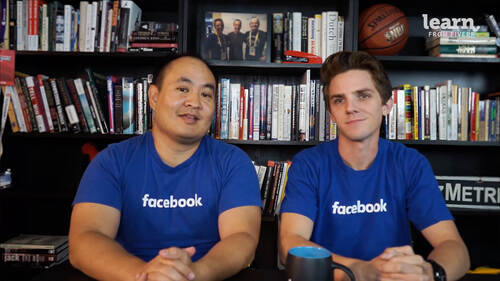 Facebook Ads Targeting
Blitz Metrics
Class Description
AFTER THIS CLASS YOU'LL BE ABLE TO:
Implement advanced targeting strategies.
Work with saved, custom and lookalike audiences.
Use 3 methods to grow a custom audience.
Onboard a client through the access checklists.
Use Event audiences to automate lists.
Drive comprehensive campaign reports.
ABOUT BLITZ METRIC'S CLASS:
If content is king then targeting is queen. Learn how to improve ad performance and scale your Facebook campaigns in this top-rated targeting course.
Dive deep into targeting on Facebook by learning all about the 11 types of custom audiences, which ones make the best lookalikes and which combination you should be using for each project. You'll cover strategy for lookalike and saved audiences and go into detail about how to use each, including narrowing, sizing, using connections, naming conventions and how to avoid audience burnout.
Upon completion, you'll know how to use the powerful data capabilities of Facebook
And you'll have learned a set of key targeting techniques that you can apply quickly to new or existing campaigns.
WHAT YOU WILL LEARN:
Key strategies you need to know to run successful Facebook Ad campaigns
How to set up content that is guaranteed to work
How to utilize all of the Facebook targeting tools at your disposal
How to split test audiences
How to overcome common issues in driving conversions
The business of Facebook Ads
How to price your packages and define what is included
WHO THIS CLASS IS FOR:
Anyone wanting to start a career in ad targeting
SEO specialists wanting to diversify their skillset
Web programmers, designers, front end and full stack developers
Business owners interested in scaling and targeting Facebook Ads
Freelancers and businesses already working with Facebook Ads
Digital nomads looking for work that they can do from anywhere in the world
Marketing managers and reps looking to elevate their existing skills
Content Marketers
All levels of experience
ABOUT YOUR INSTRUCTORS:
Logan Young is the co-founder of BlitzMetrics, where he runs the company's training programs, while implementing ad campaigns and optimizing marketing funnels for key accounts. He is an internationally recognized keynote speaker, having traveled and lectured in 45 cities across 5 continents. He's been interviewed by Al Jazeera, Social Media Examiner, USA Today as well as other outlets and published a book titled "The Standards of Excellence" on the topic of Facebook benchmarks.
Ben Dahl is the Director of Monetization at BlitzMetrics. In his role, Ben is intimately involved in the content strategy for the business, providing valuable education through written articles and video. He also assists in operations and consults on ad strategy for some of Blitz's key clients. To Ben, there is no more rewarding feeling than sharing his knowledge and seeing others grow both personally and professionally as a result of his work. Ben has spoken at some of the country's biggest conferences for digital marketing including Growth Marketing Conference in New York City where he shared how to "hack" Facebook to generate influence.
Ratings and Reviews
Student Work