Class Introduction
Debbie Millman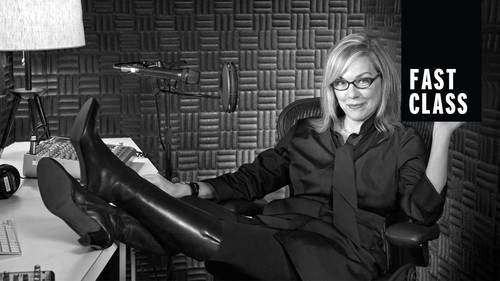 Class Introduction
Debbie Millman
Lesson Info
1. Class Introduction
Lesson Info
Class Introduction
So I wanna talk a little bit about why I do this. I am really fascinated by the arc of life, by the trajectory that people take, by the choices that they make, by how they become who they are. And over the years, I have become really obsessed with asking young people very specific question. And the question is, what do you want to be when you grow up? And I hear all sorts of answers. Mostly I hear, I don't know. (crowd laughs) But I also hear things like baseball player and firemen. And increasingly more and more I've been hearing famous. But I've heard, I heard an answer to this question a couple of years ago, that has stuck with me, and has been the sort of benchmark for what I hope people can feel when they're asked that question. At any stage of their life. And so when I asked this young woman what she wanted to be when she grew up, she looked at me without missing a beat, and said, everything. And that just slayed me, the idea that someone could have in their heart, the notion tha...
t they could do or be anything was completely foreign to me when I was growing up. I didn't have that sense. I had absolutely no idea what I wanted to do when I grow up. And I not only felt like I didn't know what I wanted to do, but I also felt like I wasn't qualified to do much of anything. When I graduated college actually felt like I wasn't smart enough, pretty enough, thin enough, rich enough to do anything. The most important thing to me when I graduated was just being able to be self sufficient, let alone be satisfied or inspired or have a sense of meaning and purpose. It was I just need to make sure I could pay my rent so I don't ever have to go back and live with my parents. And I remember the moment that it happened. I remember being on the streets of the intersection of Sixth Avenue and Bleecker Street, New York City. It was that summer that I graduated in 1983, the summer of what I call Police's synchronicity and David Bowie's Modern Love, 'cause that's all that was on the airwaves. And I remember looking like peering into my future and feeling like, I don't know how to make a life. I don't know how to make anything happen. What should I do? And the choice at that moment was, go for self sufficiency, go for safety, go for security, because that's the most important thing you need to be able to survive. So the idea of any of the dreams that I might have had seemed like, I'll do that later, once I'm safe and when some secure like that ever happens. (crowd laughs) I'll talk about that later. So the first 10 years of my career were really what I call experiments in rejection and failure. (crowd laughs) I went after things half heartedly I had a whole sort of sense of, maybe I should do that. Or maybe I should do that. Or maybe I should do that. And a lot of it was just disappointing. A lot of it was disappointing. A lot, took about 12 years for me to find a path. And again, that path was based on security and safety. Now, the thing about security and safety is that we are hardwired as human beings, our species, we need that. Our brain is composed of three parts, a triune brain is what it's called. And the brain has the neocortex, the part that we designers love the part that's all about reasoning and awareness and abstract thinking. And then the limbic brain, is all about connection and love. But that pre wired part, the oldest deepest part of our brain is the reptilian brain. What Seth Godin calls the lizard brain. And that's the brain that we can't really control. If I were to walk outside and almost get hit by an Uber, (crowd laughs) I wouldn't will the adrenaline, the adrenaline would just search through me. And that's the same way we respond to anything that we are uncertain about. And who here is ever certain about the future? And so if you're not certain about the future, you tend to brace for it. And you tend to worry. And you tend to have all of these scenarios where in you imagine, what will I do when this doesn't work? And what will I do when this doesn't work? And I spent almost my entire career in that mindset. When will I ever be safe? When will I ever be secure? When will ever enough be enough? The reptilian brain doesn't ever let you feel that and so it's a hedonistic treadmill over and over and over and over. And so what I wanna talk a little bit about today is how to live a life with all of that there, 'cause we're never going to be able to push it away. But how to try to dig deep inside and find what really matters. And work on developing those characteristics, those attributes, with all of those fears that are still there, there. And how can we make a life with meaning. So it took me about 12 years to get on this path. And as I said, lots of experiments in rejection and failure, lots. That's a whole other talk for a whole other day, I can outline all the rejections for you. (crowd laughs) And ultimately, when I did find a modicum of success, one of the first things I started to do was teach. One of the first things I decided to do was try to import the knowledge that I had been given by learning, in many ways, the hard way, and try to teach that to young people, mostly in an effort to keep them from making a lot of the same mistakes that I did, so that when they're they're at that intersection of Sixth Avenue in Bleecker Street one summer, after they graduate, they don't think I'm gonna just do this because I'm afraid that if I do anything else, I won't be safe, I won't be secure. And maybe I'll die. That doesn't, that won't happen. (crowd laughs) So that is why we're here in this class called a brand called you. Because ultimately, everything starts first from your heart, and then you can work outward. So this is what I hope you're going to get from the class. We have bullets. The truth about what it takes. So a little preview is all. I'm a straight shooter. And I'm gonna tell you the truth. I'm not going to tell you that you need to be a people person. I'm not going to tell you that you that you need to do this and this and this and have a positive attitude and be happy all the time, 'cause that doesn't work and it's not true. I'll tell you what I believe it really takes to get something that you really love. Tools to articulate who you are. Who are you? Why are you here? What are you doing? What do you want? How can you make that happen? Techniques to sell yourself because you do have to sell who you are, but in a way that is meaningful and honest and authentic and is not about selling out or selling your soul. And then lastly, tactics to help you get out there. What can I do to really get out there?
Ratings and Reviews
I was not expecting to get so much out of this accelerated class! Debbie is a captivating speaker who manages to get her points across directly while maintaining a strong sense of relatability with her audience. I really look forward to taking what I have learned here with me as I move forward in my career as a visual artist. Highly recommended.
This class is for a specific audience - young or new-to-the-field designers. It is NOT a branding class for the regular person. The class description is misleading. However, there are bits and tips that anyone can benefit from, but you have to sit through the entire presentation to get those bits and tips. I am not a designer. Because I had the all-access pass, I dipped in and out of different classes, speeding up and skipping as needed. I found enough value in this Fast Class: A Brand Called You to watch it, rather than the long one. I can see how this would benefit new designers as they job hunt.
Student Work