Creating a Stellar Resume and Cover Letter
Debbie Millman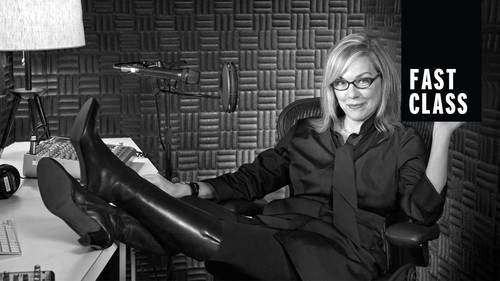 Creating a Stellar Resume and Cover Letter
Debbie Millman
Lesson Info
21. Creating a Stellar Resume and Cover Letter
Lesson Info
Creating a Stellar Resume and Cover Letter
Let's talk a little bit about your resume. I am of the mindset that simple is best. Now this is a topic where a lot of people have a lot of different opinions. Some people think if you're a designer, it should be arty or crafty. I'm not one of them. (group laughs) I think that resumes should be black ink on white paper. Period the end. No clip art, no icons, no little doodles, no handwritten things, no garnishes, flourishes, anything that makes it look like it's a resume from somebody that hasn't got stature. You want to take yourself seriously and you want a serious resume. Somebody might tell you, you want the resume to break away from the pack. I've never seen a pink resume actually do any good. I've never seen a resume with big icons on it or a photo of the person actually stand out from the pack. Those are usually the ones that go in the circular file. So simple is better. No gimmicks. I'm not, other people might tell you other things. You can listen to them if you want to, I have...
never seen a resume work that had any kind of gimmick on it. One page unless you're ten years into your career, in which case you could have more than one page. But if you are less than ten years into your career, one page. Spell check. Everything about your resume needs to be perfect. If you're using M dashes, all the dashes should be M dashes. If you're using N dashes, use N dashes. If you're using abbreviations, you shouldn't use some abbreviations and then not use other abbreviations. If you abbreviate September, you should also abbreviate January. You shouldn't abbreviate September if you are spelling out January. You want everything to be consistent. Your use of periods should be consistent. Your use of spacing should be consistent. The paper should be nice if you are actually handing it to someone. Please have a dignified email address (group laughs) It's not Susie Q at aol.com any more, okay? You'd be surprised at how many strange email addresses I see and this is something that I also feel really strongly about: no filler. You don't need to put where you went to high school. You don't need to put your skills. If you're a designer, skills are table stakes unless you have really really unusual skills that no one else does. Skills in Adobe Photoshop are a given. A given, you do not need to call those out on your resume. You do not need to call out your interests. The only additional things that you could put on your resume are if you've won awards or if you speak other languages in which case you can say fluent in Russian and Portuguese. And that's it. There's nothing else. Skills, interests, objectives. No objectives. You don't need an objective. It's obvious if you're a designer you want a design job. If you're a strategist, you want a strategy job. You're not going for a job in plumbing. Therefore you do not need to have an objective that states the obvious. They always sound hokey. They always sound heavy handed. You just want a clear, concise, articulate way of describing what it is you have done and are doing and that's it. And you want it printed on beautiful paper and when you hand it to somebody you hand it with pride and you don't apologize for the dog ears or the smeared ink because you don't have any of that. It's always beautiful. And when you're sending it via email, it's the same way. You have a clear concise subject line, you include your resume and you have a very well written cover letter. This is where your objectives help. Whatever your objective was on your resume, you take that off your resume and you put that into your cover letter. Anybody that's reading your cover letter should come away from reading your cover letter thinking you are the wittiest, smartest, most interesting person on the planet. And it should take you a long time to write your cover letter. Because you really want to make it perfect. You want to talk about why you're interested in them and you want to do that in a way that no one has done before You want to make connections between their work and your work in a way that shows that you have the right mentality and the synergies that make sense for you to be working there. You want to be able to articulate what your benefit is without stating it, hammering it over the head of a person. So you want to be clear, you want to be concise, you want to be articulate, you also want to be witty. Imagine writing your profile on a dating site. That's sort of what it's like. You want to come across as your optimal best sense with the most range and the most potential for being the person that they want to hire. And it needs to be inspiring. And you need to have other people read it and assess it and give you all the possible criticism that you can get. Everybody in this room has to know a writer. Share it with a writer. Have them give you pointers. Shouldn't be overly personal, it shouldn't be overly gushing you want to get the right tone that people will take you seriously and get the "hmm" response that you get when you articulate your mission statement.
Ratings and Reviews
I was not expecting to get so much out of this accelerated class! Debbie is a captivating speaker who manages to get her points across directly while maintaining a strong sense of relatability with her audience. I really look forward to taking what I have learned here with me as I move forward in my career as a visual artist. Highly recommended.
This class is for a specific audience - young or new-to-the-field designers. It is NOT a branding class for the regular person. The class description is misleading. However, there are bits and tips that anyone can benefit from, but you have to sit through the entire presentation to get those bits and tips. I am not a designer. Because I had the all-access pass, I dipped in and out of different classes, speeding up and skipping as needed. I found enough value in this Fast Class: A Brand Called You to watch it, rather than the long one. I can see how this would benefit new designers as they job hunt.
Student Work