Identifying Table Stakes
Debbie Millman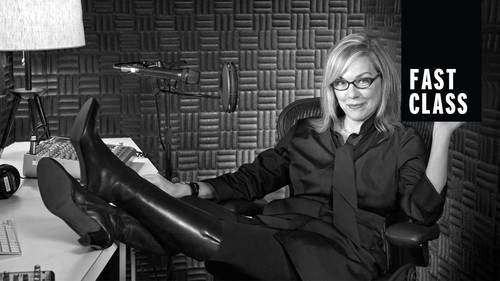 Identifying Table Stakes
Debbie Millman
Lesson Info
9. Identifying Table Stakes
Lesson Info
Identifying Table Stakes
So table stakes. Table stakes are these words that I end up preventing my students from using in their mission statements, because this is the list of things that you have to have. These are the words that you have to show up as. You have to be intelligent, you have to be trustworthy, you have to be passionate, you have to be curious. These are the words that in the competition of finding the dream job that you are competing with, all the other people that want that job too, this is how they are showing up. So this can't be what you aspire to be in isolation. You have to have something else on top of the table stakes, on top of the passionate and memorable and prepared. These are, when you play a game of poker, table stakes are what you pay to get into the game, that's why I call these table stakes. So these are the words that get you into the game of the interview. These aren't gonna get you the job and if you are not any of these things, you are likely not gonna win the job. Somebody...
else is gonna win it that has all of these things and then some. And this is hard to come to terms with. So I want you to think about your key benefit, strategically. Because that is the added thing, in addition to the table stakes, that is going to set you apart. So what is your key benefit, strategically? You have to come up with your key benefit, the reason for being the thing that will help you become set apart from everybody else, but the strategically part, I'm gonna help you with. So think about your key benefit strategically. Who knows what strategically even means? What is strategy? Strategy is choosing to perform different activities, differently, I'm sorry, strategy is choosing to perform activities differently or to perform distinctly different activities than rivals. Easy words to read, not so easy to comprehend, so let's deconstruct this, let's break this down. Strategy is choosing to perform activities differently. So we have to start to think about when you're crafting your benefit. How do you show up? How do you talk about what you do? Why would somebody wanna hire you? You have to really find what it is that makes you unique to your work. So in order to do that, I want you to start thinking about being able to answer these questions. What do you love doing? What is it that you love? Jessica Hische talks about procrasti-working, things that you do when you should be working but you're not and you're doing that to procrastinate. She suggests that often those things that you're doing to procrastinate are the things that you should be doing to work. So what do you love doing it? What do you love doing? Why do you love doing it? Why do you love doing it? These are the questions you have to answer in order to be able to get to the strategic benefit that you will provide. Why do you love doing it? How can you do it uniquely? This is hard. How do you show up to it and do it in your own unique way? What is your voice? What are you giving life to through your work? And then, how can you prove it? How can you prove it? How can you show that you do this with examples in your work? Hard questions, but all attainable. They all are attainable. What do you love doing? Why do you love doing it? How can you do it uniquely? And how can you prove it? Then, after all of that, you want to be able to communicate all of this with stature and sincerity. So you wanna be able to show up with all of this information that you've uncovered about yourself and your hopes and dreams, and wants and desires, and to be able to convey all of this in a way that is not only inspiring but is also going to create brains resonating with yours in a harmonious way.
Ratings and Reviews
I was not expecting to get so much out of this accelerated class! Debbie is a captivating speaker who manages to get her points across directly while maintaining a strong sense of relatability with her audience. I really look forward to taking what I have learned here with me as I move forward in my career as a visual artist. Highly recommended.
This class is for a specific audience - young or new-to-the-field designers. It is NOT a branding class for the regular person. The class description is misleading. However, there are bits and tips that anyone can benefit from, but you have to sit through the entire presentation to get those bits and tips. I am not a designer. Because I had the all-access pass, I dipped in and out of different classes, speeding up and skipping as needed. I found enough value in this Fast Class: A Brand Called You to watch it, rather than the long one. I can see how this would benefit new designers as they job hunt.
Student Work