FAST CLASS: Legal Survival Guide
Accounting And Goal Setting
Craig Heidemann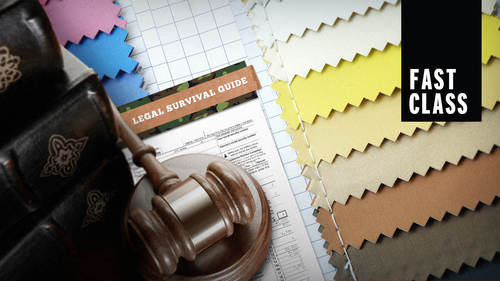 FAST CLASS: Legal Survival Guide
Craig Heidemann
Get access to this class +2000 more taught by the world's top experts
24/7 access via desktop, mobile, or TV

New classes added every month

Download lessons for offline viewing

Exclusive content for subscribers
Lesson Info
15. Accounting And Goal Setting
Lesson Info
Accounting And Goal Setting
Blue steel is going to make some money today. Here is my question for the class and for the internet, what is your accounting system today? We're not gonna, I'm not, we don't have to answer it right now, but I want everybody to start chiming in. I want to know what your accounting system is. But if you're serious about building a business that's gonna last, if you're gonna build, if you're serious about building a business that can survive an audit, if you're serious about building a business that can survive a sales tax on it, if you're serious about building a business that's going to last and, and you want the ability to gauge your success or your failure along the way, you need to probably take a little bit more sophisticated approach to your money than excel. You probably need to take a little bit more sophisticated approach to your money than wave. You probably need to take a little bit more sophisticated approach to your money than just quick in. Um, I'm not here pitching quickb...
ooks, it's just the one that I picked for today. Um, there's peach tree, there's a number of different ones that we're gonna talk about down the line, but you really have to have a system, okay? You have to have a system to keep track of your money and that's kind of what we're going to talk about. So we have this system to keep track of our money. What's the first thing we have to have? What money? Money? Money, money. Wasn't that the theme song for the apprentice? Everybody think about that right now. Okay. Um, under capitalization is the global business killer. It just kills businesses far and wide. It doesn't matter whether you're a, it doesn't matter whether you're a creative business. It doesn't matter whether you're a service business or a retail product business. If you don't have enough money to weather the storm, you're gone. Now, every photographer that has survived the last seven years knows what I'm talking about. We've gone through a recession, the portrait industry, the wedding industry, to the extent that that is served through people's disposable income. It's not food, it's not water, it's not gas, it's not a car, it's not insurance, it's not something you have to have. It's a discretion comes out of our discretionary income. We've taken a hit and to the extent that we've taken a hit in our income, we've taken a hit in our ability to meet our fixed expenses. Right, What are fixed expenses? What are your personal fixed expenses, mortgage, Dorries? Got the mortgage. Now, let's think about that because this is a list that we're going to come back to all day today. Yeah, my discussion of accounting is as much about quality of life as it is about the success of your business. Okay. So let's make a little list of the must have rent and mortgage. What other fixed expenses do we have? That's oh bless you bob. Some people wouldn't say that's a fixed expense. What else? Well hold on bob. What kind liability? What else? Well, what else? Mm. Car. Yeah. All right. What other fixed expenses do we have? Personal personal fixed expenses? Forget what your occupation? What do you have to have a gas card? Yeah. Yes. Children if you have them. Okay. Well let's not I don't even know about that. Let's get some fancy clothes. All right, hold on. Yeah. Okay. Yeah, utilities. No entertainment. Yeah. Yeah. Keep. Yeah. Yeah. I mean uh Hey anybody go to college education. What about vices and superfluid ease? Okay. Entertainment. What else you tell me? All right, we got to keep the lights on. Yeah. Uh everybody has in this room one or two or three cell phones on you, Right. And they all received data at like eight gigabit bits in a second. Right? So we have uh phone, cell phone that can be expensive. Yeah. What else? Internet parking? Yeah. Okay. All right. I'm gonna come up here and put car loan slash transport websites. Now, remember this is personal. So if this is these are your personal expenses. We then have to translate these into our business. So, in our legal survival guide, the first thing we have to do is know how much money we need to live. We don't live on how much money we get. We plan to get how much money we need. Everybody's doing this backwards. Jim. It's I'm gonna live on whatever I can make rather than I'm gonna go make what I need to live, You see that? I mean it's it's a mindset that's changed. Um it's it's people are switching jobs were switching professions at an alarming rate. You know, the average professional is going to switch jobs 10, 15 times in their career, maybe more than that, It used to be three times. So people are moving around, their wages are going up and down everybody and I I believe strongly that you should have a job that you like. I believe strongly you should have a job that rewards you, but I don't think you should leave a high paying job just because you don't like it and you don't feel that it's rewarding just to go do something else without a plan to achieve a level of income to meet your needs because you know what? If you've got a spouse or Children that are relying on you, it's difficult to make those kinds of lifestyle changes. So as we dive into our accounting discussion, we need to have a concept of what our goals are. So what do we want? Blue steel? What do we want? Blue steals personal expenses to be? And let's be honest, I mean, we don't have to do a whole spreadsheet, but uh what's blue steel gonna need to make if I'm uh I've got a wife and two kids $250,000 a year. Well let's just let's base where we went. Where's blue steel doing business at Missouri? Missouri? You want to call it Springfield? I mean I can give you some Lorenzo. I would go really well my rear with Seattle, okay, lets you Seattle we're in Seattle. You guys know how much it costs to live in Seattle. What's an average uh, what do I need to live in Seattle for a family of four to take care of all of these expenses? Live modestly. Well my family of seven. Uh, we're running about $5800 a month. So what's that? multiplied by six. Yes, out 70. Okay, all these apples in the room and nobody can add it up. I don't have a seriously give me one Pc 69 69. 600. Yeah. All right. So Lorenzo knows in order to take care of his responsibilities, Lorenzo is going to have to have a business that made before taxes before his personal share taxes. He's gonna need 75 grand to stay where he's at and to keep everybody well Fed and dressed appropriately and and save a little bit for college and And take care of his needs. So blue steel needs 75 grand a year after expenses in order to be able to keep the lights on. So we have to start this business and we don't want to fail. We know that we've got a huge chance of failure, but we can, we can get around that. We can deal with those risks by planning. So we've got our business plan, we did that right up front. We know that blue steel, if we're gonna do sports photography, we're gonna do larger than life, cutting edge sports photography. Right? And so we know what we're gonna do and we're gonna put some money in the business if you undercapitalized in your first year, here's what's gonna happen. You sell your package, these are true stories. You sell your, your package to your client for $3,000, which includes an album. And let's say that your album vendor is Zuck binders and use bookbinder folks out there. Um, you do the wedding, you've been paid for the wedding. It takes you a while to send the proofs out. Your bride picks the proof, she picks her album pictures, you design the album, she approves the album. And now you've got to send the following email to your client. I'm sorry client, there will be a slight delay in me getting your album to you because I don't have enough money to pre pay my album vendor for your album. But I anticipate next wedding season when I get more clients, um, um, signing up with their deposits than I will use that to pay for your album and you'll have your album shortly. The next wedding season. All right, well, let's say that you don't send that letter. You don't have that conversation. All you can do is go dark and silent. And you start your your clients, like, where's my album? It will be here shortly. Where's your album? It will be here shortly. Where's your album? It will be here shortly. Well, you know, good and well, why the album is not here? Because you don't have money. You don't have enough money to pay the album, folks. Because why? What are you gonna pay first? Lorenzo the mortgage or rent? What are you going to pay second? Food? What are you gonna pay? 3rd? Gas utilities? Well, don't for skinny jeans might be first. Can't get cell phone, internet. Do you see what I'm saying? These are real world choices and people don't talk about this. But when it comes down to paying for your clients album or putting food on the table, which are you going to pick?
Class Description
Ready to turn your creative side project into a thriving business? Join Craig Heidemann for an introduction to the business and accounting principles every creative professional needs to know. 
In this class, Craig will take you step-by-step through the process of setting up, running, and growing a small business. You'll learn how to use QuickBooks to manage your finances, including managing client contracts and invoices. Craig will also help you navigate the potentially confusing tax, legal, and copyright issues surrounding small businesses. You'll also learn how to contract and/or hire people to do the tasks you can't do yourself. 
Whether you're just starting out as a business owner or you're a longtime entrepreneur ready for a refresher course, this course will give you a roadmap to business success.