FAST CLASS: Legal Survival Guide
Domain Name And Operating Agreement
Craig Heidemann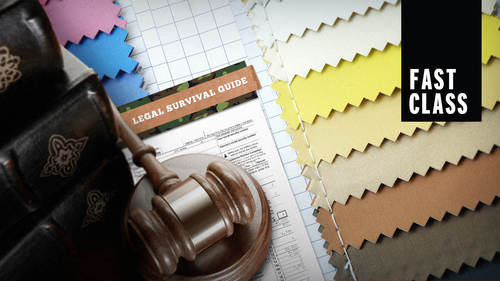 FAST CLASS: Legal Survival Guide
Craig Heidemann
new-class
Get access to this class +2000 more taught by the world's top experts
24/7 access via desktop, mobile, or TV

New classes added every month

Download lessons for offline viewing

Exclusive content for subscribers
Lesson Info
5. Domain Name And Operating Agreement
Lesson Info
Domain Name And Operating Agreement
Okay. We did our trademark search. We looked to uh, to see if if uh we had any service marks that were registered. Now, you gotta buy your domain name now. Everybody understands um, you have to buy your domain name. And what does that mean? So we go to I mean, I don't don't judge me, www dot go daddy dot com. Let's see if blue steel photography, what do we want to be? W. W. Dot? Blue steel photo or photography what you want to be? I think blue steel photography shorter is better. But uh, blue steel photo, the audience has spoken. I say, yeah, let's vote. We have five people here. Who wants blue steel photography quickly. Who wants blue steel photo? Okay, convinced me. Please. Still photo. I'm sure tomorrow Leckie or a marketing guru or somebody will tell me if I'm wrong. Let's see if it's available, dumped it. Um, it's available. So for 1299, I can own that puppy. Let's buy it. I just want to buy the domain. I don't need any privacy protection. I don't want any add ons. I don't want an...
y dot co S. I don't want any. Feel like hell. I don't know what that is. You'll get the picture how to register a website. Let's we we won't necessarily take the time to do that. But obviously you pay them and now I own Blue steel and you can take that and you can redirect your uh your D. S. N. Server to whatever web host that you want etcetera. At this point in time we need to have an idea. Are we gonna have a relationship with a lawyer? Yes. Somebody that will take your phone call. Are we gonna have a relationship with an accountant? Yes. Maybe a tax preparer. Are we gonna have employees? Maybe want to farm out payroll because it's a pain but we need to have a web designer. Let me tell you some real life horror stories um in Springfield Missouri right now, there's this concept of copyright, you can copyright a website, You can copyright a web template. And if you don't own your web template, you got a problem. What if you fall out with your web designer and they decide they hate you and they're gonna take your website down because they own the template and all of a sudden your search engine optimization keywords that were running on that website are gone. You've got a problem. So at this point in your business formation, you need to seriously think about how you're hosting your website. Are you hosting it on your own site? So like if you have go Daddy, you can move that website to your go Daddy server and whatever is on there. You own it, you can go buy a template from someone else and then you own it, you can have somebody else manage that template for you. Um and do all your updates but you own the code that makes the website. If you license the website from somebody else for instance, let's think about this and I'll talk about this later in the presentation. Um What kind of computers do adobe? What kind of computers does adobe make? None? They don't what do they sell? Right so think about that. You license that software from adobe, You don't buy anything, you license it from them. So if you're licensing your website from someone else what do you own? Nothing? So if you fall out of Grace is with your web designer what do you have left nothing. So be be thoughtful about that again hiring a local I. T. Professional and a professional ceo company is super important with the proviso that you should always own your template and always own your content. So we have now created the company, we've gotten our articles of organization back. Uh so now we have to have this operating agreement now what's the operating agreement? It's less important for a single member LLC but of critical importance for a multi member LLC. Remember I said that the only ship that does not sail is a partnership, the LLC is kind of like a partnership agreement. It says how we're going to do business with one another. And if we have to split the sheets using divorce parlance it's how we're gonna divide up our assets. Okay. And if you don't have an operating agreement, every single state in the country has a fallback limited liability company code. It's kind of a fallback provision that if you don't have an operating agreement. These are the rules that apply well rather than the government telling me what's good for me because I found out a long time ago that the government doesn't always know what's best for me. You can take the time to have a limited a operating agreement and get that worked out from the start. Um, this is what you get when you open it up. It's the operating agreement of super shooter photography. Now, jim we are not super super shooter photography any longer, are we? We are blue steel photography. I love it. Um, so we'll delete this and this is a Missouri LLC. The members who's the member, everyone shouted out, Who's the member? I got to see that you all know this. Who's the member? That's right. You guys can clean this up later. Taken out the brackets and stuff. Have organized what's the name? Blue steel, photography, pursuant to the provisions of the Missouri limited liability company Act. And that's where you put in your own state. If you did it in Washington again, I've highlighted the provision that we change for other states, the word says Missouri. So in consideration of our covenants, we're gonna form this company, Missouri. This Missouri Act is going to govern and our name is Blue Steel. I put an E in there, forgive me. Uh it's effective upon the filing. The term is perpetual. See how that matches the registered agent. It just acknowledges that we have one. It says that we have some company property. Now here's our principal place of business. So it shall be at such place in locations is selected by the members. Um, you can delete this particular location if you want, you can have in um, and just say or at such other places as we designate its member managed. Now, if you had more than one person, this is where we talk about who owns which portions of the company. Okay. Talks about an exhibit a which identifies the sole member or members. Do you see that? It's important, talks about the capital account for each of the members talks about winding up how we divide on dissolution. How we forgive me distribute on liquidation. The law that applies as the law of Missouri. We're just keeping going down here and then we sign, who was the organizer? Remember they asked us for that online? It's me. Here's exhibit a peter photographer. 100% or pete and Patricia, photographer, husband and wife. That's one unit. 100%. Or peter, photographer and paul partner. And you can vary the percentages, everybody get that. Mhm. So here this is gonna be a soul member, single member LLC who owns it all Say it loud and proud. Grieg Grieg, What else do we need? So we've done the operating agreement right. If you want one you can hop online at Craig Heidemann dot com. I've got a cd of 25 forms and documents comes in a cute little uh cd case like this. It's got a little note on there, it opens up and then it's got the cd of forms in there. They're all Microsoft word forms completely customizable, not pdf or anything like that. You can use them for any personal purposes that you want, don't resell them. Um But it will make your business super duper easy. It's streamlined, it goes it goes fast, it's got the operating agreement on it for Missouri which you can customize to use in other states. But again, if you do it in another state, I would recommend you walk into your lawyer's office and say, hey, I've taken the liberty of doing an operating agreement. I think all of the work is done. Can you just review it for me? We'll charge you 50 or 100 bucks and send you on your way. Bless it. Say Grace over it. Life's good. If you want to use it in Missouri, you're in good shape.
Class Description
Ready to turn your creative side project into a thriving business? Join Craig Heidemann for an introduction to the business and accounting principles every creative professional needs to know. 
In this class, Craig will take you step-by-step through the process of setting up, running, and growing a small business. You'll learn how to use QuickBooks to manage your finances, including managing client contracts and invoices. Craig will also help you navigate the potentially confusing tax, legal, and copyright issues surrounding small businesses. You'll also learn how to contract and/or hire people to do the tasks you can't do yourself. 
Whether you're just starting out as a business owner or you're a longtime entrepreneur ready for a refresher course, this course will give you a roadmap to business success.