FAST CLASS: Legal Survival Guide
Releases And Permits
Craig Heidemann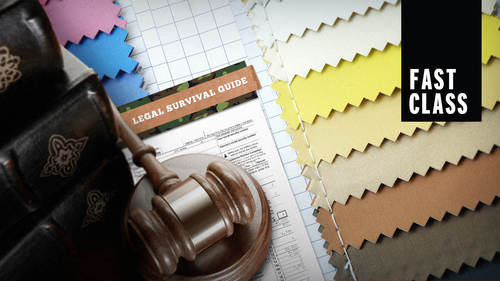 FAST CLASS: Legal Survival Guide
Craig Heidemann
new-class
Get access to this class +2000 more taught by the world's top experts
24/7 access via desktop, mobile, or TV

New classes added every month

Download lessons for offline viewing

Exclusive content for subscribers
Lesson Info
10. Releases And Permits
Lesson Info
Releases And Permits
can I shoot the statue of liberty and sell pictures of it? Jim says, no, there's no problem. It's owned by the US government unless it is a copyrighted item that's copyrighted by somebody else. All property that's owned by the US government is fair game. And the general rule is now that this is a general rule, commercial photography is allowed in most non national security locations as long as you're not using a tripod. Apparently, if you have a tripod, you are a professional gym, just put that Manfredo in your backpack and you're a pro. It doesn't matter if you're making money, but if you have a tripod, that is what sets us apart from the amateur photography world mono pod. You're a pro, europe pro. Don't play those reindeer games with me. You're a pro. She got your, you know, $8000. Get zero weighs two ounces mono pod. I know how you are. Okay, so property releases, when do we need a property release? Don't get lazy. You're going to get sued. This is when, this is why we need them. O...
kay. Oh wait, I have a whole slide. Generally if there's no props, no models, no set, no tripod and you're shooting in normal areas. You can do commercial photography in national parks. You can always do personal photography in the national parks model and property releases. So where was this picture taken? Yes, Vegas. I did it before. It was overdone. C. I was there. This is from, this is eight or 10 years ago, but this is at the neon graveyard. All of this is on private property behind a fence that you can't see through. Um, you pay a $250 license fee to use it for your personal portfolio. We hired Regina the model. She brought, her dress out to Vegas. I have a model release for Regina. I've got a property release from the neon museum incorporated and now I can show it to you as part of my personal portfolio because I paid them to shoot there. Now if I hadn't paid them to shoot there, I couldn't reproduce this image and show it to you because I paid them. So that would be an example of when we would have to have a property release because I'm using for a limited commercial purpose pictures of their property um with their permission. When we think about the property lease, we need to say, look is the tangible item copyrighted. Alright, let's think about that because the copyright protects the ability to reproduce it in any form. So if I have a great picture of of uh Bride and somebody sees it and they decided to do an oil painting from it. Have they copied it? You bet. Let's say that Ive copyrighted a sculpture and the photographer comes and takes a picture of my copyrighted sculpture and enters it into competition violation. Yes, they need some kind of a license to do that. So we need to figure out whether or not the tangible item that we're shooting is copyrighted um for instance, statues is the tangible item trademarked if I'm shooting a coca cola can for some art project and there's some likelihood of confusing whether coke made that copy of the image or me. I could be infringing on their trademark and I need some kind of a property release from coca cola. That's why a lot of times in order to get around that when you watch reality tv, they'll blur brand names of people on their T shirts and on their hats because they don't want to bother to go try and get a property release from that vendor to use their mark or their brand in their show because obviously they're trying to make money by reproducing that show. You have to ask the question where you legally there when you press the shutter. Generally if you were legally there, it's of property, not a person. Just because you're legally where you're at, when you take a picture of a person doesn't mean that you can use it, but for property that's generally good enough. Um And again, if you are re watching this, here's the link for government property. Um And on trademarks again, we're looking at the likelihood of confusion. If you're distorting it and it, you know, chances are it wouldn't be confused. You're probably good to go. I do have again on the disk, the property release. Um, and on the model release, I include the long form. Now, the killer model releases included in the bonus materials. It's an irrevocable irrevocable bowl model release. Okay, check this out. My image may be combined with other pictures, text or graphics. You may even combine my name or an alias name with my image. I will have no right to inspector approve the final use of the image. I have no right of compensation for the use of my image. Um I understand that my image may be altered and modified to the point where I may even be unrecognizable. You can use it for commercial purpose, personal advertising trade exhibition, competition promotion, marketing, stock, photo product packaging, video print editorial sounds pretty comprehensive. Right? So this really gives you a lot of latitude if you feel uncomfortable about any of that. If it's too broad for you or you you don't feel that that's appropriate. You can limit it. Um You can take out that sentence about the unrecognizable, um, use, but if you're selling it to someone else and giving them a license, their license can't be any broader than yours. So if you do have a great picture of something you might want to have the biggest model release rather than the small one.
Class Description
Ready to turn your creative side project into a thriving business? Join Craig Heidemann for an introduction to the business and accounting principles every creative professional needs to know. 
In this class, Craig will take you step-by-step through the process of setting up, running, and growing a small business. You'll learn how to use QuickBooks to manage your finances, including managing client contracts and invoices. Craig will also help you navigate the potentially confusing tax, legal, and copyright issues surrounding small businesses. You'll also learn how to contract and/or hire people to do the tasks you can't do yourself. 
Whether you're just starting out as a business owner or you're a longtime entrepreneur ready for a refresher course, this course will give you a roadmap to business success.