FAST CLASS: Legal Survival Guide
Relevance Of Copyright
Craig Heidemann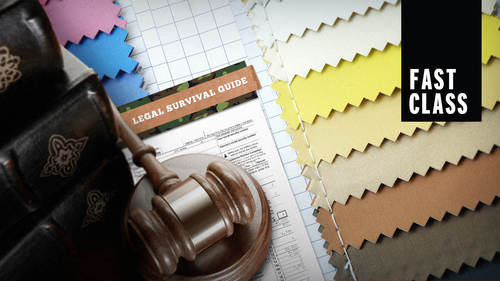 FAST CLASS: Legal Survival Guide
Craig Heidemann
Get access to this class +2000 more taught by the world's top experts
24/7 access via desktop, mobile, or TV

New classes added every month

Download lessons for offline viewing

Exclusive content for subscribers
Lesson Info
11. Relevance Of Copyright
Lesson Info
Relevance Of Copyright
let us have a discussion about the copyright. Okay intellectual property. You don't have to be intellectual to own intellectual property. The U. S. Constitution Gives us an Article one. Section 8 The Right to a control the reproduction of our artistic works in order to promote the progress of science and the useful arts. It grants copyrights to artists for a limited time limited time. Then the right lapses and it's left to benefit mankind generally. Or as thomas jefferson said I think the commons of mankind. Um So let's talk about it before we get started is copyright relevant anymore. And I'm gonna ask the class this question but I really want to pose this very specific question to to our folks that are with us on the internet. Is copyright relevant anymore? Because some would say it's not some would say that the right to control the copies of your images really just suppresses artistic freedom. Now look at me and my good eye. If copyright is relevant, why haven't you registered any o...
f the work that you've ever created is an intellectual property lawyer. It frustrates me to no end to hear discussions of copyright all across the web, people saying, um, you know, so and so stole from so and so and so and so did this. But how many of them bothered to register their work to get full copyright protection Conventionally? Um, it is generally accepted that of all photographers and all images that are created. Only about 5% of photographers will ever bother to register any of their work with the copyright office, even though it is super simple. So I don't want to be cynical. But but when I say to to the folks that say yes, it's relevant, my response to them is, well then then then put up or shut up, it's time that we start registering our images to protect them. If it's relevant, there are a lot of photographers that have gotten some web based legal advice and they've been using some forms and for years they have been transferring their actual copyrights to their clients using a copyright transfer form. Once you transfer the copyright to your client, it's as if you never ever pressed the shutter button, you have no right to use it on your website. You have no right to use it in your advertising. You have no right to enter it into a competition because you don't own the copyright. What's the copyright give you the right to do? It's all right. That's given to artists to control their original work. Now, this is important guys. The work that is protected has to be original. It has to be original. It gives the right to artists to control their original work for a period of time. It's an exclusive right. It means only I get to decide if anybody on the face of the earth gets to use it. Do you remember the picture that the young woman took from the airplane with her iphone of the last space shuttle mission going through the clouds? Does anybody remember that she took it? And she tweeted it to somebody got picked up by the news media and in a day and are going viral in every news media organization in the country had published this fantastic iphone picture that this young woman took and she had given no one the permission to reproduce it. I believe she called the media lawyer and I believe they did an expedited copyright registration on it. And I believe she settled her claims with a number of news media outlets because she had the exclusive right to reproduce copies to display it to make derivative or follow on works from it to distribute it, or license it to sell or to transfer it or to pass it to her heirs upon her death. And no one that published it had a permission to do anything. So that's what the copyright is, understanding what it is and what it isn't is an important part of deciding what we're gonna do with it and how we're going to protect it and why it's important to register it. Copyright is our artistic or literary or visual work, a poem, a website, a sculpture, a painting of photograph, a choreographed dance performance, something that we can write down and describe it becomes fixed, um, on paper or in a medium that we put it in. But that's that's what the differences between copyright, but what have we heard on the web, I mean, and open your minds to licensed music. Music and songs are copyrighted more than anything in the United States. Uh, if I don't charge for it and I steal it from someone, it's not a violation. Um, what if I don't copy it? I'll just re create it myself, meaning make another work. Kind of like it, it's not like it's crime or anything. I like that one. You know, it's a federal felony. Um, It's good for the life of the author plus 70 years. So technically your estate could register it after you died. So it's not exactly true. Uh, it's good for 95 years for corporations. Now. Why is it that it's good for the life of the author or 90 or 95 years for corporations. So what happens to these images after the author's dead for 70 years Or the it's been registered to a corporation for 95 years. It lapses into the public domain. The public domain is not a web address that you will find on the Internet. The public domain is this concept of it's available to the public. So you can actually go to the Library of Congress and you can search the registrations from, Oh, the early 1900s, which I mean, everybody pretty much that registered back then. Uh, the copyrights will have lapsed on those. And those pictures are available to you, me and the world to use for commercial purposes. However, we see fit. So you can use them for graphic design. You can use them for backgrounds, you can use them for compilations, you can use them to create new copyrighted compilations, I think. But all of those that have lapsed into the public domain are available. Uh, what can be copyrighted? Remember? It's got to be original. It has to be an original expression. Who owns it? Who's the one that caused the work to become fixed? Now we're going back in time. I primed you on this. The only exceptions to work for hire agreement. Okay. It's going to be owned by the person who caused it to become causes it to become fixed. Wind does a picture become fixed fact? When does a graphic design become fixed? Save. When does a painting become fixed? Dry? When does a sculpture become fixed done? When does a computer website code become fixed when it's finished? When does a book become fixed when it's done? When does the song become fixed after it's recorded? Makes sense. That's when the copyright comes into play. Who caused it to become fixed? In the case of a musical group would be the band etcetera. A quick mention on orphan works, there are a lot of images float around the Internet that we have no idea who took them just because they're orphan and we don't know who made them doesn't give us the right to steal them. There is some legislation, um, that's been proposed that Congress that would deal with orphan works, that if you made certain inquiries as to who the original owner was, and I couldn't figure out who it was that it would become part of the public domain and it could be used. I don't necessarily think that's a horrible idea. I think that it's the latest, greatest trend and copyright law. It's had some trouble gaining traction in Congress. But then again, common sense has had some trouble gaining traction in Congress lately. So don't count on the orphan works bill getting passed anytime soon.
Class Description
Ready to turn your creative side project into a thriving business? Join Craig Heidemann for an introduction to the business and accounting principles every creative professional needs to know. 
In this class, Craig will take you step-by-step through the process of setting up, running, and growing a small business. You'll learn how to use QuickBooks to manage your finances, including managing client contracts and invoices. Craig will also help you navigate the potentially confusing tax, legal, and copyright issues surrounding small businesses. You'll also learn how to contract and/or hire people to do the tasks you can't do yourself. 
Whether you're just starting out as a business owner or you're a longtime entrepreneur ready for a refresher course, this course will give you a roadmap to business success.